Group Purchasing Organization Contracts Optimization Service
Achieve cost savings and reduce time spent analyzing Group Purchasing Organization data and reports.
We help you analyze drug purchases to identify savings opportunities so you can drive maximum value from your Group Purchasing Organization (GPO) contracts. 
Cardinal Health's dedicated team of portfolio management experts analyze and identify the savings opportunities for you, based on your individual criteria.
Benefits:
Rapid identification of savings opportunities
Less time needed to analyze reports
Improved capabilities to track and measure Group Purchasing Organization savings identified, savings implemented, and opportunity remaining
Access to dedicated portfolio management experts with extensive purchasing and analytics experience
Average savings of 50 – 90 basis points
Available services
Decision support services:
Analysis of contracting opportunities
Tier Max: Review market share status to ensure tiers are met
Opportunity Buy: Evaluate best price (i.e., brand to generic, generic to generic)
Investment Buy: Recommend buying forward prior to price increase
Audit and recovery services:
Invoice Price Verification: Confirm receipt of Group Purchasing Organization contracted prices and recoup dollars owed through credit/rebill process
Tier Audit: Evaluate market share tier placement for accuracy
Failure to Supply: Recover dollars owed because contracted vendor could not supply drug
How we can help
From community hospitals to large health systems, we customize solutions and reach targeted savings. To learn more about Group Purchasing Organization cost savings opportunities at your hospital, contact us today.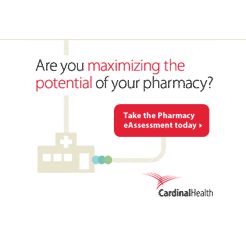 Pharmacy eAssessment
See how you can transform your pharmacy into a strategic asset