Inpatient Pharmacy Solutions
Elevating the pharmacy to raise the standard of care. 
Our Cardinal Health Inpatient Pharmacy Solutions team is comprised of more nationally recognized experts than anyone else. We sit on the governing bodies that set industry standards, uniquely positioning us to partner with you in creating customized, flexible solutions that will help transform your pharmacy into a strategic asset. From assessing the needs of your organization, to full pharmacy management that implements identified opportunities for growth and efficiency, we're here to help you achieve your goals.
Nationally recognized experts with real world experience.
About our experts:
Our team of pharmacy experts is comprised of former hospital C-Suite leaders, pharmacists, Lean Six Sigma managers, and specialists in project management, regulatory compliance and more. We understand the hospital environment and will proactively provide forward-thinking industry knowledge that will keep your pharmacy on the leading edge of patient care, compliance and cost savings. We'll partner with you to help diagnose issues, identify opportunities and implement changes, from conducting mock audits and training staff to providing pharmacy management and thought leadership.
Flexible, customized approach
Tailored solutions
We understand that every pharmacy is unique. That's why we take a creative, listening approach to understanding and achieving your goals. We tailor solutions to your pharmacy at whatever level you need us to be involved. We will provide solutions with a focus on longstanding outcomes. Even if you're facing urgent pharmacy challenges, we can provide pharmacy leadership, not just a licensed pharmacist. And if you engage us for full-time management, we'll share in the risks and guarantee our results.
Championing change that matters
Focus on the patient
Because our experts have walked in your shoes, we understand that change can be difficult. We will help you gain the trust and consensus you need to demonstrate how recommended changes have a positive impact. Then, we'll set up a management framework that will show when and how implemented changes are driving results. Most of all, the strategic pharmacy solutions implemented will help you focus on what matters most: the patient.
$4.69 million on overall cost savings
5 awards for excellence in 2 years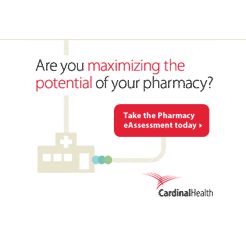 Pharmacy eAssessment
See how you can transform your pharmacy into a strategic asset