Medication Safety Services
Through our Medication Safety Services, quickly identify opportunities to improve medication safety systems and establish a Just Culture environment.
Whether hospitals need support to assess the overall quality of medication safety programs following a specific event, or help understanding the quality of existing programs, we help customers assess medication safety at their facilities. Our team then makes recommendations for improvement to the medication safety aspects of an organization's culture, technology and processes.
We also help customers implement medication safety initiatives such as:
Medication safety committee design, charter and work
Error reporting, detection and management system
Technology (bar coding, automation, etc.)
Just Culture
Disclosure of unanticipated outcomes program
We maintain a full-time staff of medication safety experts dedicated to researching and developing best practice strategies to support medication safety. As a result, our clients benefit from an independent review by a subject matter expert without any bias or stake in current processes or systems.
How we can help
If your hospital has recently invested in new technology to reduce medication errors or if you are embarking on new medication safety initiatives, Cardinal Health can customize our services to fit your needs. We provide assessments and project services designed to identify, implement and maintain policies, processes and procedures to promote a culture of safety.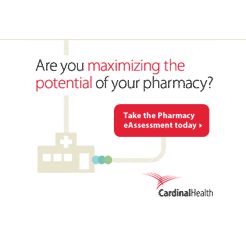 Pharmacy eAssessment
See how you can transform your pharmacy into a strategic asset
Q&A with Subject Matter Experts
Improving medication safety through transitions of care