The Cardinal Health Specialty Solutions regulatory affairs strategy is characterized by both efficient preparation and execution of development plans and interfacing with global regulatory agencies.
Our scientific and regulatory experts
consider FDA guidance documents, requirements of the International Conference on Harmonisation and other global regulatory agencies, and currently marketed products to ensure attention to detail in the preparation and submission of regulatory documents.  This strategy has successfully helped clients reduce development time and accelerate the movement of new products to proof-of-concept and global commercialization for pharmaceuticals, biologics and medical devices.
Regulatory affairs expertise
The regulatory affairs experts at Cardinal Health have experience in all major therapeutic areas and have had successful interactions with all regulatory divisions within the FDA and several other global regulatory agencies. Our team of industry-trained scientific and regulatory consultants will support your product throughout the entire development continuum, from concept and strategic development, to proof-of-concept and market approval, to post-approval maintenance. We provide regulatory affairs solutions for full product lifecycle management. Our regulatory expertise also includes solutions to help clients navigate the complex requirements for orphan drug development and the FDA expedited programs.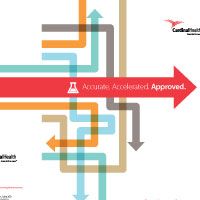 Webinar: Achieve Regulatory and Commercial Success for Your First Biopharma Product
Watch this free on-demand webinar to learn how to navigate the complex US regulatory approval process for new molecular entities and understand the roles of regulatory, clinical, nonclinical and CMC stakeholders.