What does Genesis Healthcare, Beth Israel, Mercy Health System and 10 other peer organizations have in common?
They have all taken advantage of the learning opportunity to reduce waste, improve performance and solve operating challenges at the Academy for Excellence in Healthcare.
The Academy for Excellence in Healthcare is a collaboration between Cardinal Health and The Ohio State University Fisher College of Business. The Academy is designed to help healthcare organizations identify and solve their greatest operating challenges, ultimately driving results that can significantly reduce costs and improve patient outcomes. This is accomplished through a team-based, project-focused learning experience that will equip attendees with the tools and leadership principles of lean management.
The program is intended for intact teams of three to five employees in operating and line roles such as functional support areas, direct patient care, supply chain, materials management, perioperative supply, or related areas, and should include at least one attendee at a director level or higher. Teams that meet criteria listed on the Academy website are eligible to apply for a full tuition scholarship that includes tuition and boarding expenses.
The next session is enrolling now. Start the New Year right by joining some of the top healthcare organizations in the country as they embrace operational excellence for the benefit of their patients, staff and the community.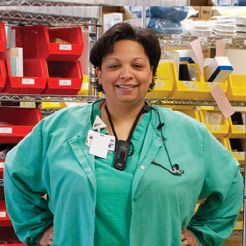 Ready to accelerate your success?
Together, we can make healthcare better.
To learn more about the Academy or fill out an application, visit:
Academy for Excellence brochure