Independence Medical
Since 1990 Independence Medical has been one of the nation's leading distributors of wholesale medical supplies. We carry 40,000 SKUs from more than 700 manufacturers in ostomy, diabetes, wound care, urological, incontinence, DME and much more. Our value-added programs, competitive pricing, full e-commerce capabilities and convenient ordering options allow you to profitably expand services to your customers and focus on growing your core business.
With 8 strategically located distribution centers, we provide 1 - 2 business day shipping to 99% of the U.S. In addition to our headquarters and a distribution center in Twinsburg, Ohio, we also have distribution centers in Cranberry, New Jersey; Fort Worth, Texas; Ontario, California; Jacksonville, Florida; Elgin, Illinois; Raleigh, North Carolina; and Portland, Oregon, totaling more than 800,000 square feet of inventory space.
Reducing costs
Product lines
Distribution facilities
Reducing costs and saving time
Independence Medical is committed to helping you increase profits by offering comprehensive solutions that improve your operational efficiencies. Our key manufacturing partnerships, extensive distribution network and value-added programs are designed to reduce your costs and save time associated with the following:
Product Procurement
Choose from a wide range of products
Eliminate multiple vendor searches
Quickly access specialty items
Inventory Management
Let us be your virtual warehouse
Eliminate multiple vendor searches
Eliminate storage facility expenses
Reduce costs of receiving and stocking
Avoid obsolescent products
Shipping and Handling

Leave the delivery to us
Reduce costs of picking, packing and quality assurance
Avoid the headache of dealing with returns and undeliverable shipments
Our inventory of nearly 40,000 SKUs allows you to quickly and effectively address your customers' needs.
Diabetes
Diagnostics
DME
Enteral
Gloves
Impotence/ED
Incontinence
Insulin Therapy
Orthopedic Soft Goods
Ostomy
Pediatrics
Personal Therapy
Respiratory and Tracheostomy
Stockings
TENS
Urology
Wound and Skin Care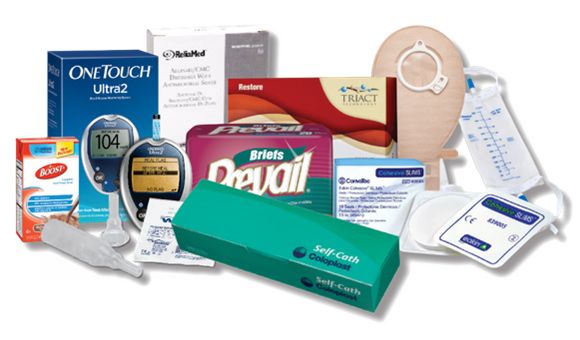 8 strategically located distribution centers totaling more than 800,000 square feet
1-2 business day shipping to 99% of the U.S. Population

State of the art technology to reduce errors and provide 99.9% accuracy rates
Orders placed before 5:15 p.m. EST (4:15 p.m. in all other time zones) will be shipped the same day, pending credit approval.
Raleigh, Ohio
Central facility for intake and admin
175,000 sq. ft.
Elgin, Illinois
58,000 sq. ft.
Fort Worth, Texas
70,000 sq. ft.
Raleigh, North Carolina
70,000 sq. ft.
Jacksonville, Florida
88,000 sq. ft.
Ontario, California
120,000 sq. ft.
Portland, Oregon
125,000 sq. ft.
Cranberry, New Jersey
120,000 sq. ft.
Have questions or need more information?
Fill the form out below or call 800.860.8027.