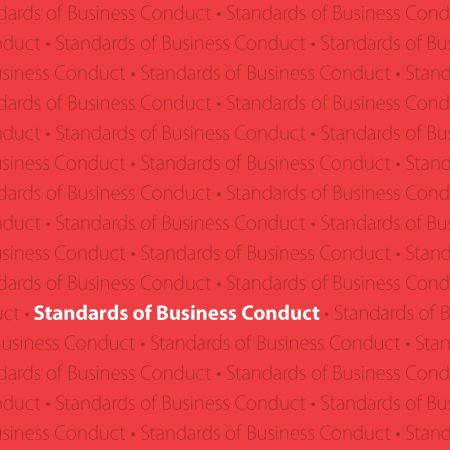 Ethics and Compliance
Our customers, shareholders and suppliers count on us to comply with all applicable legal requirements and to conduct business responsibly and with integrity. We take great pride in our business integrity, and our company's continued success depends on it. 
The Standards of Business Conduct is our foundation for responsible work and integrity at Cardinal Health. It is authorized and supported by the Cardinal Health Board of Directors and senior leadership of Cardinal Health. Overall responsibility for the ethics and compliance program rests with the Chief Legal and Compliance Officer, with oversight from the Chief Executive Officer and the Audit Committee of the Cardinal Health Board of Directors. The Standards of Business Conduct is available in multiple languages:
Healthcare Fraud, Waste and Abuse Prevention
Cardinal Health is committed to complying with all applicable federal and state laws, particularly those laws that are designed to address identified instances of healthcare fraud, waste and abuse. 
Business Conduct Line
The Business Conduct Line is available 24 hours-a-day, seven days-a-week to employees and third parties to confidentially and, if desired, anonymously, raise issues about the business conduct of Cardinal Health and its employees.
In the United States, call 800.926.0834. Outside of the United States, you may view the international phone numbers list to find the direct dial number. Multilingual representatives are available; however, you may need to wait briefly while an appropriate representative is brought on the line.
In addition to the Business Conduct Line, you may also submit written concerns or reports of possible violations regarding accounting, auditing, internal controls or financial reporting to the chairperson of the Cardinal Health Audit Committee of the Board of Directors, c/o Chief Legal and Compliance Officer, 7000 Cardinal Place, Dublin, OH, 43017 USA.
California Compliance Program
Cardinal Health is committed to high standards of ethical conduct and corporate compliance. To that end, we have established a Comprehensive Compliance Program composed of the Cardinal Health Standards of Business Conduct, as well as supplemental internal policies and procedures that address the statutory requirements of Cal. Health and Safety Code §§119400-119402 (the "California Law") to the extent applicable to its business. If there is any ambiguity or inconsistency as between the Standards of Business Conduct  and these policies and procedures, the policies and procedures will control and be deemed to be the operative sections of the Comprehensive Compliance Program with respect to the provisions at issue.
The Comprehensive Compliance Program recognizes that compliance is dynamic. It provides for revisions when necessary to reflect changes in company operations and applicable laws.
As of July 1, 2020, to our knowledge, we are in material compliance with the Comprehensive Compliance Program and the California Law as described above. Cardinal Health established $2,000 as the annual spending limit for gifts, promotional materials, or items or activities that Cardinal Health may provide to the identified individuals under, and as required by, the California Law. The Comprehensive Compliance Program, including the annual spending limit, is subject to ongoing review and accordingly, may be updated from time to time.
To obtain a written copy of this Summary and our Standards of Business Conduct, you may call the Ethics and Compliance department at 614.757.7504.
Physician Payment Sunshine Act