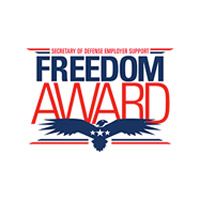 National Secretary of Defense Freedom Award Finalist
Cardinal Health is the proud recipient of the 2015 Secretary of Defense Employer support Freedom Award! In both 2013 and 2014, Cardinal Health was selected as one of 30 finalists (from a pool of 2,864 nominations) for this award. This award is the Department of Defense's highest recognition, given to employers for exceptional support of employees serving in the National Guard and Reserve.
Ohio ESGR Above and Beyond Award
The Above and Beyond Award is presented by ESGR state committees to recognize employers at the local level that have gone above and beyond the legal requirements of the Uniformed Services Employment and Reemployment Rights Act (USERRA) by providing their Guard and Reserve employees additional, non-mandated benefits, such as differential or full pay to offset lost wages, extended health benefits and other similar benefits.
Ohio ESGR Pro Patria Award
Employer Support of the Guard and Reserve (ESGR) presents its Pro Patria Award to employers that have demonstrated the greatest support to Guard and Reserve employees through their leadership and practices, including adopting personnel policies that make it easier for employees to participate in the National Guard and Reserve. This is the highest level award that may be bestowed by a state ESGR committee.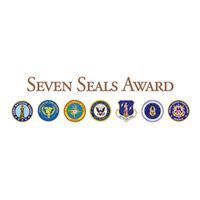 The Seven Seals Award
Cardinal Health is the recipient of the Seven Seals Award, "for meritorious leadership and initiative in support of the men and women who serve America in the National Guard and Reserve." The award is named for the seven armed forces reserve components, each of which we salute for their service and sacrifice.
Military Partners
Veterans can also connect with Cardinal Health through our military partners. These organizations provide invaluable training, along with networking opportunities, to assist you in finding rewarding jobs with respected companies:
Direct Employers
Employer Partnership of the Armed Forces
Fisher House
Hire Heroes USA
Joint Services Academy

USAF Academy
U.S. Naval Academy
U.S. Merchant Marine Academy
U.S. Coast Guard Academy

National Guard Job Connection Education Program
VETS, U.S. Department of Labor
VetSuccess