You're the future. Your experience matters.
The MBA Internship Program is an intensive 10-12 week opportunity that provides work within a fast-paced and challenging environment. MBA interns contribute to meaningful projects, interacting and working side by side with industry experts. Our company relies heavily on our internship talent pool to fill full-time positions. As an intern with Cardinal Health, you will have the opportunity to interact with other interns and participate in tours, executive speaker series, and presentations that will increase your knowledge of Cardinal Health as well as develop your leadership skills.
Internship Program
Locations
Projects: Contribute to the bottom line by assuming large responsibilities through meaningful work and challenging projects and present your findings to senior leadership at the completion of your internship.
Group project:  Participate in an MBA exclusive group project that is focused on giving back to the local community.
Ownership: Initiate your own experience with the freedom to collaborate alongside other professionals, business partners, customers and vendors.
Intern class: Collaborate with interns in various business functions and locations through lunches, tours, coffee chats and conference calls to learn about all aspects of Cardinal Health.
Community service: Embrace the importance of giving back to our local communities by participating in community service events with fellow interns and other employees across the country.
Teambuilding: Challenge yourself while building trust and support among the intern class through teambuilding activities.
Employee resource groups:
Join one of the seven
Employee Resource Groups
such as the Women's Initiative Network (WIN) or the African American Network (AAN) to expand your network.
Executive interaction: Connect with the CEO and other executives at the Intern Welcome Dinner and through the Executive Speaker Series.
Engage: Communicate with fellow interns and employees to enhance your networking skills as you engage in formal and informal networking.
Mentors: Receive career advice and feedback one-on-one from your mentors.
Future opportunities: Explore full-time positions and options for post-grad.
Cardinal Health is headquartered in Dublin, Ohio.  Intern locations may vary by position.  See the job description for locations and additional information. 
Who should apply?
When should you apply?
We recommend full time students who are in the first year of their MBA program and meet the following criteria apply for a summer internship at Cardinal Health:
Bachelor's Degree
Progression toward an MBA with a focus in a related field to the MBA internship
Relevant coursework and/or projects
Healthcare experience preferred but not required
Previous work experience recommended
Strong leadership, communication and analytical skills
Established work ethic and ambition
Extensive community service and/or extracurricular activities
Process and results orientation
Must have unlimited work authorization in the United States
Note: If you are offered a position and you accept that position, the offer is contingent upon the satisfactory completion of a drug test, completion of a background investigation, and demonstrated evidence that you are eligible to work for any employer in the United States.
Summer internship applications will open in September
We encourage candidates to apply as early as possible
If you are not seeing a previously posted position or you receive no results during your search, the position is no longer available or we are no longer accepting applications.
Due to the volume of applications we receive each year, only the most qualified candidates will be contacted by a College Relations Recruiter for further consideration
MBA Internship Opportunities
Our finance team has a wide range of roles and opportunities ranging from financial planning and analysis, deal management, strategic pricing and treasury. The finance organization partners with our businesses to develop strategy, ensure sound controls and drive decision-making and business performance.
Seeking students who are currently progressing towards an MBA in Accounting, Finance, Corporate Finance or related field.
Marketing is responsible for assessing customer needs, market conditions and competition to develop successful business strategies. Marketing works to identify where value can be created, using the voice and needs of the customer, to translate insights into products, services, experiences and solutions to help our customers thrive in the changing world of healthcare. Opportunities in marketing include brand management, product or services marketing, and digital/e-commerce.
Seeking students who are currently progressing toward an MBA in Marketing, Strategic Marketing, or related field.
Strategy helps design, evaluate, and execute on the growth initiatives of the company. Executing on these initiatives requires sharp business acumen and deep understanding of the corporate decision-making process. Growth can encompass both external (mergers and acquisitions, commercial partnerships, investments) and internal (business unit re-positioning and leveraging current capabilities) tactics. Opportunities include strategy roles in the Corporate, Medical or Pharmaceutical business segments.
Seeking students who are currently progressing toward an MBA in Strategy, Finance or related field.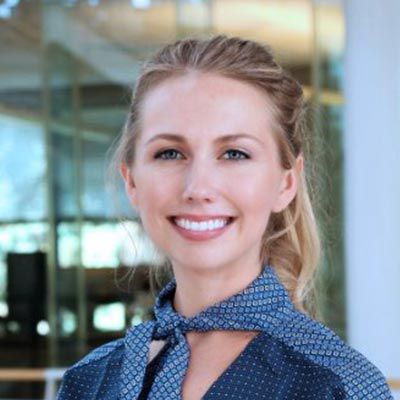 Meet Daryl
My MBA summer internship gave me the opportunity to dive deep into some of healthcare's most pressing problems. In fact, I worked on a project that was fast-moving, innovative and required building a new offering for pharmacies from the ground up. In addition to challenging project work, I had the opportunity to collaborate with fellow interns on a consulting project with a local nonprofit, to engage with senior executives over lunch, and to build relationships with employees across the company who made me feel supported and welcome. Ultimately, my internship lead to lasting relationships and was a robust and well-rounded experience that set me up for a successful second year of my MBA.
Daryl, Senior Product Manager