SAWC Fall 2019 | October 12 - 14, Las Vegas, NV
Negative Pressure Wound Therapy
Simple:
Technology is designed to be intuitive and easy-to-use
Reliable:
Solutions across the continuum of care
Effective:
Priced to provide 30% to 50% savings against market leader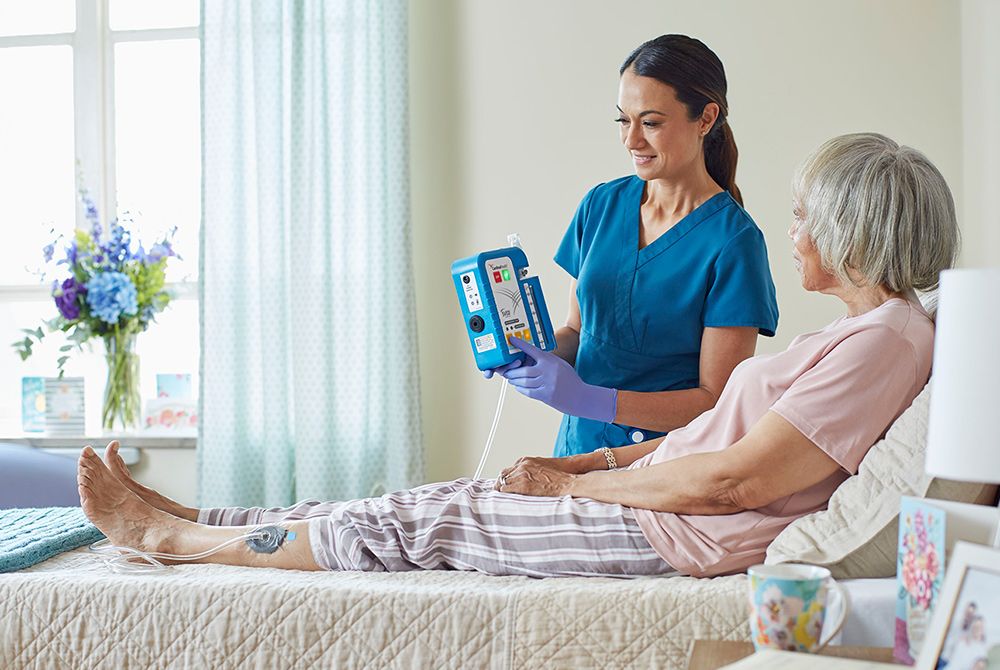 Advanced Wound Care
Hard on bacteria. Easy on skin.
The Cardinal Health line of antimicrobial dressings (AMD) is impregnated with 0.2% polyhexamethylene biguanide (PHMB), a bacteria-killing polymer. So you get powerful antimicrobial action that stays gentle on skin.
Kills a broad-spectrum of bacteria
Provides protection against 15 gram-negative, gram-positive and fungi/yeast microorganisms
Resists bacterial colonization and reduces bacterial penetration within the dressing
Proven to perform without negatively impacting epithelization
Low to minimal cytotoxicity
No known resistances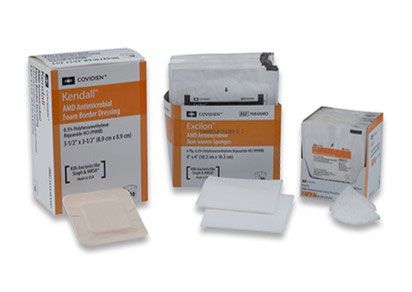 Learn how PHMB works.
PHMB attaks bacteria on and within the dressing fabric, to help you keep bacteria out of the wound, limit cross-contamination, and provide a healing environment.
Finally, NPWT that doesn't make you sacrifice savings for quality.
Stop by booth 430 to learn more about how Cardinal Health™ Negative Pressure Wound Therapy products have demonstrated no significant differences in clinical outcomes when compared with KCI's products. However, we offer affordable solutions that cost up to 50% less than KCI.1
In a 16-week prospective, randomized non-inferiority trial performed by Dr. Lawrence Lavery, podiatrist from University of Texas Southwestern, to compare wound closure in patients with moderate and sever infected wounds treated with NPWT, there were no significant differences in clinical outcomes or adverse events between the Cardinal Health and KCI devices.2
Healed wounds at 12 weeks (p = 0.29)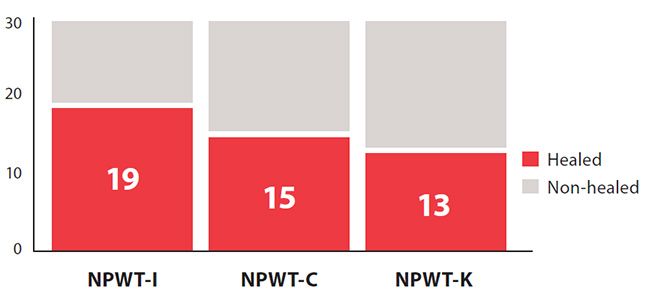 Access the full study and watch the video
References:
Study funded by Cardinal Health™.
1 Data on file at Cardinal Health.
2 Davis K, La Fontaine J, Farrar D, et al. Randomized clinical study to compare Negative Pressure Wound Therapy with saline irrigation and traditional negative pressure wound therapy for complex foot infections.