Contributor
B. Douglas Hoey, RPh, MBA
CEO, National Community Pharmacists Association
What makes a successful community pharmacy? The answer goes far beyond just the ability to dispense medications.
Being a successful community pharmacy means having roots in a community and being a part of the civic, social and economic fabric of a place. It includes having a compassionate, relationship-oriented team whose members are trusted advisers to their pharmacy patients who are also their friends and neighbors. Now more than ever, it means offering vital patient services that fill a healthcare void in communities across our nation.
With that in mind, the National Community Pharmacists Association and Cardinal Health recently published the 2018 version of NCPA Digest, quantifying and profiling what makes community pharmacies successful and distinctive.
The Digest is designed to help community pharmacy owners manage their businesses better by providing facts, figures and profiles — essential data that describe the impact that community pharmacies have on patients and the places they serve.
For more than 80 years, the Digest has provided the most comprehensive report available on the state of the independent community pharmacy, allowing pharmacy owners to make prudent business decisions as well as equipping elected officials with the information they need to craft sound policy.
One of the innovations in the industry is that many community pharmacists have formed clinically integrated networks of pharmacy providers – known as CPESN® networks – to forge even stronger relationships with patients and their physicians. CPESN network pharmacies provide the integrated care and enhanced services that improve overall patient care, especially those with complex, chronic illnesses.
While NCPA members received early access to the Digest at the NCPA Annual Convention in October, all NCPA members can now access a copy at www.ncpanet.org/digest using their NCPA membership ID and password.
What the data says
The 2018 NCPA Digest is a comprehensive overview of independent community pharmacy in the 2017 calendar year. It focuses on three major areas: Marketplace scope, health care services offered and community involvement of local pharmacy owners and staff. A quick summary of those findings:
1. The independent community pharmacy marketplace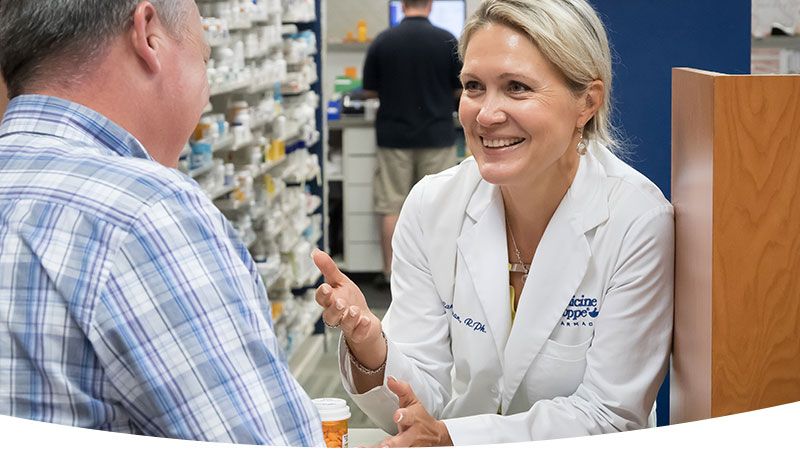 35%
of U.S. retail pharmacies are independent community pharmacies.
Independent community pharmacies remain a major segment of the overall pharmacy market – a $78 billion marketplace. They represent 35 percent of U.S. retail pharmacies. In total, they number 21,909, including single and multiple store pharmacies, family-run regional chain pharmacies and individually owned and operated franchisees.
Thirty-two percent of independent community pharmacy owners have ownership in two or more pharmacies, and the average number of pharmacies in which each independent owner has ownership is two.
More than 250,000 individuals are employed on a full- or part-time basis by these pharmacies, bolstering state and local economies and tax revenue. Prescription drugs are their focal point, representing 92 percent of total sales revenue.
Independent community pharmacists continue to be vital healthcare providers to patients and are involved, dynamic leaders in communities of all sizes, including both metropolitan and rural areas. In fact, 76 percent of independent community pharmacies are located in population areas of 50,000 or less.
Other highlights:
Prescription volume decreased from 59,746 in 2016 to 59,137 (190 per day) in 2017
Generic drugs comprise 85 percent of all prescriptions dispensed
53 percent of total prescriptions are covered by the Medicare Part D and Medicaid programs
88 percent of community pharmacies are offering some type of medication adherence program
71 percent of independent pharmacies offer same-day delivery service
33 percent have collaborative drug therapy agreements
2. Services provided to meet local health needs
Independent community pharmacies are easily accessible providers of prescription drugs, medication counseling and other important health care services. The 2018 NCPA Digest captures the types of services they typically offer.
Long-term care services
Independent community pharmacists play an important role in caring for the nation's 49.2 million seniors. They provide pharmacist care for seniors in nursing homes, assisted living facilities, hospice and those living at home. They also provide many specialty services for seniors, including nutrition assessment and support, intravenous therapy, durable medical equipment and ostomy supplies. In 2017, 45 percent of independent community pharmacists provided services to the residents of long-term care facilities.
Adherence services
Costs associated with chronic illness are a major driver of rising health care costs in the U.S. For most of the patients with chronic illnesses, medications are the most cost-effective course of treatment, yet many patients don't take their medicine as directed. To help combat the $290 billion medication non-adherence problem in the U.S. and improve patient health, 88 percent of independent community pharmacies have deployed comprehensive adherence programs. Nearly 76 percent offer medication synchronization services to their patients, which is the process of aligning all of a patient's medications to refill on the same day of each month, in addition to an appointment with the pharmacist.
93 percent of independent community pharmacies offering med sync services synchronize all chronic medications to a single monthly pick-up date. In addition, 57 percent report calling patients 4-10 days in advance of the monthly pick-up date.
Specialty Medication
Independent community pharmacies are playing a major role in the rapidly growing specialty pharmacy market. Forty-four percent of independent community pharmacies dispense specialty medications. The top disease-state specialty medications dispensed by these pharmacies include rheumatoid arthritis (87 percent), HIV (58 percent) and hepatitis C (37 percent). These pharmacies provide high-touch care to the patients in their local communities who need these very specific customized medications.
3. Community involvement
Independent pharmacies are often revered as pillars of their local communities, and the 2018 NCPA Digest supports that perception. Nearly 68 percent of all community pharmacy owners donated to at least five local organizations, with 39 percent donating to 10 or more local organizations. These small businesses impact their local economy not only through creating jobs, but also by contributing to their communities of their time and treasure. Pharmacy owners and their team members donate their time as volunteers, coaches and leaders demonstrating their roles as active, involved and caring members of their communities.
Take-aways from the 2018 Digest
In towns and cities across America, independent community pharmacies treat patients like family; promote safe and effective medication use; and actively participate in community life.
At the same time, decreasing prescription volume and declining prescription drug reimbursement reflect a changing marketplace that is challenging community pharmacy owners to adjust their business model. Now more than ever, community pharmacy owners should consider any and all options to diversify their revenue while continuing to focus on evaluating the economics of third-party reimbursements. Their participation and value to their communities continues to be essential while they are looking to their peers and others to find new and better ways to manage their businesses.