CONTRIBUTOR
Chris Hayhurst
Essential Insights contributor, healthcare writer
Featured expert
Innovation Solutions Manager
Fuse by Cardinal Health
Most of the discussion around biosensors in healthcare has focused on the technology's use in patient monitoring. Wearable sensor-based solutions make the tracking of vital signs like heart and respiration rates as simple as placing a pad on a patient's chest. With sensors as their assistants, clinicians can be sure that they provide the right care at the right time—and hopefully improve clinical outcomes as a result.
The financial implications of the technology are often left out of these conversations. For example, will the use of biosensors lead to ultra-fast and hyper-personalized treatment plans that reduce the typical patient's length of stay? What other ways can sensors help health systems and their patients save money? Might certain medical specialties, such as oncology, benefit from biosensors more than others? Could the pharmaceutical industry find potential cost savings with biosensors as well?
Each of these questions is addressed below as we show how biosensors are bound to make healthcare both smarter and more affordable.
1. Biosensors will help patients stay home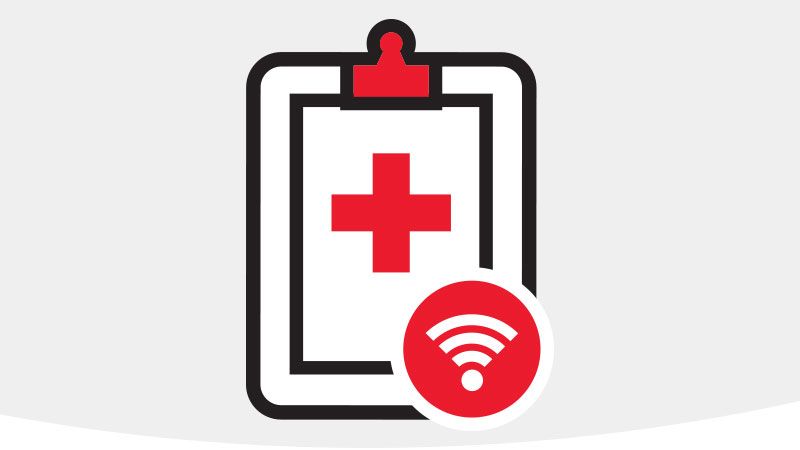 $46 billion
what the worldwide market for remote patient monitoring is predicted to top by 2020
The worldwide market for remote patient monitoring—an approach to healthcare that includes the use of biosensors—is predicted to top $46 billion by 2020. Driving investments in this technology are the growing number of providers who recognize that these devices can reduce healthcare costs. For example, at Ochsner Health System in Louisiana, physicians are using internet-connected blood pressure monitors to remotely track the health of more than 3,000 patients. One result of this is that pregnant women can schedule fewer in-person appointments by wearing these biosensors that track their vital signs at home.
While Ochsner's monitoring initiatives are still in the early stages, but according to Richard Milani, MD, the system's chief clinical transformation officer, they have high hopes that they'll ultimately lead to significant long-term ROI for payers. Milani told Modern Healthcare in late 2018: "With these programs, utilization goes down, and once that happens, there's a mad rush to want to pay for these things because they don't cost much as they achieve better returns."
2. Biosensors will allow providers to monitor medication adherence
With medication non-adherence costing the U.S. healthcare system from between $100 to $300 billion per year, finding ways to get patients to take their medicine is of utmost importance to the pharmaceutical industry, payers and providers. Biosensors may offer an easy answer, and are already making a difference at certain health systems. The blood-pressure program at Ochsner, for example, has led to improved medication adherence simply by offering an easy way for pharmacists to track medication effectiveness. If readings indicate that a patient's blood pressure is too high, the staff will call or text the patient to ensure that they're taking their medications as directed.
In 2017, the U.S. Food and Drug Administration approved the first ingestible drug with an embedded sensor that records if the medication was taken by a patient. The aripiprazole tablets (used to treat conditions like schizophrenia and bipolar disorder) send data from the sensor to a wearable patch, according to the FDA. The patch then transmits the data to a mobile app, allowing providers to access the information through an internet-connected portal. "As technologies like this become more common, I expect we'll see significant cost savings, particularly in specialties like oncology where medications are critical to outcomes and often very expensive," said Kristina Redgrave, Fuse innovation solutions manager.
3. Biosensors will help hospitals improve care and workflow efficiency
Another significant benefit of biosensors is their capacity for helping providers in hospital settings. Most health systems now rely on wearable biosensors to alert clinicians of significant changes in a patient's vital signs. For a facility with limited staff or resources, the technology is like having an extra set of eyes—assurance that should anything go wrong, a clinician can be notified in a matter of seconds.
Biosensors also help facilities improve clinical workflow by sending patient information directly to the electronic record, reducing the need for manual data entry and allowing nurses and physicians to focus on their patients. This can lead to cost savings as clinicians and their staff work more efficiently while at the same time patients benefit from better care.
4. Biosensors will revolutionize chronic care management
Brigham and Women's Hospital (BWH) in Boston recently launched a pilot program that uses biosensors to monitor patients with conditions like heart failure and chronic obstructive pulmonary disease (COPD). After being admitted to the hospital for an initial screening, patients who volunteered for the study were sent home with a skin patch that tracked vital signs, sleep patterns and daily movement. They were also given a tablet to communicate with their care team.
Dubbed "The Home Hospital" project, the initiative led to a 52 percent reduction in the cost of care for these patients compared to similar patients who remained at BWH (the home patients did receive occasional in-person visits from physicians and nurses). "For many conditions, a home hospital will transform our concept of safe, high-quality and cost-effective care," said David Levine, MD, MA and the physician and researcher who led the program.
Kristina Redgrave agrees that since costs associated with chronic disease management continue to climb every year, biosensors may become the solution that no provider can do without. She sums up the challenges and opportunities of biosensors when she says: "It's an easy-to-implement disease management tool. I don't think biosensors will ever get to the point where human intervention becomes unnecessary, but they are and will continue to make those interventions more effective—and they should make them more affordable as well."