CONTRIBUTOR
Will Seaton
Essential Insights contributor, healthcare writer
Featured experts
Vice President, Chief Medical Officer
Cardinal Health Specialty Solutions
Brian Fuller
Vice President, Value-Based Care, naviHealth
As healthcare systems make the transition from volume- to value-based care, there's an immediate need to both enhance the patient-centeredness of care and improve how quality outcomes are evaluated.
Patient-reported outcomes (PROs) offer a unique opportunity to meaningfully address these needs. Defined by the FDA as, "any report of the status of a patient's health condition that comes directly from the patient, without interpretation of the patient's response by a clinician or anyone else." Through surveys, questionnaires, and other methods, PROs provide direct insight into a patient's self-perceived sense of health and wellbeing — vital elements in a patient-focused approach to care.
What's the significance of patient-reported outcomes for value-based care?
The advantage of PROs is that they're able to measure otherwise unquantifiable data. "It's difficult to measure pain. It's difficult to measure fatigue. It's difficult to measure the burdens that patients feel about their disease and their treatment," said Dr. Bruce Feinberg, vice president and chief medical officer for Cardinal Health Specialty Solutions, in this featured video about the growing role of PROs.
In response to such difficulties, Dr. Feinberg said that researchers have developed tools called patient-reported outcomes measures (PROMs). When properly designed and validated, PROMs can be used to assess a variety of factors, including symptoms, a patient's health-related quality of life, adherence to therapy treatment, patient satisfaction with and among healthcare providers, and any variety of unmet care needs.
PRO-derived insights may become critical in evaluating the quality of outcomes, and therefore the payment of providers. The Centers for Medicare and Medicaid Services (CMS) is testing the idea with its Comprehensive Care for Joint Replacement Model. That program, which could be expanded in October 2017, partially ties PROMs to composite quality scores for hospitals performing total hip and knee joint replacement surgeries. Reimbursements are tied, positively or negatively, to such scores. It's the first mandatory program of its kind in the U.S. and likely not the last.
"PROs are gaining more acceptance as a key piece of the value-based puzzle, along with claims data, utilization and cost," explained Brian Fuller, vice president of value-based care at naviHealth, a Cardinal Health company. "It's also giving us a new opportunity to improve care delivery for the better."
PROs can meaningfully impact clinical decision making and contribute to improved outcomes. For instance, a Cardinal Health Specialty Solutions study of rheumatoid arthritis patients found that PROMs (collected with a real-time, point-of-care tool) were often discordant with clinician-reported outcomes, the latter of which tended to underestimate disease severity and treatment impact. But the rheumatologists found that by slightly altering the treatment regimen, they could reduce adverse drug events and costs without negatively impacting patients' sense of wellbeing or overall outcomes.
Despite the potential of PROs, significant obstacles still remain in the path towards their broader adoption.
Challenges of putting PROs in practice
One challenge lies in the collection of PRO data in a consistent manner. "You have to ensure that data is valid, reliable, contextualized, and interpreted correctly," Fuller explained. "But, as PRO data is often collected across many points in time, there is a risk that patients aren't engaged consistently." For example, there are difficulties in ensuring that post-surgery joint replacement patients will reliably participate in data collection over the course of a full year.
An even greater challenge, Fuller noted, is applying the conclusions drawn from PRO measures to make direct improvements to the care delivery system. "We may have the PRO data, but without sufficient clinical interpretation and clinical context they may not be considered valid," he added. Altering reimbursement models to reward quality could change practice patterns, but for PROs to play a role in determining those changes, healthcare leaders must first be convinced that they're a significant component of quality.
The standardization of PRO measures remains the largest barrier to implementation. Many physicians now accept a number of broad-based, disease-agnostic PRO measures, like the Treatment Satisfaction Questionnaire for Medication (TQSM) and the Short Form Health Survey (SF-36). However, there is limited consensus around a number of disease-specific measures, which must often be validated for highly specific patient populations. The Patient-Reported Outcomes Measurement Information System (PROMIS) has led efforts to standardize self-reported measures for a variety of diseases.
A path forward for PROs
Existing programs, such as the Hospital Readmissions Reduction Program, could serve as useful precedents for PROs because they already tie the quality of outcomes to payments. "Those kinds of calculations could very quickly translate to PROs," Fuller said. "I think PROs have a very clear path forward once baseline performance for PROs is established and everyone is comfortable that the methodology and tools being used are valid and reliable."
Such a path isn't entirely unprecedented. For instance, the UK's National Health Service (NHS) currently uses PROs to assess and incentivize quality by publicly comparing the performance scores of varying providers.
How PROs ultimately come to be used at scale in the U.S. remains to be seen. However, PROs offer a valuable mechanism for addressing the self-reported opinions of the patient. And in an environment that increasingly rewards the tailoring of care to patient needs, such opinions are likely to carry growing weight.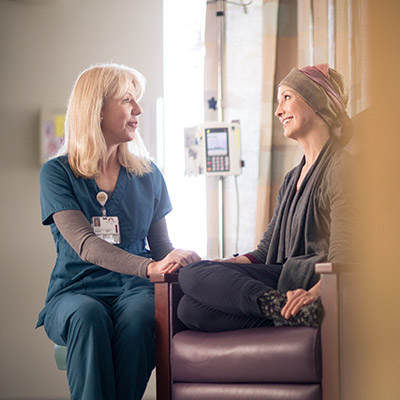 The pivot toward patient-centeredness
Patient-reported outcomes research and the future of healthcare from Cardinal Health Specialty Solutions.