CONTRIBUTOR
Michael Myser
Essential Insights contributor, healthcare writer
Featured experts
Tara Herington, RN
Vice President, Cardinal Health Sonexus™ Access and Patient Support
Brad Tice, RPh, PharmD, MBA, FAPhA
Healthcare industry expert
As many as 50 percent of patients on medications aren't taking them correctly. This lack of medication adherence not only dramatically impacts patient health, but has extreme consequences for the nation's healthcare bill, driving up avoidable costs as much as $300 billion annually.
There are a number of reasons drugs aren't taken as prescribed, from cost, side effects and patient forgetfulness. And while a number of smart technologies are changing the way health care systems, pharmaceutical companies, pharmacies and patients themselves approach their medication regimen, good old fashioned human interaction from caregivers, doctors, nurses and pharmacists remains the key to improving medication adherence.
"From the outside, it seems easy to take a pill every day," said Tara Herington, vice president, Cardinal Health Sonexus™ Access and Patient Support. "But it's really not. There are a lot of different reasons people don't take their meds."
The adherence problem
As former Surgeon General C. Everett Koop once reportedly said: "Drugs don't work in patients who don't take them." That quote holds even more truth now, as recent reviews show that up to 30 percent of prescriptions are never filled, and 50 percent of patients with chronic disease or cardiovascular disease aren't taking their medicines as prescribed. Meanwhile, 51 percent of those 65 and older take at least five prescription drugs regularly, and 63 percent of them say they forget their meds.
Improving adherence should be a goal for all providers and health systems, as those jumps in adherence dramatically impact hospitalizations and healthcare costs. A retrospective analysis in the American Journal of Managed Care found that adherence to glucose-lowering drugs in patients with type 2 diabetes, for example, showed a "significant reduction" in acute care costs.
One review demonstrated that for each 10 percent increase in adherence, total health care costs dropped as much as 28 percent.
And for pharmaceutical companies, nonadherence not only produces revenue loss when prescriptions go unfilled, but can damage a company's brand reputation, said Herington. If prescribers believe patients are taking medications as prescribed and those patients experience poor outcomes, the prescriber will think the medications are not working. Prescribers could remember the poor outcomes when they are getting ready to write a prescription for another patient, without knowing the previous patient was not taking the medication as prescribed—leading to poor brand reputation.
Technologies to improve adherence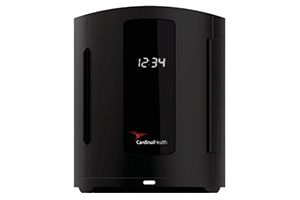 Cardinal Health's InPower™ Wellness System uses smart technology to monitor medication adherence.
With so much to gain from medication adherence, companies and technology innovators are making a play to improve how often, and how well, we take our pills. Smartphone adherence applications are increasing in use, while software and systems aimed at health systems are gaining more traction.
On the smartphone front, medicine and pill reminder applications abound, using text message reminders, calendars and the like to keep patients on track.
While many are familiar with pill organizers, Cardinal Health's InPower™ Wellness System's embedded smart technology more intricately monitors medication adherence.
"Adherence is typically measured by patient refill, insurance claims data or self-reporting, all of which are retrospective," said Brad Tice, director of product strategy and commercialization for Cardinal Health. "InPower measures medicine adherence levels in real-time, so if we see someone has missed a dose, pharmacists, patient support managers, or physicians can reach out to get them back on track."
Currently in pilot stage rollout, the InPower medication dispenser alerts a patient when it's time to take her medications, monitoring the dose level by weight. A cellular connection syncs that information to a pharmacy portal, giving clinicians a view into whether the patient is keeping up with her meds. Moreover, the dispenser can gather information from other wellness devices like blood pressure monitors, weight scales and glucometers, giving deeper insight into the overall health of the patient.
"It's not just about monitoring adherence, but taking it to the next level to monitor biometrics and how that adherence is impacting a patient's health," said Tice.
Maintaining a human touch
Research published in the journal Risk Management and Healthcare Policy argues that providers and clinicians can be the connectors between patients and external factors influencing nonadherence. And communication is central to that adherence, where poor communication results in a 19 percent higher risk of patients skipping medications.
Hub services, which integrate technology and personal interaction to help patients with specialty diseases navigate the complexities of the doctor, insurance requirements and pharmacies, also have a hand in medication adherence. Sonexus Access and Patient Support, for instance, will examine data for targeted patient groups and medications, segmenting them into groups that could be at risk for missing medications, and even timing patient outreach to occur at the most likely time nonadherence occurs.
"You really have to look at the individual and the medication to find the answers to adherence," said Herington. By speaking with patients when side effects typically set in, Sonexus nurses can talk them through those difficulties and help strategize ways to mitigate effects. Or if cost and pay is an issue, Sonexus can see that prior authorization is expiring months in advance, and will work with patients, pharmaceutical companies and payers to help ensure continuity of therapy.
Additionally, said Herington, nurses contact patients quickly after they are prescribed a drug, educating them on the importance of taking the medication as prescribed, implementing a plan for adherence and setting individualized patient goals.
OutcomesMTM, also a Cardinal Health company, leverages technology as a way for pharmacists to intervene with patients using medication therapy management. Pharmacists can access its clinical insight engine to identify potential problems a patient may have with their adherence based on past behavior, medications and demographics.
Looking forward
Technology will continue to evolve medication adherence, with the newest innovation coming from the Internet of Things (IoT) space.
Recently, the first pill with a microscopic tracking device was approved by the Food and Drug Administration. Embedded in a pill aimed at treating schizophrenia and bipolar disorder, the tracker sends a signal to a wearable patch, which wirelessly connects to a smartphone app that can then send the information to patients and providers to help keep dosing on track.
Even with these advances, it's clear that advanced technology should be coupled with human intervention to truly improve adherence.
"We're big believers in technology and automation; we have a great technology platform called ConnectSource," said Herington. "But we will always have a human component. That's our secret sauce."