CONTRIBUTOR
Michael Myser
Essential Insights contributor, healthcare writer
Featured experts
Patricia McGaffigan, RN, MS, CPPS
Vice President, Patient Safety Programs at the Institute for Healthcare Improvement
Maria Kotula
Manager, Clinical Operations
Cardinal Health
William Nadeau, MS, RD
Medical Affairs Director, Cardinal Health
Kate DeBartolo
National Field Director, The Conversation Project
This winter, we've witnessed teamwork and strategy at the ice rink and on the slopes – and now at the highest levels on the basketball court. However, we must also recognize the Herculean efforts required to provide coherent, cost-effective and safe healthcare treatment to patients in an increasingly complicated healthcare market.
Making patients an integral part of the healthcare team is essential. According to the World Health Organization, "engaging the patient as a team member can improve the safety and quality of their care."
Patients are increasingly armed with more information about their illnesses, and as insurance models move to pay-for-value based care, the patient experience and ensuring that their care reflects their preferences is as important as the health results of that care.
Here's how healthcare organizations and providers are giving patients more power to decide, and in some cases, deliver their own care.
Teaming up with the patient to make decisions
A team caring for the patient in the hospital can involve dozens of individuals—from nurses and emergency doctors to nutritionists and surgeons. The healthcare team is responsible for taking that first step in improving patient care by putting the patient at the epicenter of his or her care. That way, the patient is both better informed and involved in his or her own healthcare decisions.
This "shared decision-making" model is like naming the team's captain, informing patients in a way they can understand, and allowing for updated access to their own data and medical records to make the most informed decision for their health. But it's not just handing them information, it's also answering patient questions.
"Many assume that patients know what questions to ask," said Patricia McGaffigan, vice president, Patient Safety Programs at the Institute for Healthcare Improvement (IHI). But according to the U.S. Department of Health and Human Services, only 1 in 10 adults can make sense of the everyday health information made available to them.
That's why IHI offers the Ask Me 3® educational program, encouraging patients and families to ask three specific questions of their providers to better understand their health conditions, and what they need to do to stay healthy.
The answers to those questions – What is my main problem? What do I need to do? Why is it important for me to do this? – give patients a more fully-informed picture of their disease state and treatment options. "They are more active ambassadors of their care, more cognizant of any changes and options related to their own conditions, and more satisfied with their care," said McGaffigan. "We also feel that care is ultimately safer when patients become engaged in this manner."
The three questions every patient should ask:
What is my main problem?

What do I need to do?

Why is it important for me to do this?
Ask Me 3® educational program
Giving the patient the playbook to deliver their care
Beyond bringing the patient in as the captain of the team, it's also necessary, in some cases, to hand off care responsibilities directly to patients. For example, in a four-year study published in the Harvard Business Review, a group of 1,000+ patients who self-administered IV antibiotics at home had a 47 percent lower 30-day hospital readmission rate than those getting treatments at an outpatient facility.
Easy-to-learn, high-value tasks like this, as well as pain management, physical therapy, wound care and enteral nutrition (tube feeding), can be ideal targets for self-care.
Of course, patients must be taught these skills. Showing patients how to dress their own wounds is often a requirement for hospital discharge, and a quick way to reduce costs for both patients and health systems. Using "teach-back" sessions, wound care specialty nurses act as coaches to demonstrate and walk through the patient's dressing care, while describing symptoms of infection. Patients then repeat the process while asking questions along the way, which reinforces ongoing communication with their healthcare team, said Maria Kotula, clinical operations manager, Wound Management at Cardinal Health.
Kotula also sees value in including family members or loved ones in wound care training, involving them more directly in the patient's team. "It's really an amazing turning point to see the impact on patient healing when they realize they don't have to face the battle alone," said Kotula.
Enteral nutrition, where nutrition is delivered via a feeding tube into the gut, may also be a requirement for hospital discharge when patients can't take food in by mouth after a procedure, injury or disease. And just as critically, medical insurance won't typically cover the costs of home enteral nutrition delivery by nursing staff, so from a healthcare cost perspective, it's important to give patients those skills.
"Patients go home on enteral nutrition because they no longer require acute inpatient care for their clinical condition," said William Nadeau, medical affairs manager for Cardinal Health. "But enteral nutrition can present difficulties because of its complexity, and patients can experience re-admittance due to enteral feeding related complications."
Technology is also allowing clinicians to monitor pump operations remotely to greatly reduce clogging or mistakes in administration.
"Patients can be better served by not only having devices they need, but also the education on how to use them and the ability to communicate with their clinicians remotely," said Nadeau.
Roles and responsibilities for team success
Like the best teams on the snow, ice or court, each member of the healthcare team has distinct roles and responsibilities to be most successful. First, patients and their caregivers must take the initiative to learn about their disease state and potential treatments, and be prepared with questions like those from Ask Me 3.
Physicians and nurses must work to not only answer those questions at the level the patient can understand, but develop empathy and compassion. That will lead to real relationships with patients, and ultimately, better care.
Finally, when it comes to end-of-life care, the whole care team can play a role in helping ensure patients' end-of-life care values and goals are both expressed and respected. The Conversation Project (a public engagement initiative, also from IHI) is helping ignite and guide these discussions. Studies show that these discussions improve the quality of life for these patients, reduce anxiety, stress and depression among patients and family members, and even increase patient survival rates.
Kate DeBartolo, national field director for The Conversation Project, stressed that all medical care, not just end-of-life care, can and should put patient needs and values first, regardless of medicine or diagnosis. "Honoring what matters most to the patient is ultimately good care at any stage of life," said DeBartolo.
As insurance models change to pay-for-value based care and delivering a solid patient experience, practitioners and patients must be supported by the healthcare systems in their philosophy and treatment of the patient. Health systems should clearly define that patient experience across the organization, while creating a system that rewards patient relationships, not just patient numbers or results.
"Putting what the patient wants at the center is so important," said DeBartolo. "As it's been said before, we're moving from 'what's the matter with you' medicine, to 'what matters to you' medicine."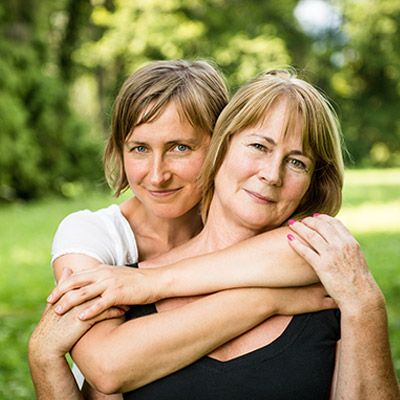 Have you had the conversation?
The Conversation Project offers free information and resources to have discussions with loved ones about their goals for end of life care.