CONTRIBUTOR
Jennifer Nelson
Essential Insights contributor, healthcare writer
Featured experts
Pamela Pallett
Data Scientist, Fuse by Cardinal Health
Kenneth J Abrams, MD, MBA
Chief Physician Executive & US Academic Medical Center Leader; Managing Director, Deloitte Consulting LLP
It's Monday morning and you've woken up with a high fever. Can't get in to see the doctor and don't have hours to wait at an urgent care, or worse, the emergency room (ER)? Now, with a few clicks of a smartphone, a doctor can knock on your door in an hour—or see you immediately for an appointment via video conference.
Welcome to on-demand healthcare, a by-product of a global healthcare revolution where consumers can obtain the service they need, when they need it.
Bringing on-demand service to healthcare
Loosely defined, healthcare on demand connects patients with available healthcare providers through web sites, mobile apps or even home visits in real time. And it's all thanks to the click of your smartphone, reflecting the change in consumer behavior driven by brands like Lyft and DoorDash.
With a national shortage of both primary care physicians and specialists, and wait times at urgent care and hospital ERs getting longer, it's clear that healthcare on demand is a welcome addition to the marketplace.
"Consumers, accustomed to the convenience and connectivity from other demand-driven industries, are looking to obtain healthcare services in the same fashion," said Dr. Kenneth Abrams, a managing director at Deloitte Consulting LLP.
Not only are independent companies like Doctor on Demand, a videoconferencing telehealth model, and Heal, a California-based house call archetype, popping up, but large health systems who realize patients' needs are not being met in the traditional system are also looking to get into the on-demand arena.
For example, Cleveland Clinic offers Express Care in which adult patients can see a virtual provider for non-life-threatening conditions like allergies, rashes, urinary tract infections or back pain.
Concierge practices, where patients pay a monthly or annual membership fee for more access to a healthcare provider, are also offering on-demand care.
With quick appointments, greater access to care, and the ability to skip the wait time—not to mention crowded, germy waiting rooms—on-demand care is garnering a swift following, especially from Millennials, who've grown up on technology.
Pam Pallett, a data scientist at Fuse by Cardinal Health, the company's innovation center, said it's also a huge convenience for people with busy lives—whether it's a working parent needing a follow up for a child's bout of bronchitis, a business person who can videoconference a mental health appointment during his or her lunch hour, or a senior with long-term care needs who can no longer drive to the doctor's office.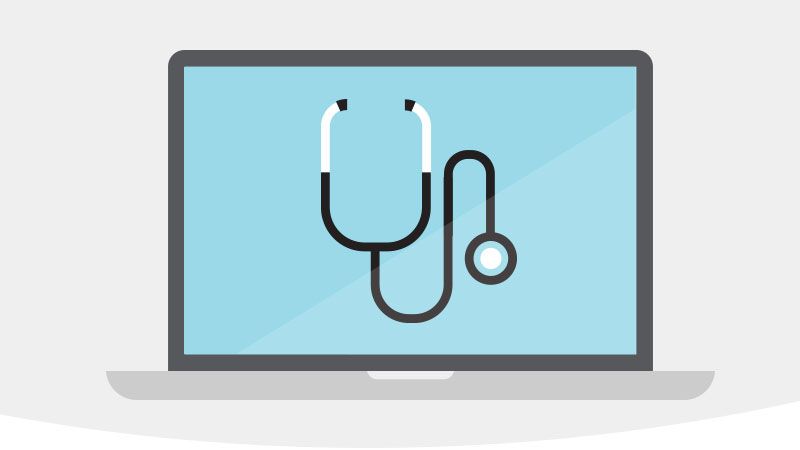 60% of Americans
are up for virtual healthcare.
In fact, a 2016 Wall Street Journal report found that 60 percent of Americans are up for virtual healthcare.
In some aspects, on-demand healthcare has gone back to the future. The technology capabilities needed to keep a patient's records mobile (yet private), coupled with the old-fashioned elements of a house call, may provide an improved healthcare experience for the patient.
How does on-demand stack up?
While on-demand care is not appropriate for life-threatening emergencies, it is finding traction for follow-up appointments, mental health counseling, some specialty care, and a myriad of minor illnesses and injuries.
In addition, it can save the healthcare consumer money. A California Health Care Foundation report found that a virtual visit costs 40 percent of a primary care provider visit and 4 percent of an ER visit. Additionally, a 2018 urgent care visit co-pay runs around $150 per patient on average, while Doctor on Demand lists a 15 minute doctor's consultation for $75 (costs may vary depending on insurance)—making on-demand care's flat fee transparent and especially attractive to the uninsured.
"One of the big questions people tend to have is, 'what if I need a lab or my blood pressure measured?'" said Pallett. But on-demand healthcare can cover that too. A virtual doctor can either refer patients to a local lab or imaging center, while in-person physicians can travel with a host of portable equipment.
Naysayers point out that on-demand won't have the care continuum of a "medical home," physicians may not have access to patient histories, or even that it may commoditize the industry. Patients could also become too reliant on on-demand care since its convenience and cost are in their favor.
However, many of these hurdles have been considered. Furthermore, on-demand care should not replace an annual exam or a relationship with a primary care provider but offer an adjunct to that care. "Even if this isn't the optimal way to have a doctor's visit, it is still much better than not seeing a doctor at all," said Pallett.
The future of on-demand
Much like ride-share services disrupted the transportation industry, the emergence of on-demand healthcare may be viewed as a disruption to the business of traditional healthcare. In reality, it offers yet another low-cost, convenient patient choice.
"On-demand care is already making a large impact on the healthcare industry, driving organizations to be more consumer-centric and fundamentally changing the way that care is delivered today," Abrams said. "As on-demand healthcare becomes more common, organizations will see a shift from care performed in centralized acute facilities, to more care being performed in individual households."
Additionally, Pallett suggested that insurance providers might eventually offer more on-demand services, creating new options for the insured, while the uninsured might have a lower-cost route to healthcare. She added that it's possible that more independent on-demand companies will pop up nationally, while major health systems will continue to expand on-demand care access for patients.
Although this care model is still in its infancy, it is evident that healthcare organizations will have to adapt to the "on-demand" economy in order to stay in demand with today's patient population.