Featured expert
James Roof
Director of Consignment and Technology Programs, Cardinal Health Specialty Pharmaceutical Distribution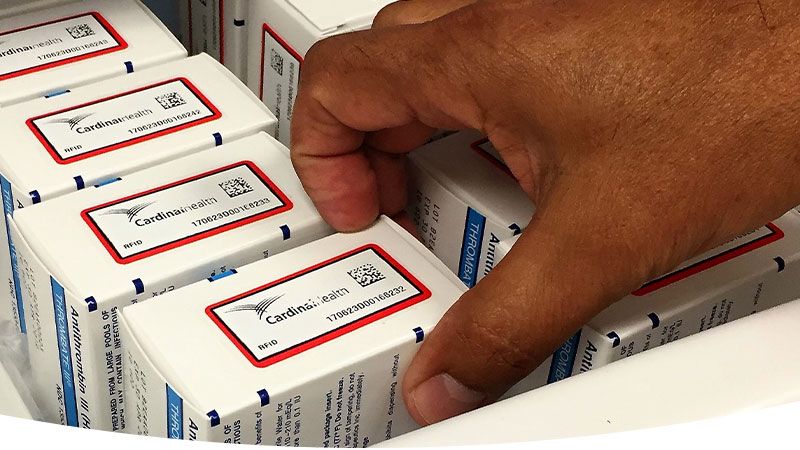 $285 billion
the expected specialty drug spend by the year 2021
In 2018, sustainable cost control surpassed revenue growth as the number one priority for hospital and health system executives, forcing leaders to find a balance between managing the bottom line and providing quality patient care — a feat that is often challenging.
At the same time, the shift toward specialty pharmaceuticals creates additional challenges for hospital pharmacy leaders tasked with managing costs like drug spending.
By 2021, specialty drug spend — which has quickly outpaced traditional pharmaceutical spend — is expected to hit $285 billion, or more than 50 percent of total pharmaceutical costs.
Adding to the challenges, these specialty drugs often have unpredictable demand and carry a high price tag, leading many hospitals to stock lower volumes of these drugs. To better manage these products, many health systems are turning to a consignment-based model, which offers opportunities to improve patient care while driving efficiencies and reducing inventory carrying costs.
James Roof, director of consignment and technology programs for Cardinal Health Specialty Pharmaceutical Distribution, recently spoke with Becker's Hospital Review about the benefits of a consignment model and explained the additional benefits of a cloud-based, RFID-enabled program.
[Becker's Hospital Review note: Responses have been lightly edited for length and clarity]
Question: How does consignment lower inventory carrying costs for specialty pharmaceuticals?
James Roof: Using a consignment model to manage inventory can help address many of the challenges arising from specialty pharmaceuticals. In a consignment model, the financial burden is transferred to the distributor and health systems only pay for the products they use, which helps minimize risk and account for high-cost, variable demand products. Additionally, the budget previously allocated to higher inventory carrying cost can be reallocated to other initiatives.
Consignment allows hospitals and health systems to keep specialty products on hand, so they're available whenever patients need them. This reduces additional costs associated with emergency shipments and helps hospitals avoid transferring patients to other facilities.
Consignment also eliminates product obsolescence and outdating. In the Cardinal Health consignment model, our company monitors the inventory and proactively sends new products as they approach expiration. Additionally, Cardinal Health manages any recalled products and sends alerts when recalls are issued.
Q: What are some benefits of using a cloud-based, RFID-enabled solution for managing consignment of specialty pharmaceuticals?
JR: Implementing a cloud-based, RFID-enabled consignment program drives efficiency and helps automate inventory management. Being powered by a cloud-based platform, such as the RxID® inventory management platform from Cardinal Health, provides 24/7/365 visibility into inventory that can be accessed from anywhere and across multiple locations. RFID technology automatically updates inventory counts, saving valuable time and resources, while also eliminating manual counting errors.
Additionally, a refrigerated, RFID-enabled cabinet helps maintain product integrity for specialty pharmaceuticals with unique handling and storage requirements. The refrigerated system also ensures products are kept at a consistent temperature and sends automatic alerts when a shift in temperature is detected.
Q: Some may perceive RFID to be too complicated. How does this technology facilitate inventory management to drive efficiencies?
JR: Some may think that RFID technology adds additional layers of complexity, but RFID technology helps automate your supply chain. In an RFID-enabled consignment program, products arrive at your facility pre-tagged with all pertinent product information, such as product serial number, lot number, expiration date and more.  With an RFID-enabled cabinet, inventory movement is tracked whenever products are added or removed from the cabinet.
To ensure inventory is accounted for, a full product scan is initiated each time a product is added or removed from the RFID cabinet and the door is closed. The technology automatically updates counts, and the RxID® platform will reorder products when thresholds are reached based on established par levels.
Q: How can a health system evaluate if an RFID-enabled consignment program is for a good fit for its pharmacy?
JR: When determining whether an RFID-enabled consignment program is right for their health system pharmacy, leaders should consider their total inventory cost, inventory management challenges, the amount of expired inventory generated and their temperature control needs.
For health systems currently spending a significant amount of time manually logging product details, an RFID-enabled system can drive time and motion efficiencies and optimize staff resources. If your facility struggles with stocking the proper amount of product or having specialty pharmaceuticals ready in emergency situations, a consignment program can help ensure the right products are available when needed without added inventory carrying costs. Consignment can also help facilities that generate excessive waste due to outdated or expired product.
As hospital and health system leaders look to control costs while maintaining quality patient care, pharmacy leaders can leverage RFID-enabled consignment programs for cost-savings and efficiency. Deploying this model will not only boost revenue, but also free up staff to focus on patients and deliver improved outcomes.
Webinar: The growth of specialty pharmaceuticals
More insights on using a consignment model as a strategy for the future.