CONTRIBUTORS
Kristen Fischer
Essential Insights contributor, healthcare writer
Stephanie Pavol
Essential Insights contributor; Senior Manager, Product and Solutions Marketing
Cardinal Health
Featured experts
Richard D. Brennan, Jr
Senior Vice President, Government Affairs & Technology Policy; National Association for Home Care & Hospice
Sheila Cullen, BSN, WOCN, CWCN
Manager, Clinical Services, Home Healthcare Solutions, a Cardinal Health company
Editor's Note: This article has been updated from its original version and is the first in a series of articles looking at how different care delivery models are meeting patients where they are – whether at work, home or in their neighborhoods. Read more about community paramedicine, on-demand healthcare, and retail healthcare.
Imagine if a family member had an acute illness like pneumonia that required hospitalization. But what if instead of having her go to the hospital, the hospital came to her at home?
Nurses and doctors could visit her twice a day and perform the necessary tests. And remote monitoring would allow the hospital to track her vital signs and receive a steady stream of data about her condition. Furthermore, video technology would allow the patient to ask questions of her doctors and stay in touch. Unlike concierge or on-demand care, this scenario would actually provide acute level, episodic care.
Scenarios like this are becoming more commonplace as healthcare organizations look for ways to shift care to more cost-effective settings and align with changing reimbursement models. In 2018, demand for home care services is also expected to continue to rise as a growing number of seniors choose to age in place in more convenient and comfortable settings.
To mark National Homecare & Hospice Month, here's a deeper look at how home healthcare is changing and what this means for hospitals and healthcare providers.
The shift to more home healthcare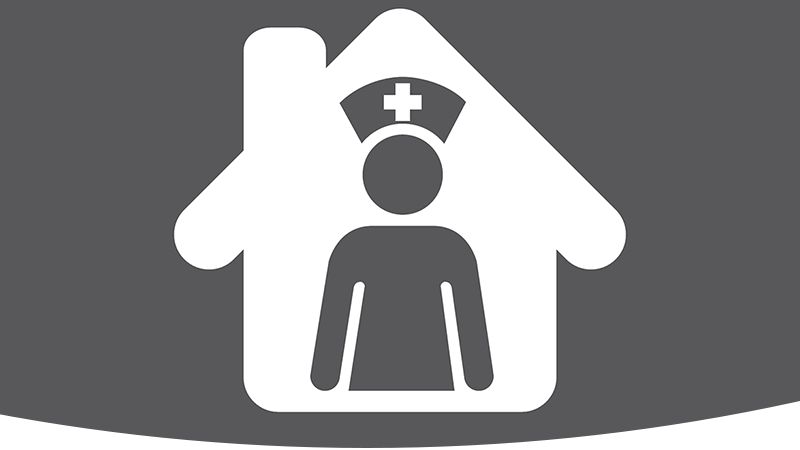 44% of healthcare organizations
want to invest more in home healthcare
According to the Centers for Disease Control and Prevention, there were about 12,400 home health agencies in the U.S. as of 2014. While home healthcare agencies and hospice companies used to be some of the only ones offering care in the home, other providers are now seeing more opportunity in home-care delivery. A recent survey found that 44 percent of healthcare organizations want to invest more in home healthcare.
What's fueling this growth? Recent changes in Medicare reimbursement rules such as the Hospital Readmissions Reduction Program are now assessing penalties for "excess readmissions," while new payment models, like bundled payment initiatives, are incentivizing hospitals to look for new ways to make sure their patients' recoveries stay on track.
Richard D. Brennan, Jr., senior vice president for government affairs and technology policy with the National Association for Home Care & Hospice, also said home healthcare typically is more cost-effective than 24-hour care at a nursing home or long-term care facility.
But instead of "going it alone," healthcare providers and organizations are collaborating with each other to bring care to their patients.
Innovative home care models and partnerships

Presbyterian Healthcare showcases their Hospital at Home program
In recent years, many hospitals have worked with home health and hospice companies to manage patients after they are discharged, helping cut down on readmissions and the costs related to them.
For example, the Cleveland Clinic partnered with Kindred Healthcare, a national post-acute service provider with a home healthcare agency, to serve its post-acute care patients. The partnership includes condition-specific care management programs such as Heart Care to Home to promote successful transitions home after patients are discharged from the hospital and then from a skilled nursing facility.
Once patients transition to their home and enter into the Heart Care to Home program, telemonitoring devices collect their health measures such as blood pressure, heart rate, blood oxygen level, weight and other vital information—all with the aim of reducing the risk of readmission to the hospital.
"Identifying and referring patients to a home health, palliative care or hospice provider post hospital discharge is showing great promise and provides a data platform to track readmission rates even when compared to skilled nursing facility or long-term care placement," said Sheila Cullen, manager of clinical services for Home Healthcare Solutions, a Cardinal Health company that provides products and services to patients and clinicians in home health and hospice care settings. "We are seeing a trend in using standard system electronic health/medical records to create visibility, improve care coordination, and monitor patients at risk for rehospitalization."
Other models, like the hospital-at-home model, aim to keep patients out of the hospital altogether (or from being readmitted) by providing hospital-level care in a patient's home as a substitute for traditional inpatient care.
Like in the pneumonia scenario above, the hospital-at-home model can provide exams, vital signs and illness monitoring, intravenous fluids, wound care, and patient education inside the patient's home. Health systems like Johns Hopkins, Presbyterian Healthcare Services and Brigham Health are just a few of the systems employing this emerging clinical care model, while companies like Medically Home have emerged in the hospital-at-home space. According to its website, Medically Home's services are currently available in certain areas of Massachusetts, New Jersey, and Indiana.
Initial research is showing positive outcomes for the hospital-at-home model. A study published in JAMA Internal Medicine, found that the hospital-at-home model offered better satisfaction, outcomes and no increase of adverse events compared to patients who stayed inpatient. The hospital-at-home patients in the study had lower inpatient stays, readmission rates and emergency department visits using the model. A cost savings of 19-38 percent was reported.
"Advancements in treatment protocols and technology are enabling more care to be provided safely in the home, which is often the preferred location for patients," said Zain Mahmood, senior consultant for Corporate Strategy & Development at Cardinal Health. "Companies like Medically Home are at the forefront of this movement to shift advanced medical care to the home, when possible."
Looking ahead
Despite the opportunities for more healthcare in the home, challenges still exist. Providers are grappling with concerns about patient safety, quality of care, and legal risks as they consider this new model. (The Institute for Healthcare Improvement released a report No Place Like Home: Advancing the Safety of Care in the Home.) Additionally, the reluctance of payers, including Medicare, to reimburse providers for delivering services in home settings remains another challenge.
As the industry looks ahead, we can likely expect more mergers and acquisitions among healthcare organizations of different kinds to make news headlines as the marketplace quickly shifts to accommodate new players. Technologies that let doctors monitor patients remotely will also continue to play a significant role in keeping patients at home.
"In some respects, technology could be the biggest trend in home healthcare," Brennan said. "it's enabled people to be provided for at home."
"The future is doing more with less and using data implications to drive best practice solutions, impact care, monitor spend, and assess outcomes," Cullen added.
While some hospitals may view these emerging home care models as a threat to their dominance, those that don't adapt could be left out of the care continuum as care continues to shift to lower-cost settings.