Contributor
Stephanie Pavol
Essential Insights contributor; Senior Manager, Product and Solutions Marketing
Cardinal Health
Featured expert
Adam Robinson
Director of Field Operations, Sustainable Technologies, Cardinal Health
Across the country, hospitals and health systems are putting a greater focus on environmental sustainability – the concept of reducing an organization's demands on the environment over a long-term basis. Examples include reducing waste, conserving water, and using more renewable energy sources. These efforts can contribute to a healthier environment, improve the organization's public perception, and help local communities.
In 2018, Cardinal Health recognized 12 hospitals and health systems for leading the healthcare industry in sustainability efforts and raising the bar for environmental excellence. With the help of Cardinal Health's Sustainable Technologies — a leading provider of single-use device collections, reprocessing and recycling services — these healthcare organizations collected 1.8 million used medical devices, diverting more than 125 tons of landfill waste1.
Here, we talk to Adam Robinson, director of field operations for Sustainable Technologies, about how health systems can bolster their sustainability efforts.
Q: Why is environmental sustainability an important issue for health systems?
Robinson: U.S. hospitals create more than 29 pounds of waste per staffed bed per day. Health care delivery often puts the U.S. healthcare system in a juxtaposition of caring for the patient while harming the environment. Many health systems have recognized this paradigm and are expanding their missions to improving and maintaining the health of the surrounding communities they operate within.
For example, Kaiser Permanente has committed to recycling, reusing, or composting 100 percent of its non-hazardous waste by 2025. By linking their missions to be accountable to the communities in which they operate, health systems signal to the patients they serve that healthcare extends beyond the hospital.
Q: What key actions can health systems take to be more environmentally sustainable?
Robinson: Hospitals deploy a number of sustainability strategies including composting food waste, sourcing healthier food from local vendors, single stream recycling for solid waste, building energy efficient infrastructure, using renewable forms of energy, and reducing use of chemicals of concern. Key to these efforts is having a vision for how a health system wants to deploy a sustainability strategy.
Hospital systems that have a comprehensive strategy often have leaders within the organization who are focused solely on managing a sustainability mission and strategy. These leaders ensure front line staff can carry out these efforts —generating the most impact.
Q: Each year, hospitals in the U.S. generate 5.9 million tons of medical waste. How can recycling and reprocessing appropriate medical devices make a difference?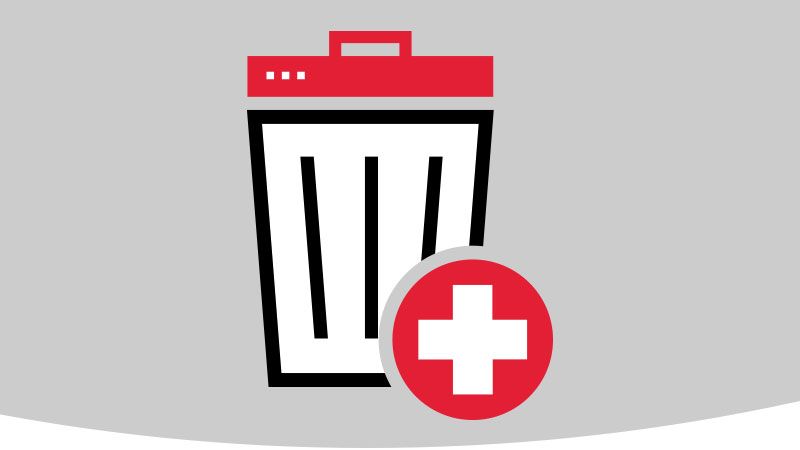 5.9 million tons
The amount of medical waste that hospitals in the U.S. generate each year.
Robinson: Single use device reprocessing offers a dual benefit of diverting waste from landfills while also saving U.S. hospitals money through lower device acquisition cost. The Association of Medical Device Reprocessors estimates that the average hospital diverts 50,000 pounds per year from landfills through device reprocessing and recycling programs. These programs are often managed at no cost to hospitals, and devices that reach end of life are often recycled.
Q: In addition to the environmental benefits, what are the financial benefits of hospital sustainability programs?
Robinson: A typical 200 bed hospital, if taking advantage of a full reprocessing solution, can save between $600,000 and $1 million a year. In addition to reduced device acquisition costs, hospitals avoid disposal fees associated with regulated medical waste, also known as "red bag waste." The total potential savings to the U.S. healthcare system exceeds $500 million annually, representing one of the most compelling opportunities to reduce the cost of healthcare.
Q: What advice would you give to health system and hospital leaders looking to start or improve their sustainability programs?
Robinson: First and foremost, sustainability should not be considered an episodic initiative or a strategy for one-time savings. Sustainability efforts are most successful when they're a core operating principle factored into the value analysis process. Second, it's important that supply chain and sustainability leaders alike engage front-line staff to underscore the opportunity and benefit of sustainability programs — key to success is buy in of clinicians.
Last, I would suggest a continual evaluation of programmatic goals, outcomes and partnerships. Sustainability programs continue to evolve. As they do, they are becoming more accessible, more integrated into the end-to-end supply chain, and given greater focus from the medical device manufacturing community.
1Data on file