CONTRIBUTOR
Laura Mueller
Essential Insights contributor, healthcare writer
Featured experts
Richard Miller, MD, PhD
Director, Paul F. Glenn Center for Aging Research, University of Michigan
John Rowe, MD
Professor, Health Policy and Aging, Columbia University
Editor's note: This article was originally published on June 20, 2018, and has been updated.
A
t the University of Michigan's Paul F. Glenn Center for Aging Research, Richard A. Miller, MD, PhD, a professor of pathology and one of the nation's leading experts on the biological aging process, is trying to turn back the clock on the human body. Using mice, Miller and his team are 
testing the effects
 of different drugs for their ability to delay aging, and they're accomplishing some remarkable results.
"We have three drugs right now that give a lifespan extension of 20 percent or more," Dr. Miller said. And the drugs don't just help mice live longer. They also delay the development of disease, meaning the mice aren't just older but they're healthier, too.
"If they worked in humans, then when people reached the age of 70, 80 or 90 they would resemble healthy people who are ten or 20 years younger," Dr. Miller said. "The drugs would be postponing illness and extending longevity by maintaining relatively youthful functions. If we could get it to work, that would be at least as good—in terms of years of healthy, active life—as a cure for cancer and cure for heart attacks put together."
It sounds like science fiction, but Dr. Miller is adamant that it really could happen. Unfortunately, though, he added, the resources for aging research just aren't there. And that's too bad, because the United States is quickly embarking on the age of longevity—where people are living longer, but not necessarily healthier, lives—and our current health system may not be equipped to handle it.
Changing demographics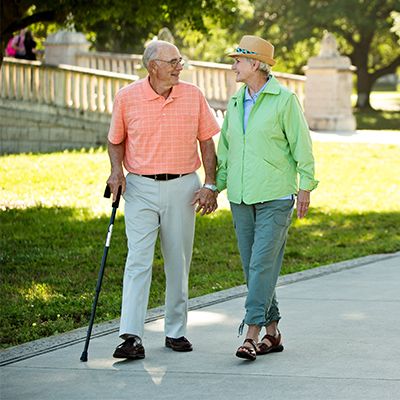 Healthy Aging Month
This annual health observance is designed to focus national attention on the positive aspects of growing older.
America is an aging society, said John W. Rowe, MD, professor of Health Policy and Aging at Columbia University and president of the International Association for Gerontology and Geriatrics. Life expectancy in the U.S. has risen from 70 years of age in 1960 to 79 years of age in 2016 (and the gender gap in life expectancy has also narrowed).
"The aging of American society is a result of the baby boom and that roughly 10,000 baby boomers are turning 65 every day," Dr. Rowe said. In addition to the baby boomers, advances in medicine are allowing for longer lives, while decreases in birth rates have meant fewer young Americans.
Many other countries are also combating this problem — Japan, Italy, Greece and Germany have the highest percentage of those 65 and older. However, health complications and financial burdens hit Americans the hardest, as our healthcare system isn't optimized for efficient delivery of care to older adults.
In a report for the National Academy of Medicine's Vital Directions initiative, Dr. Rowe and colleagues from other leading institutions explored the nuances of America's aging society and provided guidance on how the U.S. healthcare system could better provide for them. Dr. Rowe said that the problems with the system are multifaceted.
"We've done a lot right, but we have some gaps," Dr. Rowe explained. One gap he identified is in the models of care used to manage people with chronic disease and a lack of community resources for keeping individuals without acute problems out of the hospital. Another is in the workforce, where there's a major deficiency in geriatric specialists and long-term care workers, and finally, a nationwide deficiency in adequate end-of-life care.
Fortunately, Rowe said, we're not at a total loss. Medical schools are providing better training in geriatric medicine for those who decide to pursue it, and both health systems and health insurers are showing more interest in providing for Medicare beneficiaries. There has also been increased research in the diseases and medication effects that are common in older people.
But will it be enough?
Yes, I would like to learn more about Cardinal Health's products and services by email. I can withdraw my consent or change my preferences by visiting
Update Preferences
. Visit
Privacy Policy
for more information about Cardinal Health's privacy practices.
Getting prepared
Optimizing care for the age of longevity starts with the healthcare workforce. Health systems need to recognize the value of the added training that comes with a geriatric specialty and do a more efficient job of incentivizing individuals into the field, where the need will only grow.
"I think that Medicare, and perhaps commercial insurance as well, can recognize the inherent value of the added years of training and competency in geriatricians and geriatric nurse practitioners by paying them more for the services they provide," Dr. Rowe said. Geriatricians have one of the lowest annual salaries of all physician specialties, in part because a majority of their patients are on Medicare.
Another important piece of the puzzle is encouraging collaboration among the inter-related social, community, familial and financial support systems that help care for those in need. Health systems need to work together with housing systems, transportation systems, and community social services to provide a foundation of support for older individuals. In other aging societies, particularly those in Scandinavia, this type of societal coordination has been critical to offering effective care.
Looking forward
There's no time to waste when it comes to preparing for America's aging society—we're living in it now. Groundbreaking advancements like the anti-aging drugs Dr. Miller is working on aren't ready to help older people live healthier lives today, so it's necessary to use the resources we have now to help our aging population deal with more chronic diseases.
There's incentive for everyone to create a better system of care for our aging population. If we don't, we may continue to live longer, but not necessarily healthier, lives — and we'll all pay the price.
---
More articles on caring for our aging population