CONTRIBUTOR
Rita Colorito
Essential Insights contributor, healthcare writer
FEATURED EXPERTS
John Mastrojohn III, RN
Executive vice president and COO of the National Hospice and Palliative Care Organization (NHPCO)
Steve Pantilat, MD
Director of the UCSF Palliative Care Program
Kathy Brandt
Principal at the KB Group
Emily Van Etten
Development specialist at NHPCO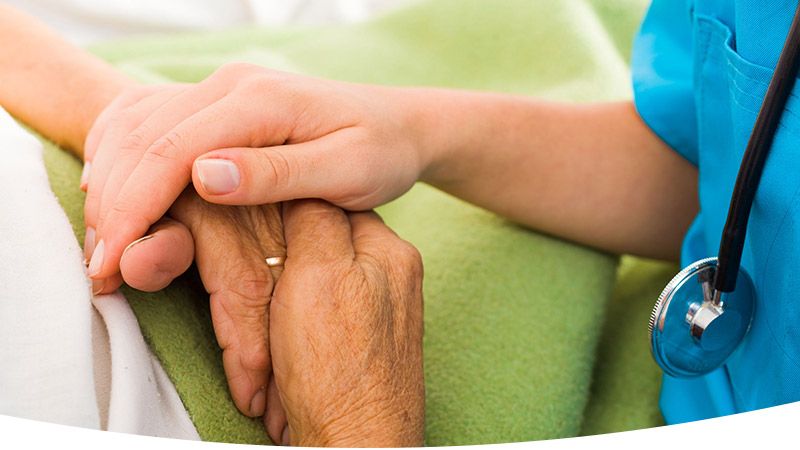 80%
of Americans prefer dying at home, but only 20 percent actually do.
End-of-life care decisions often start with a simple but profound question: Where do you want to die? Despite numerous studies finding that about 80 percent of Americans prefer dying at home, only 20 percent actually do, according to the Stanford School of Medicine. Approximately 60 percent of Americans die in acute care hospitals, while another 20 percent spend their final days in skilled nursing facilities.
John Mastrojohn III, RN, executive vice president and COO of the National Hospice and Palliative Care Organization (NHPCO), said that enrolling patients into home hospice in a timely manner is one of the biggest issues in hospice care. "In post-hospice surveys, caregivers often say they wish they had known about hospice sooner," he said. Innovations to end-of-life care are helping to overcome some of the challenges of early enrollment.
Improving hospice enrollment
To qualify for hospice under Medicare guidelines, patients must receive a diagnosis of a terminal illness with six months or less to live and agree to forgo curative treatment. Few patients receive anywhere near that length of care. According to NHPCO's current Facts and Figures Report, the median length of service for Medicare-hospice beneficiaries is just 24 days.
Interdisciplinary hospice care teams typically consist of a doctor, nurse practitioner, social worker, spiritual counselor, home health aide and volunteers, according to NHPCO. Numerous studies have found that coordinated care coupled with earlier hospice enrollment can extend a patient's life or prevent them from landing in an intensive care unit where they did not want to be.
"Hospice is extremely beneficial, not only for the patients themselves – to manage pain and symptoms of their illness – but also for families and caregivers because of the added emotional support of the hospice team," Mastrojohn said.
Shifting to home-based palliative care
Steve Pantilat, MD, director of the UCSF Palliative Care Program, said that advances in treatment for terminal diagnosis may be partly to blame, but also part of the solution.
When Congress first created a Medicare hospice benefit in 1982, the focus was on cancer patients. Today, NHPCO figures show cancer accounts for just 27 percent of Medicare hospice enrollment.
"The challenges of late enrollment often have to do with the breadth of treatments available to people, particularly with new chemotherapeutic agents, for example, that are less toxic or taken orally," Pantilat said. "It means that people are often involved in disease-oriented treatment until very late in their disease process."
Hospital-based palliative care programs have increased in response to late enrollment. According to the Center to Advance Palliative Care, from 2000 to 2016, hospital-based palliative care programs increased by 178 percent.
Pantilat believes that improving home hospice begins with hospices developing palliative care programs. "It's basically the same philosophy of care – improving the quality of life for people with serious illness – but not under the Medicare-hospice benefit," he said.
Hospice care providers who also offer palliative care services can help make the transition to hospice smoother when the time comes. "You're not changing electronic health records," Pantilat said. "You have the same agency. You have the same phone number to call. You're not necessarily changing care teams. All of that simplifies and promotes continuity of care for patients."
Pantilat encourages hospital-hospice partnerships to better manage end-of-life care. UCSF's Palliative Care Program partners with several local hospices.
"From a hospital perspective, partnering with multiple hospices, especially ones offering a range of services – including home-based palliative care – would be particularly smart. It gives you the most flexibility in matching the service to the patient," Pantilat said.  
Getting a proper diagnosis that meets Medicare-hospice criteria is another critical component to earlier hospice enrollment. A systemic review of predictions of survival in palliative care found physicians overestimate how long a seriously ill patient has left to live by twice the actual life span.
"If palliative care is provided, that's the best bridge to getting care sooner," said Kathy Brandt, principal of the KB Group, a hospice and palliative care industry consultancy. "They are the experts at knowing when to refer someone to hospice."
Restructuring payment
Pantilat believes that also involving the payer from the beginning is important to the success of innovative end-of-life care models. "Hospitals and hospices can't just partner together to achieve maximum results – they need the person actually paying the bill," he said.
For its hospital-hospice partnerships, UCSF's Palliative Care Program developed value-based contracts with payers to bill on a per member, per month basis.
"This allows us to provide interdisciplinary care without having to depend on a doctor or nurse practitioner to visit the home to bill for service. It's a win-win," Pantilat said. "That's where health systems can reach out to their hospice partners to develop these home-based palliative care programs."
In California, a palliative care law that took effect in January 2018 mandates community-based palliative care services for adults with serious illness, on both a managed care and fee-for-service basis. Pantilat says that he sees the greatest value in managed care models.
"I worry about the fee-for-service system, where only a doctor or nurse practitioner can bill for the service," Pantilat said. "The doctor or nurse practitioner is important to care. But if you want hospice patients to stay at home, the social worker may be the single most important person on that team, because they help people understand what resources they're eligible for."
Removing barriers to communication
Staying enrolled in hospice is another piece of the care puzzle. Often an acute crisis that's not easily managed by family caregivers forces the hospice patient to use the emergency room, triggering a hospice disenrollment. More than 10 percent of hospice users disenroll before death. And more than half of all who disenroll end up hospitalized, resulting in higher healthcare costs for the patient, though not necessarily a better quality of life.
Pantilat said that telehealth, the use of video conferencing to address non-urgent patient needs and concerns, can help improve efficiencies in care. Up to 50 percent of UCSF's palliative care visits are now done through telehealth.
Brandt says she's also seeing more hospices using HIPAA-compliant teleconferencing to augment their in-home services. Often breakthrough symptoms of pain, nausea or anxiety can be controlled with medications found in the patient's crisis care kit.
"Teleconferencing helps hospices asses whether to give advice to the caregiver. They also keep the patient safe and comfortable in the home, without having to go to the ER unless it's absolutely necessary," Brandt said. "Assessing whether they need to send a nurse out to the patient's home immediately or whether it can wait is a way to provide more cost-effective crisis care."
Focusing on final wishes
When a hospice diagnosis is given, the hospice care team tries to do everything they can to keep the patient comfortable, physically, emotionally and spiritually. Emily Van Etten, development specialist at NHPCO, said that many patients have final wishes, such as seeing out-of-town family and friends one last time, but can't afford the extra expense. Van Etten oversees the National Hospice Foundation's
Lighthouse of Hope Fund,
which provides hospice agencies with patient wish-fulfillment grants of up to $2,500. "Hospice providers are really attuned to making patient lives better," Van Etten said. "Their focus is on helping patients make the best days of the time that they have left."
Increasing transparency
There are more than 4,000 Medicare-certified hospice agencies in the United States, but not all hospices are created equal. The Affordable Care Act of 2010 mandated that hospice agencies start reporting quality measurement metrics. In 2017, Medicare.gov rolled out Hospice Compare, an online tool comparing quality metrics of local hospice providers to the national average. Consumers can see how hospice agencies scored on:
Communication with family
Getting timely help
Emotional and spiritual support
Help for pain and symptoms, among other metrics.