Featured experts
Michael D. Brown, PharmBS
Vice President, Managed Services
Cardinal Health
Patricia Kienle, RPh, MPA, FASHP
Director, Accreditation and Medication Safety
Cardinal Health
Kelly Morrison
Director, Remote and Retail Pharmacy Services
Cardinal Health
In 2019, Cardinal Health marks its 50-year milestone in operating hospital pharmacies. Like the rest of healthcare, the practice of hospital pharmacy has undergone dramatic change over the past half century. Today, hospital executives rely on the pharmacy as a strategic partner and a vital part of the patient care team.
In honor of this milestone, Essential Insights spoke with three Cardinal Health experts about the drivers shaping hospital pharmacy practice, as well as what hospital executives can – and should – be asking of their pharmacy leaders to better achieve their mission and growth strategies.
Question: How has the hospital pharmacy evolved its role in the delivery of patient care over the years?
Brown: Hospital pharmacies are drastically different. The pharmacy is directly responsible for more patient deliverables than ever before. In the 1960s, hospital pharmacies only procured drugs. Today, patients can't get their medicines until the pharmacy approves them. There's more direct exposure to patients, too. Pharmacists dose and monitor drugs, prepare IVs, participate in patient rounds, and counsel on medication reconciliation and discharge planning.
One driver for many of these changes was the introduction of Diagnosis Related Groups (DRGs) in 1983. DRGs changed the reimbursement model for hospitals because controlling drug costs became key to a hospital's profitability. Very quickly, pharmacies became cost centers. Then you fast forward to today and the emergence of value-based care, in which hospitals are reimbursed for quality and outcomes. This requires pharmacies to pivot again to be more involved throughout the patient's continuum of care, including pre- and post-discharge — not just the care provided within the four walls of the hospital.
Kienle: Today, there are more specific operational requirements that pharmacists and administrators must manage that have hospital-wide impacts. In 1999, the landmark To Err is Human report first highlighted the number and sources of medical errors nationwide. This report significantly impacted the healthcare system's focus and processes to better safeguard patient safety. Instead of being reactive to compliance directives, hospitals were expected to integrate drug compliance into protocol. Five years later, The Joint Commission revised its hospital accreditation, which changed standards and level-set regulations nationwide. At the same time, new standards for sterile compounding compliance were introduced by the United States Pharmacopeia. All of this dramatically increased awareness about the critical role the pharmacy has in promoting patient safety.
Morrison: To build on Patti's point, the regulations and focus on compliance did more than increase awareness of the role of pharmacy and patient safety — it also paved the way for pharmacy innovation. Some of the new safety standards required the review of all "non-emergent" medication orders by a clinical pharmacist prior to being administered to a patient. This put additional demands on pharmacist availability and manpower.
Also, during the late 1990s, there was a severe pharmacist shortage. In response, a remote pharmacy model was introduced – a concept first pioneered by Cardinal Health through its pharmacy outsourcing operations business. Remote pharmacy models underscore patient safety by ensuring all non-emergent medication orders are prospectively reviewed by a pharmacist prior to administration.
Question: What do future changes mean for the hospital pharmacy and how can they help achieve the hospital's mission and success?
Brown: Everything today is automated and electronic. Technology has completely revolutionized the safety and quality of pharmacy processes – and the type of data insights that the pharmacy can provide to hospital executives. For example, information based on medication utilization and true drug cost drivers is essential to realizing meaningful cost savings, increasing reimbursements and improving outcomes. The pharmacy is expected to mine data and perform analytics, and then translate and map it back to the hospital's strategies. For those managing hospitals and health systems, the topics of medication utilization and standardization are increasingly common. For pharmacists, this means keeping abreast of specialized, technical pharmacy functions, while inhabiting a newer, more complex role as healthcare strategists.
Kienle: The pharmacy must always be proactive when responding to future regulation changes. That's a given. But the pharmacy's role in the hospital today is much bigger than compliance – this is where medical optimization and incorporating other clinical best practices really take shape. For hospitals to succeed, they must take a holistic approach to cost savings and follow patients throughout the continuum of care. The pharmacy lies at the heart of these initiatives, from driving cost savings through clinical programs and expanding care into the community through clinic pharmacies, to improving patient satisfaction scores. The pharmacy has an important seat at the table for all of these initiatives that are changing how healthcare is delivered.
Morrison: With the increased adoption of remote pharmacy models, in which off-site pharmacists supplement on-site staff through technology, pharmacists are expected to assume expanded roles in direct patient care. Key focus areas for pharmacies today are patient discharge counseling and medication reconciliation. Direct interaction between the pharmacist and patient improves outcomes and drives medication adherence post-discharge, ultimately reducing 30-day readmission rates.
Question: Where is hospital pharmacy moving in the future?
Brown: We're witnessing the rapid expansion of outpatient facilities, meaning that only the very sickest patients will be in hospitals in the future. Pharmacy has the unique opportunity to expand its scope to help deliver care to patients. For example, once doctors have diagnosed a patient, pharmacists could develop treatment plans, provide patient education and monitor compliance to ensure better patient outcomes.
Morrison: Remote pharmacy should be on the radar for hospital leadership as they look to expand care while reducing labor expenses. Remote pharmacy models were initially used for overnight coverage. However, we're seeing a shift to leveraging remote pharmacy models to supplement the on-site pharmacy staff for all shifts, which enables on-site pharmacists to focus on clinical initiatives that improve outcomes and reduce drug expense.
Kienle: Pharmacists need to be patient advocates. The best way to accomplish that is for pharmacy leadership to be at the table with the C-suite. Pharmacy leadership should have a clear voice in system-wide decision-making concerning medication management. They can answer questions about whether a hospital has the clinical resources and technologies to explore updating or emerging service lines. The pharmacy function has also expanded into ancillary hospital settings like ambulatory, off-site clinics and physician's offices, all requiring regulatory oversight. Pharmacists can support the hospital's broader efforts of quality care, patient safety and maintaining revenue growth by providing a lens on cost containment from a clinical standpoint.
Brown: I agree with Patti. Investing in pharmacy equipment, drugs, personnel and processes supports hospital-wide performance. Hospital leadership definitely needs to incorporate pharmacy at the discussion table as a valued adviser to the hospital's investment strategy. In the past, hospital administrators have often only asked whether the pharmacy was meeting its budget and staying compliant. The new question that every hospital administrator should ask is, "How can the pharmacy help the hospital grow and succeed?" Pharmacists must be strategic in supporting a holistic approach to patient care – in building a pharmacy that augments the hospital's strategic agenda. This system approach will enable health systems to thrive and succeed in the future.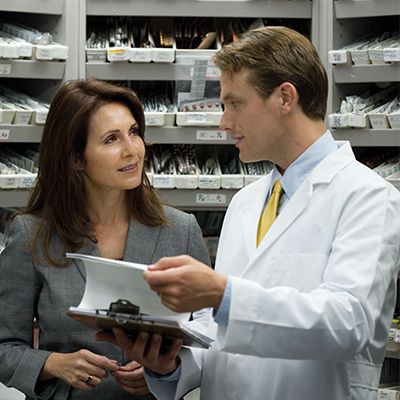 Transform your pharmacy into a strategic asset
Keep your pharmacy on the leading edge of patient care, compliance, and cost savings.