Contributor
Stephanie Pavol
Essential Insights contributor; Senior Manager, Product and Solutions Marketing
Cardinal Health
Featured experts
Patricia Kienle, RPh, MPA, FASHP
Director, Accreditation and Medication Safety
Cardinal Health
Karen Kellogg, PharmD
Director of Practice Consulting, Cardinal Health Specialty Solutions
According to the National Institute for Occupational Safety and Health (NIOSH), about 8 million U.S. healthcare workers are potentially exposed to hazardous drugs, including pharmacy and nursing personnel, physicians, operating room personnel, environmental services workers, and others.
While these hazardous drugs, including those used for cancer therapy or hormone agents, play an important role in patients' treatment, they can result in adverse health effects in healthcare workers who prepare or administer the drugs.
However, major changes are coming for healthcare facilities nationwide as updated standards related to hazardous drug handling become official on Dec. 1.
Here, we take a deeper look into USP General Chapter <800> (or USP <800>), what healthcare leaders need to know, and the initial steps for healthcare leaders to take on the road to achieving compliance.
What is USP <800>?
United States Pharmacopeia (USP) is an independent organization that sets standards for medication quality and safety in the United States and more than 140 countries, and its standards are divided into chapters. USP <800> is the standard that addresses safe handling of hazardous drugs in healthcare settings. It was first released in 2016 and becomes official on Dec. 1, 2019.
Patricia C. Kienle, director of Accreditation and Medication Safety for Cardinal Health Innovative Delivery Solutions, is a leading expert on medication safety, accreditation and regulatory issues. Speaking in her own capacity and not on behalf of USP, Kienle emphasized that these hazardous drugs include more than just chemotherapy drugs, which are most commonly thought of as hazardous, but also those deemed hazardous by NIOSH.
What do healthcare leaders need to know about USP <800>?
It's important to note that USP <800> sets standards for the safe handling of hazardous drugs beyond just the pharmacy, according to Karen Kellogg, PharmD, director of Practice Consulting for Cardinal Health Specialty Solutions (which supports specialty physician practices). The standards were designed to protect everyone in the healthcare environment, from the receiving dock to the environmental services worker.
"There are many other settings outside of the pharmacy and hospital space that will be affected by these new standards," Kellogg added. "In addition to oncology practices, urology, rheumatology and dermatology practices also frequently handle hazardous drugs."
According to the ASHP Guidelines on Handling Hazardous Drugs, the most common cause of contamination from hazardous drugs is dermal absorption —  in other words, touch contamination —  but ingestion, inhalation and accidental injection also contribute to the risk of contamination.
Steps for healthcare leaders to achieve a compliance roadmap
Compliance with USP <800> and associated standards might feel overwhelming as facilities decide how to update and improve upon current standard operating procedures. However, organizations affected by USP <800> can develop a compliance roadmap by following these steps:
1. Read the USP <800> standard at www.usp.org.
2. Audit current use of hazardous drugs and perform an assessment of risk. Compliance starts with an audit and assessment of risk, since it is based on what you do with what you have. One way to conduct an audit is by following the hazardous drug workflow. This begins with selecting hazardous drugs and includes storing, followed by ordering, dispensing, administering and monitoring them.
This helps to identify the exposure risks and create a plan to minimize them, which could include efforts to determine when a staff member should wear chemotherapy-rated gloves, provide separate storage spaces for drugs, and deliver new training to encourage adoption and of safe handling best practices.
3. Apply the Hierarchy of Controls published by NIOSH (below) to help manage risks. This hierarchy looks at possible controls from most to least effective.
Hierarchy of Controls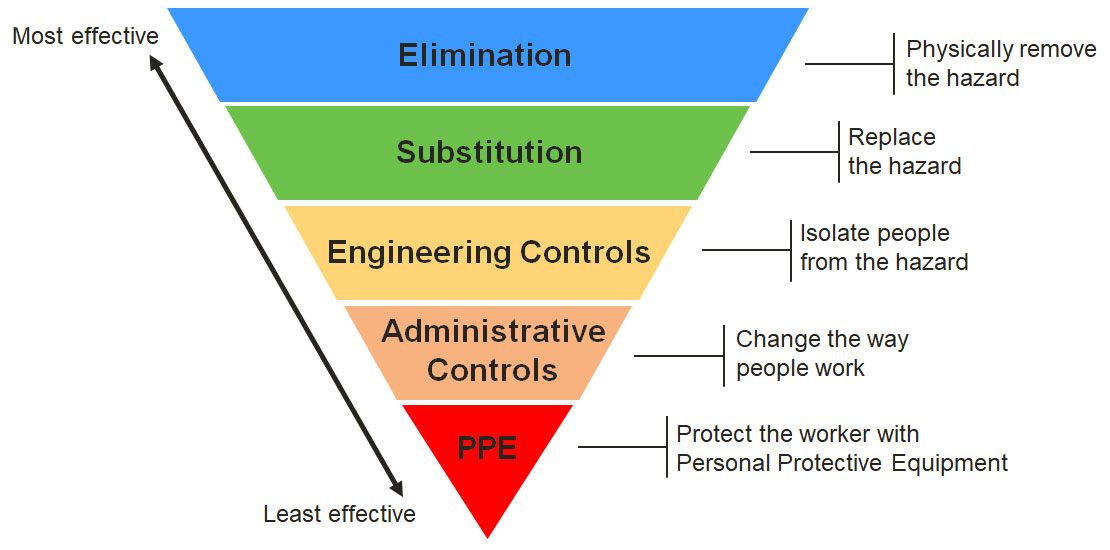 The National Institute for Occupational Safety and Health (NIOSH). Last updated January 13, 2015. Hierarchy of controls. CENTERS FOR DISEASE CONTROL AND PREVENTION https://www.cdc.gov/niosh/topics/hierarchy
Elimination and substitution are the most effective ways to mitigate risk. However, in healthcare, "we usually cannot do this because we are taking care of patients who may need these drugs," said Kienle. She added that engineering controls, administrative controls and personal protective equipment — such as appropriate gloves — are more realistic ways to protect workers.
By reading the standards, conducting an audit to assess exposure risks and using appropriate controls to mitigate those risks, healthcare organizations affected by USP <800> will be well positioned for compliance.
Looking ahead
Although USP <800> becomes official on Dec. 1, 2019, regulators and accrediting organizations like state pharmacy boards and Occupational Safety and Health Administration (OSHA) may adopt these standards and assume responsibility for enforcing them. Kellogg recommended that healthcare organizations contact their state boards of pharmacy and state OSHA plans to better understand the goals for adoption.
Both Kienle and Kellogg agreed that even if you're not confident that your organization can be 100% compliant by the time USP <800> becomes official, it's better to tackle what you can than to do nothing at all. 
Because according to Kellogg, "working to reduce patient and employee exposure and taking the proper steps will put you on the right path to minimizing risk and ensuring the health and safety of those in your facility."
Editor's note: Patricia C. Kienle is a member of the USP Compounding Expert Committee, but these comments are her own and not those of USP.
Additional USP <800> resources for oncology practices
Additional USP <800> resources for retail pharmacies