CONTRIBUTOR
Laura Mueller
Essential Insights contributor, healthcare writer
Our healthcare system is shifting toward a patient-centered care model, driven by forces both within, and beyond, the industry. These forces include changing reimbursement and payment models and a more informed, empowered healthcare consumer (read "3 reasons why patient empowerment is growing in healthcare").
"People are acting not as patients, but as consumers when it comes to their healthcare," said Emily Berlin, director of strategic marketing and business development for Cardinal Health Laboratory Products. "They want more convenience, more ready access, and shorter wait times."
Ultimately, this is what providers and payers want too: better patient outcomes, quicker and more efficiently. Improvements in medical diagnostics are one of the vital steps to get there.
Precise, personal diagnostics
Efficiency in treatment starts with correctly diagnosing the patient. In the clinical lab, advancements in precision medicine have enabled the development of diagnostic tests that allow physicians to treat patients with increasingly targeted therapies, addressing diseases on a molecular level. It's part of a general trend toward personalized care that analyzes not just symptoms, but an individual's genetics, biology, behavior, and environment.
Molecular diagnostics have made a relatively recent transition from the research and development world to clinical utilization and relevancy, said Nick Sullivan, PhD, product manager for clinical chemistry in Laboratory Products at Cardinal Health. And the application of molecular biology to medical testing means faster interventions that directly benefit patient outcomes. For example, Sullivan said patients with infectious diseases can be rapidly tested to pinpoint the specific bacteria or virus-causing illness.
In addition to better care today, physicians are learning more about how to treat patients in the future. "You're not just getting a 'yes' or 'no' answer," Berlin said. "You're getting a molecular profile of a patient, organism or tumor. The data gleaned through the laboratory testing has the opportunity to be further used to have more precise, prescriptive, and personalized care plans."
The collected data also has the ability to improve outcomes on a broader level. The All of Us Research Program, formerly known as the Precision Medicine Initiative (PMI) Cohort Program, is an undertaking by the PMI to gather genetic, lifestyle, and environmental data from over one million diverse volunteers in order to more effectively apply precision medicine to all diseases.
Increased access to care
Better testing in the clinical environment is crucial for better patient outcomes, but it doesn't speak to the whole scope of patient-centered care. In addition to more accurate and detailed diagnostic testing, patients also want better access. Retail pharmacies can help fill this gap.
The Clinical Laboratory Improvements Amendments of 1988 (CLIA) revised federal and state regulations concerning certification and oversight of clinical laboratory testing. One important change allowed pharmacies to apply for a CLIA waiver, which gives the ability to perform routine medical testing on-site. Additional abilities afforded by collaborative practice agreements allow some pharmacists to follow up on results with prescribed treatments.
With the primary care physician deficit expected to reach 20,400 by 2020, expanding pharmacist capabilities will be a crucial part of providing patients with access to care. Per a 2016 report from the Mercatus Center of George Washington University, pharmacies with CLIA waivers have already shown that they are more than able to do their part, without a negative effect on their typical duties.
"There's a shortage of physicians and a shortage of patients who actually have a primary care doctor, so providing patients more ready access to care is only going to help the healthcare system better manage its volume," said Brad Tice, RPh, PharmD, director of product strategy for adherence and wellness measures at Cardinal Health.
The CLIA waiver, coupled with pharmacists delivering basic diagnostics, is providing greater access to diagnostics for consumer-minded patients.
Bringing testing closer to the patient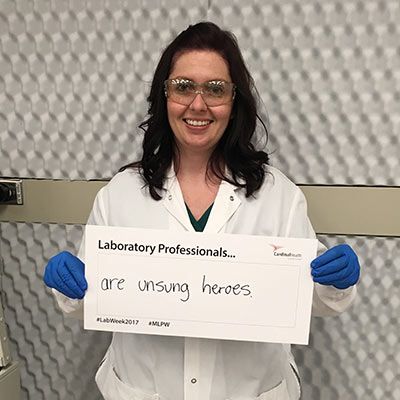 Celebrating lab professionals
Medical laboratory professionals perform the important work that enables the majority of patient diagnostic decisions. 
Point-of-care testing—diagnostic testing that takes place at the time and place of patient care—has evolved from the various urine test strips that have been available for decades to a broad array of tests for infectious disease identification, cardiac marker monitoring, and diabetes maintenance.
Additional routine point-of-care diagnostic tests—like those for flu and strep—are evolving to molecular point-of-care laboratory procedures. These advanced tests provide faster, more accurate diagnosis for the patient and caregiver, said Tabitha Maloney, a product manager for Cardinal Health private label hematology and point-of-care portfolios in Laboratory Products at Cardinal Health.
"People want rapid access to this type of information," Maloney said. But there is a caveat. "The tests can vary from something very simple to something much more complex, where it could be very confusing and frightening for a patient to interpret alone at home." That's why most of these types of tests are still governed by and require oversight from regulatory and laboratory licensing bodies.
The rise in popularity of ancestry tests marketed direct to consumers is another example of patients desiring information on their molecular profiles. These tests offer molecular-level specifics for patients and can provide insights into their heritage, carrier status, and genetic factors contributing to overall wellness.
23AndMe even recently received approval from the Food & Drug Administration (FDA) to market their Personal Genome Service Genetic Health Risk (GHR) tests for 10 diseases or conditions. The FDA also said it intends to exempt additional 23andMe GHR tests from their premarket review, except for those functioning as diagnostic tests. But with the approval, the FDA cautioned that genetic predisposition is just one component of developing disease and recommended consumers consult with their healthcare professionals.
Additionally, the over-the-counter/at-home testing market is expected to continue to increase as consumers look for more ways to proactively manage their health. 
Much has changed since the first at-home pregnancy test hit retail shelves in the 1970s. As technology evolves with and around the patient-centered healthcare model, we're likely to see even more innovation in bringing rapid, detailed diagnostic testing to people using novel platforms and in non-traditional places of care.