Contributor
Summer Allen
Essential Insights contributor, healthcare writer
Featured experts
Michael Hornberger, PhD
Professor of Applied Dementia Research, Norwich Medical School, University of East Anglia, United Kingdom
Paul Gotti
Vice President of Operations, Nuclear & Precision Health Solutions, Cardinal Health
Luke Augustine
Vice President, New Business Development, Nuclear & Precision Health Solutions, Cardinal Health
Annabelle Singer, PhD
Assistant Professor of Biomedical Engineering at Georgia Institute of Technology and Emory University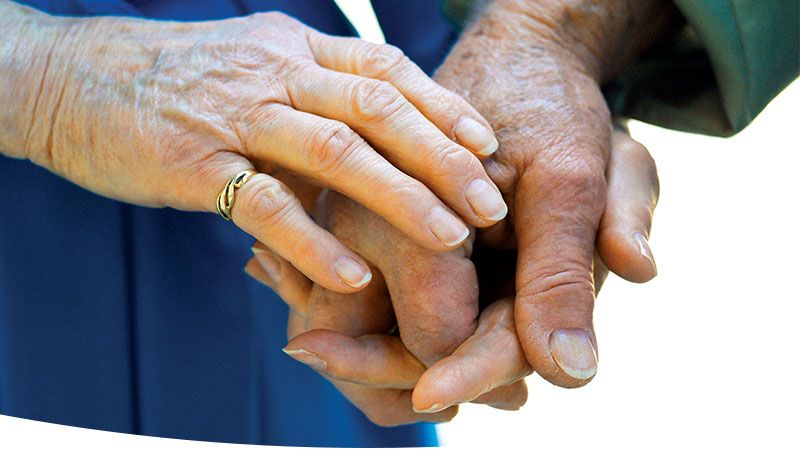 More than 5.8 million
The number of people in the United States living with Alzheimer's disease.
More than 5.8 million people in the United States are living with Alzheimer's disease—including one in 10 people over the age of 65. That number is expected to grow to 14 million by 2050, creating an enormous burden on patients, caregivers, and the healthcare system. So it is increasingly important for healthcare providers to be able to identify at-risk patients, accurately diagnose them, and offer evidence-based treatment.
In recognition of Alzheimer's & Brain Awareness Month, here are three new advances that may change how healthcare providers diagnose and care for people with Alzheimer's disease.
1. Video game may identify Alzheimer's risk before symptoms appear
Early diagnosis of Alzheimer's disease allows clinicians to prescribe pharmaceutical or lifestyle interventions that can slow disease progression, but diagnosing the disease in its earliest stages can be challenging.
Someday clinicians may be able to identify Alzheimer's long before clinical symptoms emerge thanks to tests that can detect subtle changes in navigational behavior.
"We need big data to personalize our diagnostics," said Michael Hornberger, PhD, professor of applied dementia research at Norwich Medical School at the University of East Anglia in the United Kingdom.
In a recent study led by Hornberger, researchers used a mobile navigation game called Sea Hero Quest to compare how healthy people with an APOE gene variant (that is associated with an increased risk for Alzheimer's) performed relative to those without that variant.
"Our study found that we can detect those earlier spatial navigation changes in people who we know are at genetic risk of developing Alzheimer's disease," said Hornberger. "These people don't have any memory complaints or memory problems, but we can already detect those very subtle navigation changes."
Because they also collected data from 27,000 additional Sea Hero Quest players, researchers were able to compare the performance of individual high-genetic-risk players to that of a general pool of participants of the same age, sex, and educational background to see if their performance was especially abnormal.
The group is now working on developing diagnostics that leverage big data. These tests could one day be used in the clinic to help identify patients with preclinical Alzheimer's disease—regardless of their genetic risk—perhaps 10 to 15 years before memory symptoms show up.
2. PET imaging may improve diagnosis and care for patients with cognitive decline
Another tool that can help diagnose Alzheimer's disease is amyloid positron emission tomography (PET) imaging. Amyloid PET imaging uses a radiolabeled tracer that sticks to amyloid plaques, biological markers of the disease that were previously only visible via autopsy.
PET tracers are extremely hard to produce. "With such a short half-life you cannot stock these agents. Eventually you have to make a sterile injectable drug that's radioactive and administered to the patient all within about an eight-hour span," said Paul Gotti, vice president of Operations for Nuclear & Precision Health Solutions at Cardinal Health. Cardinal Health produces PET tracers in 31 facilities across the United States.
In a recent study of 11,000 Medicare patients, amyloid PET imaging led clinicians to change their diagnosis for more than a third of their difficult-to-diagnose patients. The scans also changed clinicians' medical management of patients in nearly two out of three cases, primarily causing them to change whether or not they prescribed Alzheimer's drugs.
This is crucial because some drugs currently prescribed to patients diagnosed with Alzheimer's can be detrimental in other conditions. "That's why it's important right now [to do PET amyloid imaging] in those very difficult-to-diagnose patients," said Luke Augustine, vice president of New Business Development for Nuclear & Precision Health Solutions at Cardinal Health.
Amyloid PET imaging is already widely used in clinical trials for Alzheimer's disease. "Most of these clinical trials in the past were set up looking for 'The Cure,'" said Augustine. "Today the majority of the clinical trials are looking to slow progression of the disease, which makes the use of amyloid PET imaging and tau PET imaging that much more important."
While amyloid PET tracers are approved by the FDA, their use in diagnosing Alzheimer's is not currently covered by Medicare. That may change soon. The second phase of this study will determine whether amyloid PET imaging changes patient outcomes.
3. Brain stimulation may improve memory
Other new research advances have explored how specific treatments impact Alzheimer's symptoms. For example, multiple groups are exploring how non-invasive brain stimulation may improve memory problems.
One recent study found that simply administering lights and sound at specific frequencies could improve memory in a mouse simulation study of Alzheimer's disease. This stimulation also reduced amyloid pathology in parts of the brain.
A second study found that applying mild non-invasive electrical brain stimulation at particular frequencies improved working memory in healthy people in their 70s, making their performance indistinguishable from younger adults. While preliminary, these results could one day lead to non-pharmaceutical interventions that combat cognitive deficits.
"I think both of the studies are very promising and point to the potential to use neural stimulation to treat Alzheimer's or memory disorders," said Annabelle Singer PhD, assistant professor of biomedical engineering at Georgia Institute of Technology and Emory University, and one of the researchers involved in the mouse simulation study. "This stimulation also reduced amyloid pathology across large portions of the brain."
Looking ahead
While encouraging, the experts all agreed that these research advances won't enter clinical care tomorrow.
However, these advances provide hope that clinicians will be able to offer better care for Alzheimer's patients—whether that's next year or two decades from now.
"Research continues to advance, and that's good for all of us who have a family history of Alzheimer's disease," said Augustine.

Disclaimer: This information is intended to serve as a resource for medical providers, practitioners, clinicians and administrators— it is not intended to serve as medical advice for patients.