CONTRIBUTOR
American College of Healthcare Executives
Editorial team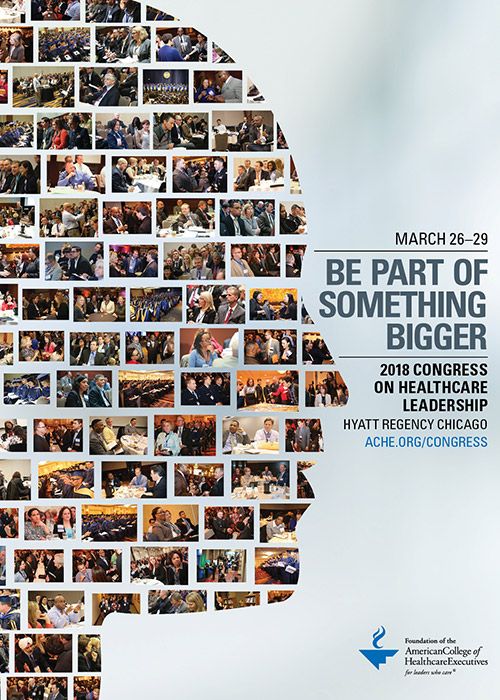 Each year, the American College of Healthcare Executives (ACHE) brings together healthcare leaders from around the world with the goal of advancing healthcare management excellence.
This year's ACHE Congress will take place March 26-29 in Chicago with the theme "Be part of something bigger." Cardinal Health is proud to support this important event and sponsor the Opening Session, CEO Circle Session, and CEO and COO Special Interest Area Breakfasts. At Congress, Cardinal Health will co-lead a continuing education seminar (59X) with MedStar Health called, "Once Is Not Enough: How to Sustain Cost Savings to Succeed and Thrive."
Here, ACHE's editorial team provides four recommendations on getting the most out of your Congress experience.
1. Open strong
Start your Congress experience off right with the Chairman's Remarks and the Parker B. Francis Distinguished Lecture during the Opening Session (Monday).
David A. Olson, FACHE, senior vice president, external relations/chief strategy officer, Froedtert Health, will deliver his opening remarks, followed by top political analyst, Mara Liasson. Liasson is known for her award-winning journalism as a political contributor for Fox News for over 20 years and as a national political correspondent with NPR. During her lecture, "Partisan Politics and the Needs of the American People," Liasson will offer her expert analysis on today's political environment and its impact on the health and welfare of the American people.
2. Join a lunch with world-class keynote speakers
All Congress attendees have access to one of three luncheons offered at Congress. This year's keynote speakers will share their expertise and insight on quality healthcare at reduced costs, patient safety and pursuing excellence in challenging times. Attendees may purchase tickets at Congress for additional luncheon sessions, as space permits.
The three luncheons to choose from are:
Arthur C. Bachmeyer Memorial Address and Luncheon: "We Can Provide Better Care at a Lower Cost" with David Blumenthal, MD, president, The Commonwealth Fund (Monday)

The key to success in delivery system reform is taking better care of the most complex patients who represent just 5 percent of the population but account for 50 percent of all healthcare spending. Drawing on the work of the Five Foundation Collaborative, Dr. Blumenthal will discuss cracking the code for delivering efficient, cost-effective care to this particular population.


Malcolm T. MacEachern Memorial Lecture and Luncheon: "Patient Safety Is Everyone's Job" with Peter J. Pronovost, MD, PhD, FCCM, senior vice president, Johns Hopkins Medicine/director, Armstrong Institute for Patient Safety and Quality, John Hopkins (Tuesday)

Named by Time magazine as one of the world's 100 "most influential people" for his work in patient safety, Pronovost also is the author of more than 200 articles and chapters on the subject. During this session, Pronovost will address today's barriers to reducing medical errors and optimizing patient safety to ensure high-quality outcomes for the healthcare delivery team and the patient.


Leon I. Gintzig Commemorative Lecture and Luncheon: "Striving for Excellence Even When Conditions Are Less Than Ideal" with Bonnie St. John, consultant, speaker, athlete and author (Wednesday)

If you desire peak performance that takes you beyond your own limitations, this is the session for you. Hailed as "one of the five most inspiring women in America" by NBC Nightly News, St. John knows firsthand about facing and overcoming challenges in the most difficult of situations. In this session, St. John will provide research-based tools and techniques to re-energize your life and optimize your performance for greater productivity and overall success.
3. Hear how healthcare can be transformed through innovation
In the move to value-based healthcare, leaders with an eye to innovation continue to create strategic, sustainable change in their organizations. In these informative sessions, you'll hear from three dynamic change-makers and how they are transforming healthcare today:
AUPHA/ACHE Joint Breakfast: "Leadership for Improving Health" with David B. Nash, MD, dean, Jefferson College of Population Health (Monday)

As a national thought leader in population health, Dr. Nash has repeatedly been named to Modern Healthcare's 100 Most Powerful persons in healthcare. In this session, Nash will outline his compelling vision for the future and challenge current leaders to change the model of care to promote health versus focusing on service delivery.


Thursday Hot Topic Session 1: "On Being an Innovative Healthcare Leader" with Stephen K. Klasko, MD, president/CEO, Thomas Jefferson University and Jefferson Health (Thursday)

What will it take to truly transform healthcare?  For Klasko, transformation is where passion, creativity and strategic thinking converge to drive change. In just under five years, he has grown Jefferson Health from a three hospital medical center to a 15 hospital regional medical system.  Klasko will offer key examples from his recent book, We CAN Fix Healthcare: The Future is Now, of both disruptors to healthcare and opportunities to create positive change in the field.


Masters Series Session 2: Executive Leadership with Anthony R. Tersigni, EdD, FACHE, President/CEO, Ascension and Patricia A. Maryland, DrPH, executive vice president, Ascension/President/CEO, Ascension Healthcare (Monday)

According to Dr. Tersigni, the Ascension vision is "nothing less than the transformation of healthcare." Key to achieving that vision is the development of programs designed to prepare current and future leaders for all levels of sponsorship, governance and leadership. Discover how this executive leadership team works collaboratively to build and sustain a culture of care for the largest U.S. nonprofit health system and the largest Catholic health system in the world.
4. Learn how to lead a culture of safety
There is no other topic so pressing on healthcare executives today as patient safety. In keeping with that need, ACHE is offering a new, timely, all-day intensive boot camp at Congress this year.
High-Reliability Healthcare Boot Camp (NEW!) with M. Michael Shabot, MD, executive vice president/system chief clinical officer, Memorial Hermann Health System, Mark R. Chassin, MD, president, The Joint Commission and Gary R. Yates, MD, partner, Press Ganey Strategic Consulting (Sunday)
Emerging from a partnership between ACHE and the Institute for Healthcare Improvement/National Patient Safety Lucian Leape Institute, this session will lay the groundwork for achieving the ultimate goal of zero harm. Based on the new report Leading a Culture of Safety, A Blueprint for Success, attendees will learn how adopting a robust process improvement can provide both a positive ROI and substantial quality care improvements.
Can't make the boot camp? Check out a shorter session on the same topic, "Leading for High Reliability," on Monday, or Wednesday Hot Topic Session 1, "Creating and Sustaining A Culture of Safety."
Also worth noting
With over 150 networking and educational sessions available to you at Congress, you can choose the sessions that best meet your organizational and career needs. As part of your decision process, you may want to consider other
Hot Topic Sessions
that are pertinent to all healthcare organizations today.
Stay on the pulse of Congress