Contributor
Laura Mueller
Essential Insights contributor, healthcare writer
Featured expert
Elizabeth Duxbury, MS, RN, CCRN, ACNS-BC
Lead clinical nurse specialist in the medical intensive care unit, Rochester General Hospital
B
lood clots are a common complication faced by patients in the hospital. Each year, venous thromboembolism (VTE) affects
350,000
to
600,000
Americans, and in an estimated
100,000 to 300,000
of those cases, it proves to be fatal.
More than a third of the time,
death comes sudden as a result of a pulmonary embolism (PE). Of the patients who die,
only about 7% are diagnosed with VTE and treated.
As a result of genetic risk factors, VTE cannot always be adequately prevented through the three recognized preventative modalities—mobility, compression and chemical prophylaxis. But for
as many as 80 percent of patients,
better awareness and compliance among hospital staff could have made all the difference.
"When you put nurses into a clinical practice environment and you have them trying to take care of multiple patients, with six or seven items on each patient's list, VTE prevention is something that can get left out," said Elizabeth Duxbury, MS, RN, CCRN, ACNS-BC, lead clinical nurse specialist in the medical intensive care unit at Rochester General Hospital.
Failing to prioritize VTE prevention in hospitals ultimately leads to high rates of otherwise preventable events, both during a patient's hospital stay and, sometimes, after they're discharged.
How can hospitals do better? It all starts with awareness and accessibility.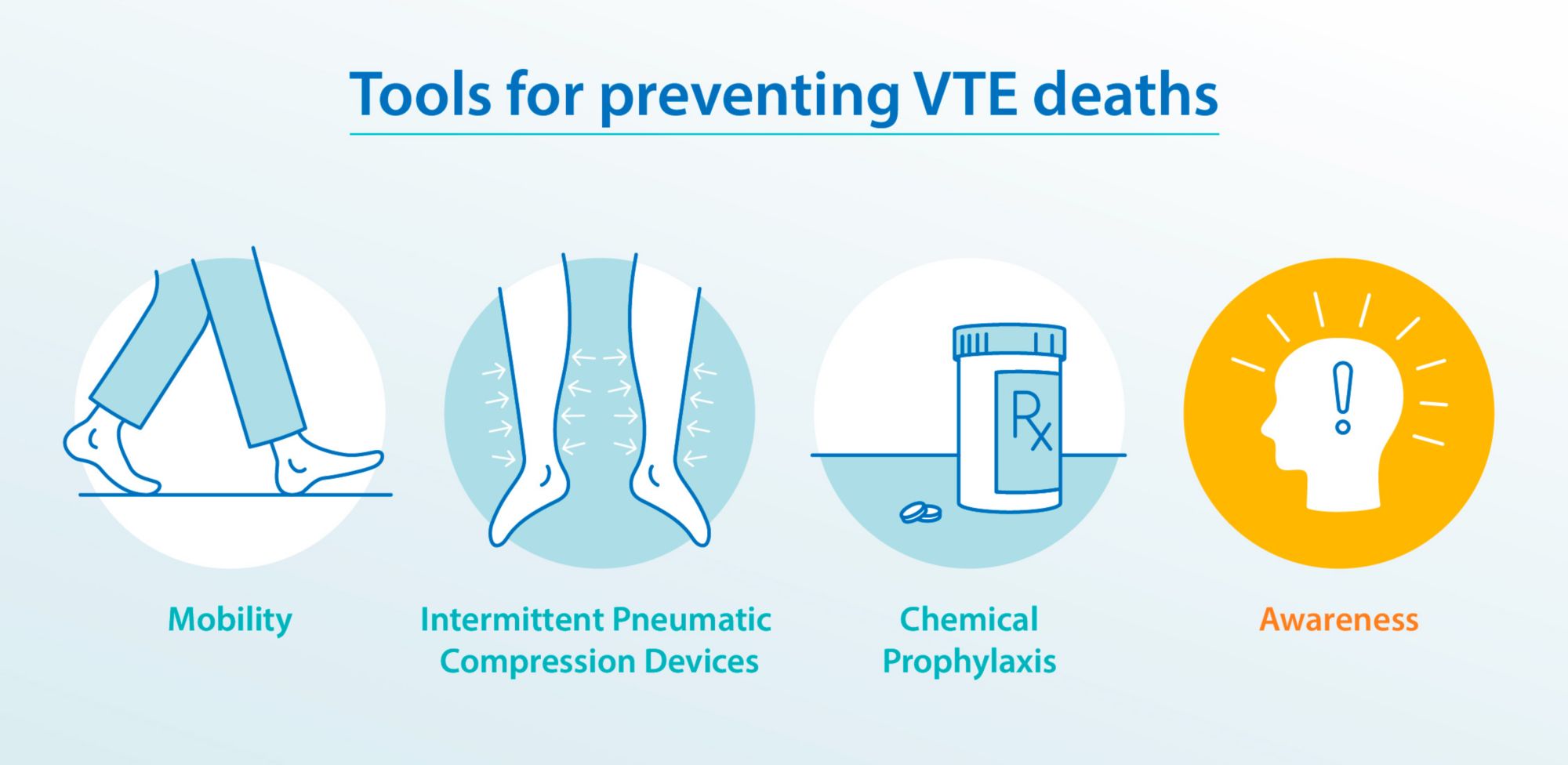 Making VTE a bigger priority
To increase VTE prevention compliance, hospitals need to place a greater emphasis on just how critical it is to a patient's care. "The hard part is really getting the nurses to appreciate the risks for his or her patient and the interventions that are needed for that patient," Duxbury said.
Better awareness and education of VTE prevention can come in a variety of forms, from taking greater care to stress the importance of prevention as part of a standard care bundle, to healthcare leadership and staff working together to address the barriers that make compliance less likely.
In an ideal situation, Duxbury said, compression devices "would be part of the bed or the average set up for every room." In reality, devices are often in other rooms or on other floors, meaning nurses must go out of their way to get what they need. This, she added, is a major reason that VTE prevention so often falls by the wayside.
In terms of ensuring a patient stays mobile, device accessibility doesn't make the treatment more likely to happen. The reason why goes back to awareness, and the lack of stress put on VTE prevention as a necessary task. "When you look at the full list of things that people need to get done and to do within a shift, it falls down the priority list," Duxbury said.
Highlighting hindsight
Stressing the importance of VTE prevention —in training and on the care floor — is a fundamental part of ensuring that preventative modalities happen more often. But there's another key part of the equation: educating providers on outcomes. And for that,
ICD-10 compliance serves as a helpful tool for cluing providers in on the direct results of steps they did or did not take.
"If I were to have a patient this week and I didn't put their mechanical compression device on for a whole eight hours, I might not necessarily know that three days later on the floor they developed a DVT," Duxbury said.
ICD-10 compliance is a tool used by hospitals to collect and analyze data on patient diagnoses, treatments and outcomes. And while it might not be able to guide care teams in real time, being able to use that data to better inform providers about the impacts of their protocols can be an important part of comprehensive VTE awareness.
"Going back and saying, 'Do you know that the patient you took care of last week actually ended up with a DVT?' can be impactful because then you're targeting the nursing care and the actual hands-on care they provided for a patient," Duxbury said. This communication shouldn't be punitive, but a critical piece of the education and awareness puzzle.
The steps hospitals take to better prevent VTE among their patients might vary from facility to facility, but the important part is that, eventually, they do what's necessary to make VTE a bigger priority and save more lives.