Contributor
Marijke Vroomen Durning, RN
Essential Insights contributor, healthcare writer
Featured expert
Carolyn Crumley, RN, NDP
Adjunct Assistant Professor and Clinical Nurse Specialist Program Coordinator
University of Missouri-Columbia
Influencing Patients to Take Action
As nurses know all too well, not all patients follow instructions. They may neglect to follow recommendations or even do things that are contraindicated. Yet, getting through to patients and families can sometimes be a matter of life or death. This is certainly true in the case of blood clots.
"Patients don't realize what risks are associated with that blood clot in their leg traveling to their lungs, which can be fatal," said Carolyn Crumley, RN, NDP, an adjunct assistant professor and clinical nurse specialist program coordinator at the University of Missouri- Columbia.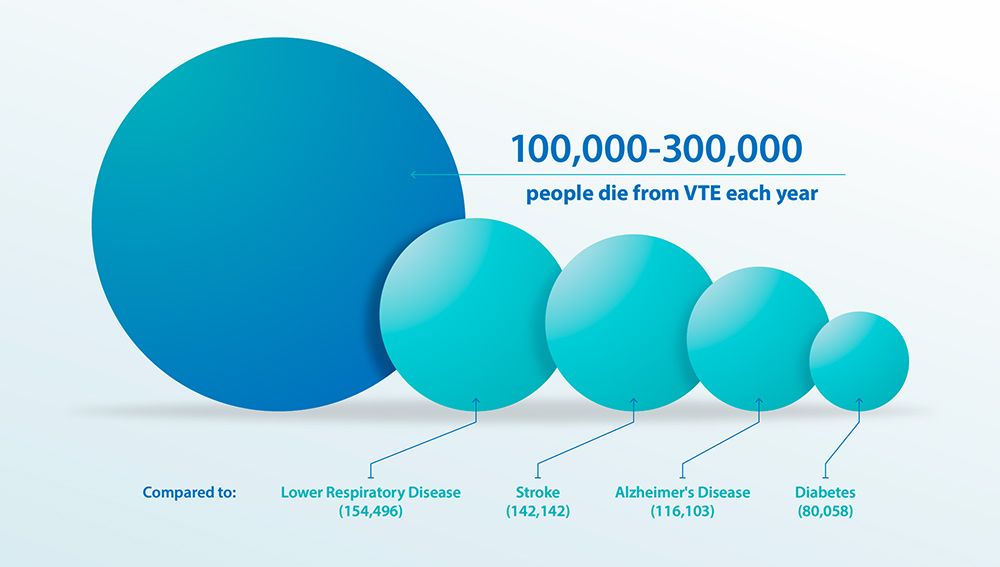 If they only understood the statistics. There are 100,000 to 300,000 VTE deaths per year in the US, and VTE is ahead of accidents (unintentional injuries), chronic lower respiratory diseases, Stroke, Alzheimer's disease and diabetes.
Crumley used the Health Belief Model, developed in the early 1950s, to evaluate how patients with a diagnosis of deep vein thrombosis (DVT) responded to a patient education handout about post-thrombotic syndrome prevention.
"You can educate people all you want, but that doesn't necessarily translate into action. This model helps explain what it takes to motivate patients to change their behavior," Crumley said.
The Health Belief model started with four tenets but expanded to six over the years:
Perceived susceptibility: patients' perception of their chances of becoming ill.
Perceived severity: patients' perception of how severe the illness may be if it is left untreated.
Perceived benefits: patients' perception of how they benefit if they do take the recommended actions.
Perceived barriers: patients' beliefs regarding obstacles that could prevent them from acting on recommendations.
Cue to action: the stimulus patients need to act upon the recommendations.
Self-efficacy: the patients' confidence in being able to comply with the recommendations.
Patients may understand that there's a high risk of a blood clot in their leg (perceived susceptibility), and that if they take anticoagulants, they reduce their risk (perceived benefit), but they may also believe that the risk will simply go away. They may not fully understand the risk of not taking medications regularly (perceived severity) or not following recommendations on being mobile and/or using compression devices.
Crumley explained that once the patient understands the severity of the situation, explanations regarding the benefits and effectiveness of the therapies that can reduce the risk of venous thromboembolism are better understood, and more likely to result in the right patient behaviors.
Barriers to following care recommendations
Another important aspect of patient engagement is addressing potential challenges even the most motivated patients may face with following care recommendations (perceived barriers). "For example, if they can't put on the lower extremity compression devices themselves, that is a barrier," explained Crumley. "You can tell them how important it is, but if they can't do it themselves, and assistance isn't available, then that is going to be an issue."

This must be addressed through patient engagement — helping patients overcome barriers rather than just "educating" them on the right thing to do.
Spurring patients and families to taking action
In the Health Belief Model, cues to action are the things that move patients and families from absorbing information to action. For blood clot prevention, this could include:
Talking to family members about how they don't want their loved one to die from this potentially life-threatening issue.
Discussing how the recommended interventions can help prevent VTE.
Sharing a personal connection to the issue, like a family member or friend who suddenly died after surgery because of a blood clot to the lungs.
Another way to relate to patient is mentioning a celebrity who suffered from venous thromboembolism. "For example, one of the Kansas City Chiefs' football players was involved in a motor vehicle accident several years ago. He had a spinal cord injury, which he would have survived. But a couple of weeks into his rehabilitation, he developed a pulmonary embolism and died," said Crumley.
Other tools for influencing behavior include:
Posters
Flyers
Text messages sent directly to patients
Don't be afraid to think out of the box and be creative. "During VTE prevention month one year, we ran a Clot Busters campaign for which the team dressed up as Ghost Busters," said Crumley.
The nursing team must be fully on board
Patient and family engagement in preventing thromboembolism starts with educating the nursing staff. Nurses understand the seriousness of blood clots, but they may not always realize the importance of every single thing they do, said Crumley.
"Say you're a staff nurse and you're taking care of a patient today. Maybe you forget to put their lower extremity compression device on or you really don't have the time to get the patient up to walk," said Crumley. While this may only happen once with this specific nurse, if this happens several times with multiple nurses during a patient's hospital stay, the family could get the impression that the devices and walking are not as necessary as they had been told.
Patients and families will model nurses' behavior. If nurses don't stick to the right protocols all of the time, then it could result in the patient developing a fatal pulmonary embolism.