Contributor
Jacqueline Haigney
Healthcare writer
The risk for hospital-acquired VTE is a serious concern ― but that risk isn't always addressed with the preventive care it deserves.
The good news is that risk assessment tools can potentially reduce the rates of VTE.
For example, in a study in the New England Journal of Medicine, 2,506 consecutive hospitalized patients on the medical and surgical floors were randomized to two groups:
For the intervention group, the physician was told of the patient's calculated risk level and suggested preventive therapy
For the control group, no alert was given
With the computer-alert program in place, physicians used more preventive measures for their hospitalized patients (intermittent pneumatic compression device-use rose to 10.0 percent from 1.5 percent and pharmacologic to 23.6 percent from 13.0 percent) ― and rates of
DVT and PE were significantly reduced.
Several tools have been developed to assess the risk of VTE in medical and surgical patients. These tools are used to evaluate patients and assign points based on the presence of risk factors with multiple factors increasing a patient's risk level. Typical questions include age, type of surgery, comorbid medical conditions, history or family history of VTE, and hypercoagulability.
Bringing the Caprini model to life
As an example of how the Caprini tool has been utilized, Boston Medical Center built a VTE risk scoring program, based on the Caprini tool, into their electronic medical record system. The system required surgeons to complete the risk assessment before they could sign surgical orders.
After the Caprini grading system was implemented, the incidence of DVT decreased by 84 percent and PE decreased by 55 percent.
These results show that early ― and mandatory ― stratification of VTE risk and prevention recommendations can potentially reduce the likelihood of VTE.
Blood clots are a common complication faced by patients in the hospital
Each year, VTE affects 350,000 to 600,000 Americans ― and in an estimated 100,000 to 300,000 of those cases, it proves to be fatal.
But for as many as 80 percent of patients, better awareness and compliance among hospital staff could have made all the difference. And as the data below show, the rates of hospital-acquired VTE can vary significantly by hospital area.
VTE rates by area in the hospital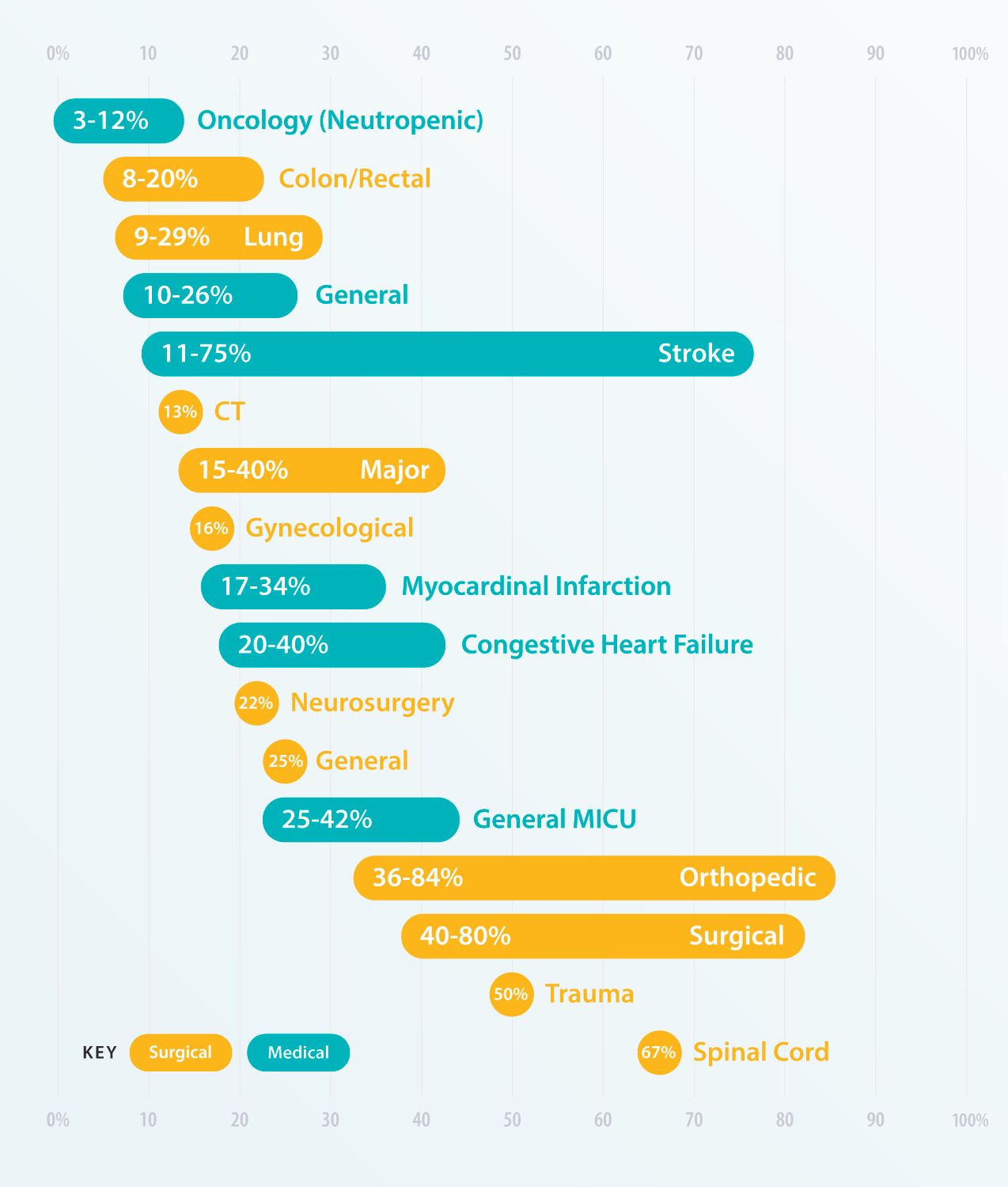 See the source by area for the graphs:
SURGICAL
MEDICAL