CONTRIBUTOR
Will Seaton
Essential Insights contributor, healthcare writer
Featured experts
Robert Wheaton
Forward Engineer, Fuse by Cardinal Health
Pamela Pallett
Data Scientist, Fuse by Cardinal Health
Imagine a future where you never have to fill out another form when you visit the doctor or a hospital. With the release of Apple's Health Records, the healthcare industry is taking a significant step toward that potential future.
Released as part of Apple's latest mobile operating system (iOS 11.3), the Health Records feature allows patients to securely download their personal health records from medical institutions and store them directly on their iPhones. Here's a deeper look at what that means for both healthcare providers and patients.
Putting health data in patient's hands
Patients typically have limited access to their health records — often only viewable through a health system's patient portal — with nearly zero ability to control their health information. However, with Apple's new Health Records feature, seated inside the iPhone's encrypted and password-protected HealthKit ecosystem, patients can pull their health information directly from a provider's electronic health record (EHR) onto their smartphones.
What does this mean for patients? Immediately, it provides them with a holistic view of their health and enables them to engage more directly with their care. At participating health systems, it also offers patients a new way to engage with their patient portal services.
Up until now, the data patients could access through a previous version of Health Records included those commonly stored on a continuity of care (CCDA) document, such as medical conditions, allergies, lab results, immunizations, medications, procedures and vital signs. As of iOS 11.3, the Health Records feature uses Fast Health Interoperability Resources (FHIR, pronounced "fire") and not CCDA, allowing for more robust information sharing.
In general, Health Records is designed to work in tandem with an EHR, for one of the 39 health systems currently participating in the program. Apple worked closely with EHR and EMR vendors like Cerner, Epic and athenahealth to ensure smooth operation.
Most notably, Health Records may serve to dramatically reduce the level of friction in the consumer healthcare experience — at least over time. "We may someday see a scenario where you simply tap your iPhone, in a way similar to Apple Wallet, to upload relevant health information to a new healthcare provider," said Robert Wheaton, a forward engineer at Fuse by Cardinal Health, the company's innovation center.
That means the pain of transferring health information may become a thing of the past, if health systems and consumers come to adopt Health Records, or similar services, widely.
While the application of Health Records is, for now, limited, Apple's move creates a strong impetus for the healthcare industry to increase its overall connectivity. That's because Health Records makes use of the open-source interoperability standard FHIR. This technology allows health technology systems to connect to each other using a common application programming interface (API).
By adopting FHIR, Apple has created a strong commercial incentive for health systems to follow suit. "If a patient wants to download his or her health records onto their iPhone and your health system isn't on a list of participating systems, that creates a real demand for health systems to implement FHIR, or at least to put it on their road map," said Wheaton.
Why this move is a big step forward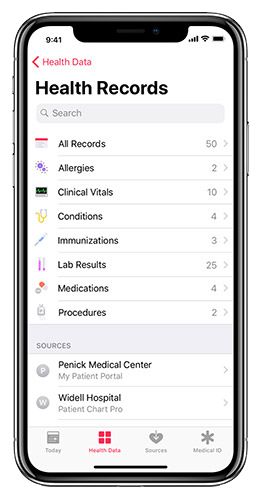 A view of Apple Health Records, which allows patients to see medical records from multiple providers.
Although Apple's Health Records is operating on a limited scale, and with a reduced smartphone market share, there are reasons to believe it will actually help create a sea change in liberating patient data.
"There's broad familiarity with the Apple brand," said Pamela Pallett, a data scientist at Fuse by Cardinal Health. "Now that they've heard about this so much in the news, patients may have an easier time embracing the service, once it's offered on a wider scale."
In fact, Apple already has a strong foundation of trust among healthcare consumers. According to research performed by Fuse by Cardinal Health, 80 percent of consumers would trust Apple with their health data.
Even more optimistically, 90 percent of consumers would access their personal health records with an app, were it available. In general, Apple's move comes at a good time: by 2020, 25 percent of data used in medical care will be collected and shared with health systems by patients, according to IDC research.
Still, there are significant challenges ahead. "Apple faces a steep uphill battle, especially concerning the legal implications of sharing protected health information," said Pallett. Were Apple to allow patients to consent to provide their data to academic researchers or health app developers, as many hope, or even transmit data over cellular networks, they would face thorny privacy and security questions, especially with Health Insurance Portability and Accountability Act (HIPAA) regulations.
"In many ways, it's helpful that an established tech company is tackling these problems first," said Pallett. "By paving the way, Apple can establish clear privacy and security precedents for others to follow."
Meanwhile, there are features currently unsupported by Health Records that many would nonetheless like to see. For example, patients can't retrieve their health records from previous medical institutions — only from medical providers who are currently participating in Apple's program. If a patient wants to find health records for a knee surgery performed several years ago in another state, for instance, Health Records is unable to assist.
Such an issue is caused less by a flaw in Health Records, however, than by a broad lack of interoperability remaining in the industry. Such data-sharing problems remain for industry leaders to resolve.
The takeaway for health systems and providers
Apple has sent a clear signal to healthcare leaders that the future of the industry lies in liberating patient data and easing friction in the consumer healthcare experience. For that reason, any provider with a stated goal of improving the patient experience — health systems, physician groups, retail pharmacies and the like — should be considering ways that they can adopt common data-sharing standards and lower patient barriers to health data.
"Most health systems, or their EHR or EMR vendors, have FHIR on their road maps already," said Wheaton. "However, with the added push by Apple, many should consider becoming early adopters for the seamless transfer of healthcare information. At the very least, they should be talking with their nurses, doctors or pharmacists about their patients' ability to own their health data and considering ways to improve the patient experience."
Though it may take several years for the full effects of Apple's move to be felt, it's clear that this is a big step forward in empowering patients with their own data.