CONTRIBUTOR
Frank Irving
Essential Insights contributor, healthcare writer
Featured experts
Jim Scott
Senior Vice President, National Markets
Cardinal Health
Michael D. Brown, PharmBS
Vice President, Managed Services
Cardinal Health
Need shampoo, milk and a medical consultation for a pesky rash? Your corner store can likely now provide all of the above.
That's why retail and healthcare, which may seem like very different industries when it comes to catering to consumers, are actually now on convergent paths.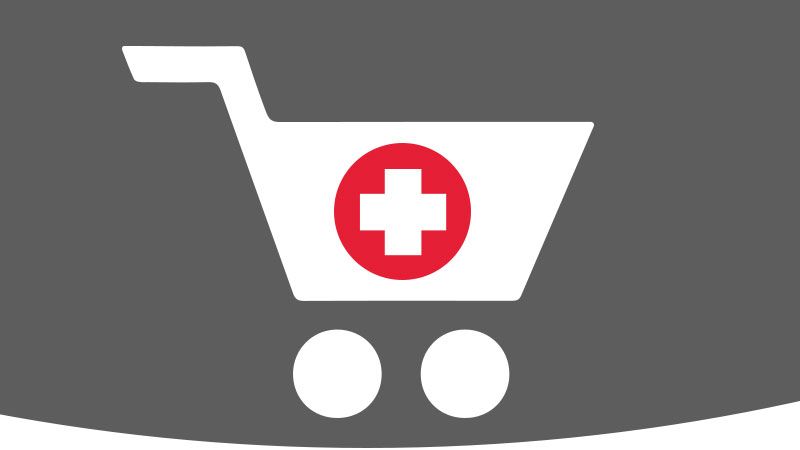 2,000
The number of U.S. retail clinics in 2017
With mounting responsibility for insurance premiums and co-pays, consumers have become increasingly price sensitive around the healthcare services they receive. Consumers also don't want to drive across town to see a specific provider when a more convenient option—a walk-in clinic or pharmacy—is within minutes of where they live. All of this has led to the growth of U.S. retail clinics, totaling more than 2,000 in 2017, according to the Drug Channels Institute.
At the same time, health systems recognize that gaining a foothold in retail makes good sense for a key reason: Increased points-of-access offer their existing patients more opportunities to receive care from them, while also bringing new patients into the system.
Here's a closer look at what's happening along the shared trail of retail healthcare.
Retailers enter the healthcare environment
In the changing healthcare landscape, retailers including CVS Health, Walgreens, Walmart, and Kroger (who owns The Little Clinic) are capitalizing on the opportunity to change how consumers receive a wide variety of healthcare services—leading to unique industry partnerships in their quest to establish themselves as healthcare hubs in their local communities.
"The real potential here is for changing how healthcare is delivered in primary care settings," Walid Gellad, a doctor and professor of health policy and management at the University of Pittsburgh, told NPR. The shortage of U.S. primary care doctors—estimated to reach nearly 50,000 by 2030—will likely also fuel retail's growth.
By practicing at the top of their licenses and offering more patient care services, pharmacists can establish themselves as a healthcare provider in the minds of patients. That's why more pharmacies are offering expanded services like immunizations, diabetes management, and even rapid diagnostic testing and wellness screenings.
Cardinal Health's Jim Scott, senior vice president of national markets, who works with retailers, added that these businesses can take advantage of their convenient locations to offer services aligned with trends in healthier living and an increased focus on health and wellness.
"Retail care is growing because it's bringing care to where patients live and work," Scott said. "Retailers have the unique capability to be one-stop shops by treating a condition and then filling a patient's prescription in the same visit."
Healthcare providers enter the retail environment
In parallel, hospitals and health systems are finding alternative methods to bring convenient care to their patients.
Memorial Hermann has added new types of facilities, including convenient care centers, in high-traffic locations to incentivize patients to use their services. These new touch points could help bring new patients into a system, as the Convenient Care Association estimates that 40 percent of patients who show up at retail clinics do not have a primary care doctor.
In addition to clinics, health systems are also setting up their own retail-like, outpatient pharmacies to combat another troubling obstacle: Studies show that at least 25 percent of patients being discharged from the hospital never pick up their first month's supply of medications. Patients not taking their prescribed medications as directed are more likely to be readmitted within those initial 30 days of discharge, triggering penalties under bundled payment programs.
"With the shift to value-based payment programs, it's more important than ever to ensure care continues after a patient is discharged," said Mike Brown, Cardinal Health's vice president of managed services, who helps hospitals with their pharmacy strategies. 
"There's good reason for hospitals to have their own outpatient pharmacies on site or partner with a pharmacy to serve patients post-discharge," Brown added. "These hospitals and health systems are able to extend care into the community and improve patient outcomes, which helps reimbursements."
Retailers and health providers work together
To meet the growing demand for care in more convenient settings, retailers and health systems are increasingly forming partnerships.
According to the Advisory Board, CVS had more than 50 clinical affiliations with health systems across the country as of 2015. These types of affiliations provide health systems with data about pharmacy use and visits, while the retailer gets more clinical credibility and access to an existing patient network.
Meanwhile, Walgreens, the second-largest retail clinic operator, has clinical affiliations with six health systems and physician groups, according to its website.
Walmart, however, has taken a different approach. Instead of operating its own clinics, it leases space to healthcare providers, including Springfield, Mo.-based CoxHealth.
Looking ahead
Technology will play a key role in health systems and retailers continuing to work together, since they need to share electronic health records to offer truly coordinated patient care. Telehealth may also help fill any care gaps at retail sites, extend hospitals' and health systems' reach, and enable more consultations with specialists.
Most importantly, retail care is overcoming reimbursement challenges as more health plans are adding retail clinics to their provider networks.
Although retail care still faces some challenges, just as with on-demand care, it's clear that it is filling an important need for patients seeking convenient care when and where they want it.