Specialty synergies: Collocated and collaborative
3PL Services will be expanding our footprint within the Cardinal Health facilities in LaVergne, TN. The upcoming relocation of our Specialty Pharmaceutical Distribution (SPD) business to a new facility in the area expands our 3PL footprint while maintaining the benefits of strategic and geographic proximities.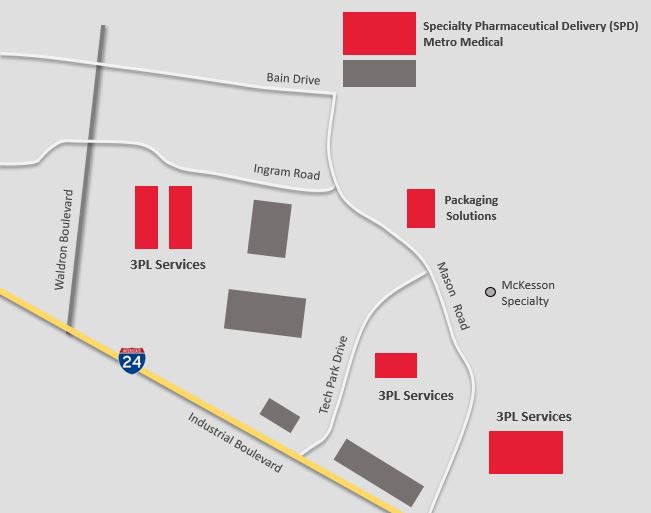 We will be expanding our capacity at the LV2 building, adding 150,000 square feet of warehouse space, including 700 pallet positions in refrigerator capacity – a nearly 50 percent increase in total refrigerator capacity. Ambient capacity is expected to be around 4,000 -5,000 pallets, providing approximately 20 percent more ambient pallet storage space. As a result of adding this new capacity, we'll also be evaluating what's possible for frozen product storage in LV1. This expansion will be achieved with minimal movement of operations and people as we collaborate efficiently across our business units.
The adjacency of the SPD business in LaVergne – located within one mile of the 3PL Services facilities – offers our clients in the specialty channel distinct advantages, lowering freight costs and limiting the potential damages that occur with routes that include multiple hand-offs or longer journeys. Furthermore, due to co-location of many back-office functions in our Tech Park offices, our teams share a culture dedicated to serving patients awaiting essential medicines and working seamlessly together to coordinate purchase orders and shipping requests. Several of our 3PL Client Relationship Managers have previous experience working in SPD, which allows them to offer our clients a knowledgeable view of our operations across both teams and facilitate seamless support between the two functions.
Beyond geographic alignment, 3PL Services and Specialty Pharmaceutical Distribution align as part of the Cardinal Health Specialty Solutions division. By strategically aligning these businesses under shared leadership, we can discover additional efficiencies and synergies between distribution and 3PL services capabilities and solutions for our clients.
3PL Services continually partners with the SPD team to innovate and identify new efficiencies for our clients, leveraging SPD's knowledge and reach to both community and hospital-based providers —one of the largest healthcare supply chains in the U.S.— and advanced product ordering and tracking technologies.
Recent examples include saving costs and creating efficiencies by collaborating on development of pre-qualified cold-chain packout designs, as well as looking for opportunities to apply SPD's proprietary RxID product tracking technology for new-to-market therapies. Of note, SPD and 3PL Services closely aligned to develop unique, innovative solutions to help bring cutting-edge cell and gene therapies to market. As a trusted partner in this critical, developing space, Cardinal Health Specialty Solutions was sought out by leading pharmaceutical manufacturers to pioneer the first commercial solutions in this ground-breaking, fast evolving area of the industry.
If your business is focused in the specialty channel, reach out to us to discover how we can apply our team's combined expertise to advance your business. If you're simply interested in seeing what's new in our LaVergne space, we'll be happy to show you our expanded spaces at your 2020 quarterly business review.