ESTEEM™ Chemotherapy Nitrile Gloves
Powder-free nitrile exam gloves with extended cuff
Cardinal Health™ ESTEEM™ Chemotherapy exam gloves are an excellent option for chemotherapy applications where a high level of protection is needed.
CUSTOMER SERVICE
For product specifications and service, please call our Customer Service team.
Product description
Ordering information
Features and benefits:
These gloves feature a long, beaded cuff for compatibility with chemotherapy gowns and provide resistance to permeation by even the harshest chemotherapy drugs.
Finger texture for secure grip
11.5 inch extended cuff provides more coverage to minimize potential exposure to hazardous drugs
Tested for use with 32 chemotherapy agents2
Approved for use with Carmustine and Thiotepa based on minimum breakthrough times per ASTM D69783
Tested against fentanyl4
Not made with natural rubber latex
Ambidextrous
Powder free
Color: Dark Blue
Minimum fingertip thickness: 7.1 mil (0.18 mm)
USP <800> compliant and tested per ASTM D69781
Footnotes and references:
1 Tested for resistance to permeation of chemotherapy agents per ASTM D6978. These products help healthcare facilities comply with the USP <800> standard for safe handling of hazardous drugs when used as directed in USP <800>.
2 This glove has been tested for resistance to permeation of various chemotherapy drugs per ASTM D6978, "Standard Practice for Assessment of Resistance of Medical Gloves to Permeation by Chemotherapy Drugs." Caution: Gloves used for protection against chemotherapy drug and laboratory chemical exposure should be selected specifically for the type of chemicals being used. Note: Review Safety Data Sheets (SDS) for the chemicals/drugs being used to determine required level of protection.
3 Caution: Minimum breakthrough time for Carmustine is 54.8 mins (3.3 mg/ml) and Thiotepa is 46.9 mins (10.0 mg/ml) (ASTM D6978).
4 Resistance to permeation of Fentanyl Citrate Injection 100 mcg/2mL for up to 240 minutes (ASTM D6978).
| Cat. no. | Size | Pkg. |
| --- | --- | --- |
| 8896EC | Small | 100 ea/bx; 10 bx/cs |
| 8897EC | Medium | 100 ea/bx; 10 bx/cs |
| 8898EC | Large | 100 ea/bx; 10 bx/cs |
| 8899EC | X-Large | 100 ea/bx; 10 bx/cs |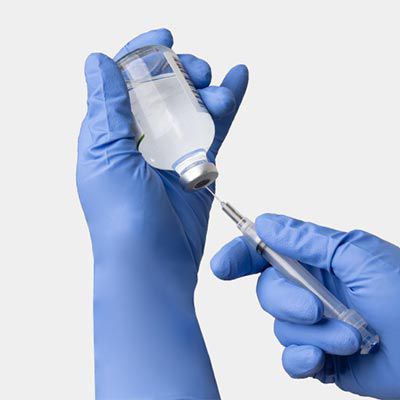 Cardinal Health has you covered when it comes to PPE for USP <800>
Keeping your staff safe is job #1 when it comes to handling hazardous drugs. Cardinal Health USP experts have helped champion these standards to ensure staff and patient safety while handling hazardous drugs across different departments within your facility.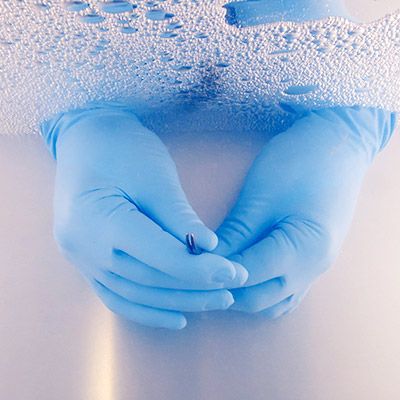 Looking for a decontamination glove?
Cardinal Health™ Decontamination (Nitrile) exam gloves are best utilized for decontaminating areas. Decontamination is the thickest glove in our Cardinal Health™ synthetic exam glove portfolio, designed to offer protection for the Central Sterile space where there is potential exposure to sharps and chemicals.