N95 Respirators
Our cost-effective Surgical N95 Respirators line meets Centers for Disease Control and Prevention (CDC) guidelines for protection against TB and is National Institute for Occupational Safety and Health (NIOSH) certified to have a filter efficiency level of 95 percent or greater against particulate aerosols free of oil. As the front lines of filtration, these Surgical N95 Respirators are also Food and Drug Administration (FDA) cleared for use in the OR during surgical procedures.
Reach out to our team for ordering information.
CUSTOMER SERVICE
For product specifications, service, and certificate requests, please call our Customer Service team.
Product description
Ordering information
N95 Mask features
NIOSH certified
Not made with natural rubber latex
Malleable aluminum nose wire
Nylon/spandex elastic securement
Available in the following colors: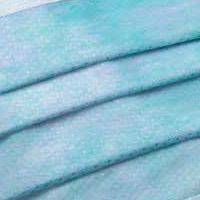 Mediterranean blue
White
Mediterranean blue
Cat no.

Inner layer

Dual middle layer

Outer layer

Mask style

Binding

Size

UOM

USA-N95-S

Bicomponent nonwoven

Filtered media

Spunbond polypropolene

Flat-fold

 

Spunbond polypropylene

Small

50/bx,

300/cs

USA-N95-R

Bicomponent nonwoven

Filtered media

Spunbond polypropolene

Flat-fold

Spunbond polypropylene

Regular

50/bx,

300/cs
---
White
Cat no.

Inner layer

Dual middle layer

Outer layer

Color

Mask style

Anti-fog feature

Size

UOM

N95A-S

Polyester

Filtered media

Polyester

White

Cone

Foam

Small

20/bx,

120/cs

N95A-ML

Polyester

Filtered media

Polyester

White

Cone

Foam

Medium/ Large

20/bx,

120/cs