ASTM Level 1 Surgical Mask
ASTM Level 1 Masks are the standard for surgical masks. As part of the complete Cardinal Health facial protection offering, they are a cost-effective solution for general use, particularly in low-fluid cases.
Reach out to our team for ordering information.
CUSTOMER SERVICE
For product specifications, service, and certificate requests, please call our Customer Service team.
Product description
Ordering information
Surgical Level 1 Mask features
Boxes with green packaging (ASTM Level 1)
Not made with natural rubber latex
ASTM F1200-11 Level 1
Plastic laminated nose wire
Surgical (ties) securement
Softex binding (edge tape)
Available in the following colors: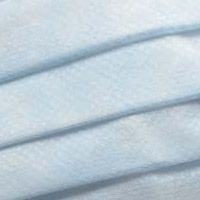 Blue
White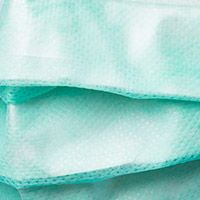 Green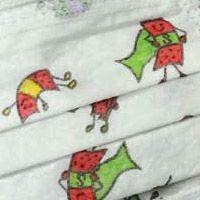 White w/ pediatric print
ASTM Level 1 characteristics
| Characteristic | Level 1 |
| --- | --- |
| Bacterial filtration efficiency | ≥95% |
| Sub-micron particulates filtration efficient at 0.1 micron | ≥95% |
| Differential pressure, mm H20/cm2 (Breathability) | <4.0 |
| Resistance to penetration by synthetic blood, minimum pressure in mm Hg for pass resuls | 80 mm Hg |
| Flame spread | Class 1 |
Blue
| Cat. no   | Inner layer | Middle layer | Outer layer | Mask style | Anti-Fog feature | Other features | UOM |
| --- | --- | --- | --- | --- | --- | --- | --- |
| AT71035   | Cellulose | Filtered media | Spunbond polypropylene | Pleated |   |   | 50/bx, 300/cs |
| AT71039 | Cellulose | Filtered media | Spunbond polypropylene | Pleated |   | Horizontal ties | 50/bx, 600/cs |
| AT7505-P | Spunbond polypropolene | Filtered media | Spunbond polypropylene | Pleated |   |   | 50/bx, 300/cs |
| AT71235 | Cellulose | Filtered media | Spunbond polypropylene | Pleated | Foam |   | 50/bx, 300/cs |
| AT51035 | Cellulose | Filtered media | Spunbond polypropylene | Duckbill |   |   | 50/bx, 300/cs |
| AT51334 | Spunbond polypropolene | Filtered media | Spunbond polypropylene | Duckbill |   |   | 50/bx, 300/cs |
---
Green
| Cat. no | Inner layer | Middle layer | Outer layer | Mask style | Anti-fog feature | UOM |
| --- | --- | --- | --- | --- | --- | --- |
| AT72835 | Cellulose | Filtered media | Spunbond polypropylene | Pleated | Adhesive | 50/bx, 300/cs |
| AT73835 | Cellulose | Filtered media | Spunbond polypropylene | Pleated | Odorless adhesive | 50/bx, 300/cs |
| AT75835 | Cellulose | Filtered media | Spunbond polypropylene | Pleated | Adhesive w/ liner | 50/bx, 300/cs |
| AT752005 | Cellulose | Filtered media | Spunbond polypropylene | Pleated | Film | 50/bx, 300 /cs |
| AT752007 | Cellulose | Filtered media | Spunbond polypropylene | Pleated | Film | 50/bx, 300/cs |
---
White dye free
| Cat. no | Inner layer | Middle layer | Outer layer | Mask style | Anti-Fog feature | Other features | UOM |
| --- | --- | --- | --- | --- | --- | --- | --- |
| AT73035 | Cellulose | Filtered media | Spunbond polypropylene | Pleated |   |   | 50/bx, 300/cs |
| AT73335 | Spunbond polypropolene | Filtered media | Spunbond polypropylene | Pleated |   |   | 50/bx, 300/cs |
---
White w/ pediatric print
| Cat. no | Inner layer | Middle layer | Outer layer | Mask style | Anti-fog feature | Other features | UOM |
| --- | --- | --- | --- | --- | --- | --- | --- |
| AT771145A | Cellulose | Filtered media | Cellulose | Pleated |   |   | 50/bx, 300/cs |