Jackson-Pratt® Wound Drain portfolio
Delivering high-quality, reliable products has allowed the Cardinal Health Jackson-Pratt® brand to become a trusted solution worldwide.
Reach out to our team for ordering information.
CUSTOMER SERVICE
For product specifications, service, and certificate requests, please call our Customer Service team.
Jackson-Pratt® Flat Drains are made of a silicone elastomer for softness and flexibility, featuring:
Injection molded for strength and drain integrity
Low-profile, hubless design to help promote tissue plane approximation
Inner lumen ribbing to help prevent drain collapse and clogging and help preserve drain patency
Silicone that is barium impregnated for x-ray detection of drain
Jackson-Pratt® Silicone and PVC Round Drains
Jackson-Pratt® Round Drains are available in both silicone and PVC per physician preference and feature a radiopaque stripe running the entire length of the drain tubing for x-ray detection.
Jackson-Pratt® Silicone T-tube Drain
The Jackson-Pratt® Silicone T-tube Drain is indicated for hysterectomy and cholecystectomy and is soft and pliable.
Penrose Drains
Our penrose drains are used to help promote drainage of a wound site.
These latex drains consist of a flexible rubber tube which is left inside the site of the surgery to help promote drainage of blood, lymph and other fluids to help reduce the risk of infection.
Uses gravity to draw fluids out along its surfaces into dressings
Safety pin provided may be used to prevent the drain from slipping back inside the wound
Sterile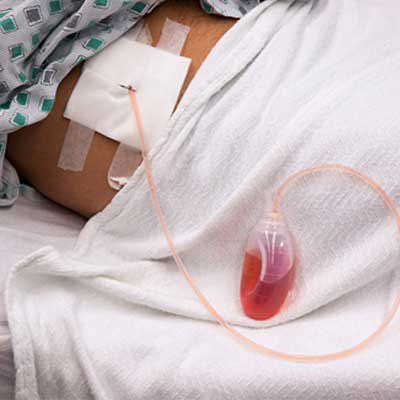 Wound drain systems in perioperative nursing
This continuing education activity will provide a review of the basic principles of wound healing. This includes key wound assessment factors and the various types of wound drains and drainage systems.