Shellye Lampkin
Shellye Lampkin inspiring others to the betterment of the laboratory profession
Through strong leadership, mentoring and compassion, Shellye Lampkin is essential to the laboratory profession and to the community. The commitment she demonstrates toward her work and to those around her exemplifies why she was chosen as a top finalist for the urEssential Award. This award commemorates the continuous efforts laboratory professionals make to health care and to patient outcomes every day.
For the past 32 years, Shellye has been teaching histology lectures and histological techniques ranging from Microtomy to Immunofluorescence. As the Technical Director for The University of Texas Health Science Center at San Antonio (UTHSCSA), Shellye is committed to fostering laboratory efficiency and advancement. When the UTHSCSA laboratory was first established, Shellye was on the cutting edge for implementing immunohistochemistry procedures. She continued to develop innovative techniques, including her involvement in the research and development of new breast diagnostic markers for breast cancer by frozen section immunochemistry. She aided in development methods for preparing paraffin blocks and sections containing multiple tissue samples as well as the development of microwave techniques for special stains. Shellye's continuous contributions to her lab have positively impacted productivity and cause her to stand out from others.
In addition to coordinating and directing various initiatives within the lab, Shellye is passionate about education and increasing student awareness of the profession. Under her guidance, high school students are able to tour the laboratory and learn about the Histotechnology Training Program. Shellye is actively involved in career days and coordinates the program presentation to ensure students walk away with newfound knowledge and understanding of the impact one can have in the laboratory vocation. In the words of her nominator, "Shellye motivates students to achieve technical and academic skills along with professional goals to succeed in our field." Her involvement in student development continues to inspire those around her.
Shellye has received many honors for her outstanding contributions to the profession, including numerous UTHSCA Service Awards for key milestones and achievements. She has been actively involved in Texas District III meetings for the National Society of Histotechnology since 1982 and has delivered many impactful lectures such as "Immunohistochemistry, How to Use Concentrated Primary Antibodies as an Alternative to Kits."
For these reasons and so many more, Cardinal Health is honored to share Shellye Lampkin's story of achievements and to recognize her as a finalist for the urEssential Award.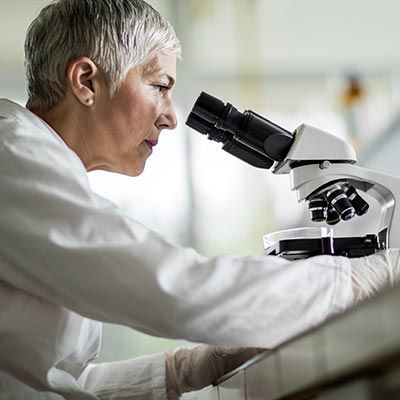 Laboratory Professional of the Year
Do you or a colleague perform outstanding work in the lab?