Dr. Rodney E. Rohde
Clinical Laboratory Science Program Chair, Professor, and Associate Dean for Research in the College of Health Professions, Texas State University
Champion of the Clinical Laboratory Science Profession and Winner of the 2015 urEssential Award
Essential to community? In a sentence, that is Dr. Rodney E. Rohde. As Professor at his beloved alma mater, Texas State University, and Chair of the Clinical Laboratory Science (CLS) Program, as well as the Associate Dean for Research in the College of Health Professions, Dr. Rohde is a champion and role model for his students, fellow faculty, professional colleagues and alumni. The urEssential Award recognizes and celebrates the essential contributions medical laboratory professionals make to patient care - and in sharing his time and talents for the betterment of the community and profession, Dr. Rohde espouses the heart of this award.
One of Dr. Rohde's passions is sharing his love for the laboratory with students and faculty; another is helping increase the visibility of the medical laboratory profession at the university and beyond. He weaves these values together through advocacy and mentoring. Dr. Rohde also uses his voice to further the cause of organizations like the American Society for Clinical Laboratory Science (ASCLS) and the Texas Association for Clinical Laboratory Science (TACLS). Leading by example, he inspires his students and colleagues to become involved. With unwavering commitment, Dr. Rohde has successfully mentored multiple students serving as student forum chairs and board members of TACLS. Two were later elected at the national level - one as Student Forum Chair and another as Student Forum Vice Chair. In 2014, one of his students, Lindsey Coulter, was selected as a prominent Emerging Infectious Disease Fellow and awarded a full year fellowship with the Centers for Disease Control and Prevention (CDC). Another of his students, Jazmen Myers, was selected for several national awards, including the 2014 G2 Intelligence scholarship for excellence in Clinical Laboratory Science. These are just two examples of state and national recognition for his students.
Dr. Rohde and his students have received many awards for their posters and publications. Numerous students from his program have gone on to be accepted to a variety of very competitive graduate programs, including Drexel University, Johns Hopkins and Duke. A colleague stated that Dr. Rohde's "most important contribution to CLS is his success at mentoring faculty, students and alumni."
As devoted advocates of the profession, Dr. Rohde and his colleagues in Texas have spent many hours testifying to the state of Texas Legislature on the need for licensure for CLS. Through their work, they have showcased the significance of CLS in both the public health and clinical medicine arenas.
Dr. Rohde is a prolific researcher and writer whose focus is the epidemiology, detection and treatment of infectious organisms. One colleague describes Dr. Rohde as a "true scholar, incorporating research into his everyday activities." He gets his students involved in this research, resulting in the development of new techniques that allow for rapid and accurate diagnoses. Recent work centers on Healthcare Associated Infections (HAIs), such as Methicillin-resistant Staphylococcus aureus (MRSA). Dr. Rohde goes way beyond the bench, collaborating with civic groups and medical providers on the efforts to beat this dangerous bug. He helped create clinical guidelines for the prevention, treatment and containment of MRSA infections in county jails as an active member of the Texas MRSA Correctional Facility Workgroup.
Despite numerous accolades, Dr. Rohde remains humble and grateful to what the profession has given him. He has a true passion for helping his students find their career path and for helping them to become future leaders in this profession.
Cardinal Health is honored to recognize Dr. Rohde as the winner of the 2015 urEssential Award. For all that you do, we thank you Dr. Rohde, because urEssential.
As recipient of the 2015 urEssential Award, a $20,000 donation will be made to the school of Dr. Rohde's choosing as scholarship funding for students seeking careers in laboratory science.
Rodney E. Rohde, Ph.D., M.S., SV, SM(ASCP)CM, MBCM is President of TACLS (2015-17) and was inducted into the prestigious Alpha Mu Tau Fraternity for his contributions to the CLS profession. He received his Bachelor of Science in Microbiology and Masters (Biology with an emphasis in Virology) degrees from Texas State University. He received his Ph.D. in Education (Adult Professional Community Education) with an emphasis in a public health dissertation on MRSA in 2010.
Prior to his academic career at Texas State, Dr. Rohde served as a microbiologist and molecular epidemiologist for the Texas Department of State Health Services (DSHS) Bureau of Laboratories and Zoonosis Control Division (ZDC) for 10 years. It was here that he developed an interest in zoonotic disease, especially rabies. Dr. Rohde spent much of his time performing antigenic and molecular typing of the different variants of rabies virus. The epidemiologic evidence gathered from this testing informed the work being done by the ZDC's Oral Rabies Vaccination Program (ORVP). While at DSHS, he helped initiate the Regional Reference Laboratory for Rabies Virus Variant Typing in collaboration with the CDC. Efforts of the ORVP have resulted in elimination of canine rabies in south Texas. As a faculty member at Texas State, Dr. Rohde shares his experience from the DSHS laboratory, CDC, and ORVP efforts with respect to public health into the various courses that he teaches: clinical microbiology, clinical immunology, molecular diagnostics, parasitology, clinical research and seminars.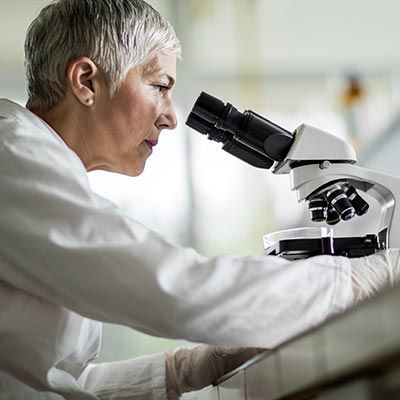 Laboratory Professional of the Year
Do you or a colleague perform outstanding work in the lab?