Ms. Marcia Armstrong
Unwavering proponent of the profession and mentor to many: Ms. Marcia Armstrong
With a career spanning more than four decades, Ms. Marcia Armstrong has worked tirelessly to promote and improve clinical laboratory science. She has used her voice and extensive experience to advocate for the profession, bringing together industry leaders, legislators, and students to demonstrate the value of Laboratorians to the well-being of the greater community. Ms. Armstrong has been chosen as a top finalist for the 2015 urEssential Award, for this and for many other reasons.
During her career, Ms. Armstrong wore just about every professional hat, having served as educator and researcher along with working in the clinical chemistry laboratory. As Director of the Medical Laboratory Technician (MLT) Program at the University of Hawai'i Kapi'olani Community College in Honolulu, Ms. Armstrong used her talents to develop many students. A fellow member of the American Society for Clinical Laboratory Science Hawai'i (ASCLS-HI) so eloquently stated, "The real story is how Marcia has impacted thousands of people in the clinical laboratory profession during the past four decades through advocacy and mentoring. She has advocated for this profession with members of the clinical laboratory science community regardless of professional affiliation, with colleagues in other health professions, state legislators, and members of the U.S. Congress. She has mentored hundreds of students and young professionals. Even though she is retired from her teaching position, she still continues to be active and contributes wherever she can."
Ms. Armstrong led the University of Hawai'i Kapi'olani Community College MLT Program as director from its initial accreditation in 1983 through 2008. She worked to expand clinical affiliate relationships and helped create a career ladder in Medical Laboratory Science (MLS) education in the state of Hawai'i. To promote the MLT program and the need for educated laboratory professionals, Ms. Armstrong has participated in speaking engagements with colleagues, women's groups, high schools and the general public.
Ms. Armstrong is an outspoken and courageous advocate for the clinical laboratory profession. She served on the advisory committee for the Hawai'i State Department of Health which revised the statutes and regulations for the medical laboratory. She has been active in accreditation of MLT programs throughout the United States, performing at least two site visits per year for the National Accrediting Agency for Clinical Laboratory Sciences (NAACLS) for the last 20 years. Ms. Armstrong has been influential in ASCLS at the state and national levels and has received many awards for her work, including the Mendelson Award in 2011 for outstanding service to clinical laboratory science. She received the highest honor in ASCLS as the organization's Member of the Year for 2013.
Congratulations Ms. Armstrong on your many achievements, including being selected as a top finalist for the 2015 urEssential Award. Cardinal Health is honored to share your story and to say thank you for being essential to the medical laboratory profession.
Marcia Armstrong, M.S., MT (ASCP), CLS (NCA) is Professor Emeritus at the University of Hawai'i Kapi'olani Community College in Honolulu, Hawai'i. She received her Bachelor of Science degree in Zoology from Ohio University and Master of Science degree in Medical Laboratory Science from UMass Dartmouth. Currently, Ms. Armstrong serves on the Board of Directors at NAACLS.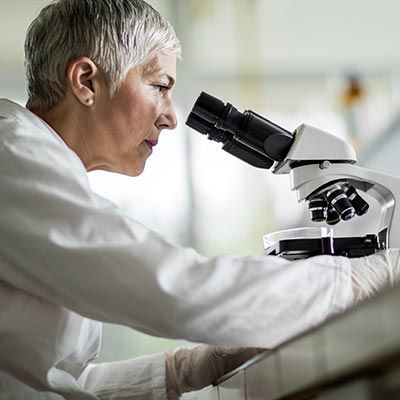 Laboratory Professional of the Year
Do you or a colleague perform outstanding work in the lab?