Cardinal Health™ NPWT ATG™ Kit
Cardinal Health has developed a NPWT therapy kit specifically targeted to the needs of the different care settings. Cardinal Health ATG™ Kit can used for transition from hospital to home or as a therapy starter kit. Each kit offers a single-patient use device with 10 days of therapy, dressing kits, canisters and device carry case.
Reach out to our team for ordering information.
CUSTOMER SERVICE
For product specifications, service, and certificate requests, please call our Customer Service team.
Product description
Ordering information
Now with additional features such as enhanced alerts, Twist N' Connect™ and dual-lumen technology, the Cardinal Health™ ALLY™ product family makes negative pressure wound therapy simple – both clinically and economically.
ALLY™ - United with you to deliver trusted and cost effective NPWT.
Simple
Simple design for easy therapy initiation and troubleshooting for optimal patient care.
Full canister and blockage alert emits an audible and visual alert to ensure patient is receiving constant therapy.
Twist N' Connect™ canister port connection supports easy and secure attachment.
Reliable
High performance with a powerful yet quiet motor.
Portable size discreetly fits into a patient's lifestyle.
Dual-lumen tubing technology maintains and monitors pressure at the wound site. Tubing is designed to remove exudate while providing continuous NPWT and detecting blockages.
Effective
Trusted technology with 20 years of clinical experience.
30 to 50% savings from marketing leading devices*.
*On file a Cardinal Health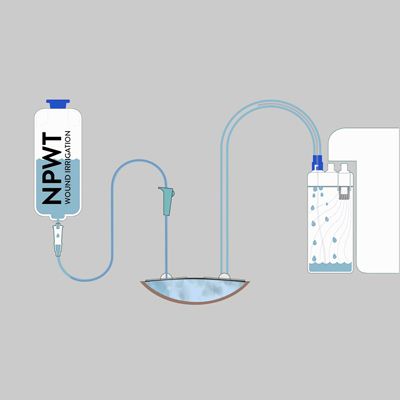 Simultaneous Irrigation™ Technology
Our uniquely patented Simultaneous Irrigation™ Technology is the only NPWT system that gives you the option of delivering a topical solution into the wound bed at the same time  NPWT is applied.
| Description | Cat. no. |
| --- | --- |
| ATG™ Kit | 48-1230 |