Case study
Healing a panniculus wound
Cardinal Health™ SVED® device1 with simultaneous irrigation healed a chronic panniculus wound complicated by necrotizing fasciitis
Description
A 37 year-old, 600-pound woman was admitted to an acute care medical center after developing necrotizing fasciitis as a complication of a chronic group A streptococcus panniculus infection. The patient developed septic shock — multi-organ system failure — requiring ventilation, dialysis and hemodynamic support. The patient underwent standard sepsis protocols. Serial debridement to control infection resulted in an open abdominal wound measuring 130 x 136 cm. Immediately prior to admission to a long term acute care hospital, a surgical team removed 100 pounds of excess pannus and employed vertical retention sutures to attempt closure of all but 56 cm of the wound. Two large surgical drains were placed along the wound gutter — each drain extending along the lower lip of the wound to the opposite end.
Results
Shortly after admission to the long term acute care hospital, the patient again became septic and was put back on a ventilator. The patient remained on ventilation throughout most of her stay at the long term acute care hospital.
Figure 1A
Post-surgical view
Closure of all but 56 cm of wound
Figure 1B
Post-surgical view
Sutured wound edges not adhered
Tunnel depth: 5 to 10 cm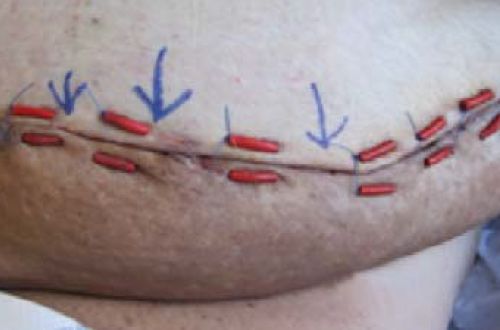 Initial wound assessment found no adhesion of sutured wound edges. Tunneling under the sutures extended 51 cm to the right and to the left of the central open wound. Tunnel depth ranged from 5 to 10 cm. The long term acute care wound care team noted a moderate amount of thick serosanguinous drainage from the base of the midline wound and emerging between openings in the suture line.
Figure 1C
Post-surgical view
Surgical drain
To promote moist wound healing, the team managed exudates by irrigating wound tunnels with normal saline, and controlled absorption by using Hydrofiber® Technology2 and alginate.