Case study
Scalp Abscess Treated with NPWT with Simultaneous Irrigation™ Technology
Patient description
Age: 60 years old
Gender: male
Wound: scalp abscess, posterior head: necrotizing cellulitis
Prior treatment: warm compress, antibiotics
Postoperative treatment: Cardinal Health™ negative pressure wound therapy (NPWT) with Simultaneous Irrigation™ Technology using normal saline
Size immediately after postoperative debridement: 9.5 x 6 x 4 cm
Size post first NPWT with Simultaneous Irrigation™ dressing change: 10 x 6 x 3 cm
Tissue base: muscle exposed
Status post second NPWT dressing change: wound base 100 percent granular with no depth; no signs or symptoms of infection; wound margins contracting with no maceration
Case history
One week prior to admission, the patient noted posterior neck swelling that was inflamed and increasing in size. He was experiencing fever and chills. The patient flew to Hawaii from his native country and arrived at the hospital directly from the airport. The patient complained of headache, swelling and pain, which had become worse despite oral antibiotics. The patient had a history of diabetes, hypertension and hyperlipidemia. On admission, a large, firm lesion of 6 to 8 cm diameter with purulent discharge was noted on his posterior head. A CT scan indicated moderate posterior lower scalp/upper neck subcutaneous stranding and edema, suspicious for cellulitis/soft tissue infection that extended down to posterior paraspinal muscles. White blood cell count was 20,000; blood cultures were positive.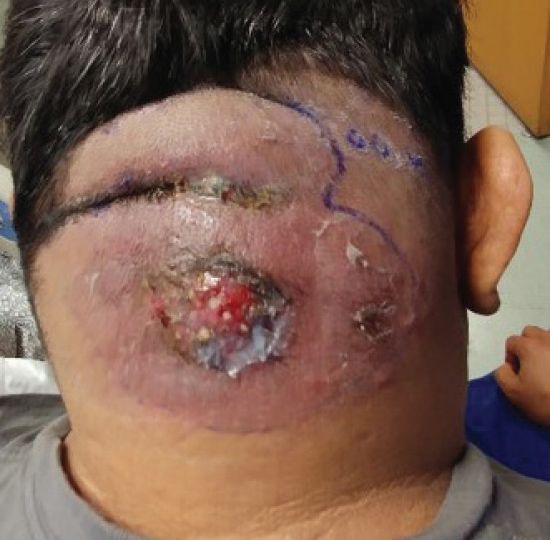 Presentation on admission to hospital
---
1/23/2017 (Beginning point)
The patient was taken to the operating room for debridement. Cardinal Health NPWT with Simultaneous Irrigation™ was placed to provide continued cleansing of the wound bed. Normal saline was used at a rate of 30 cc per hour. The device was set to -120mmHg in continuous mode. The dressing was left in place for 72 hours.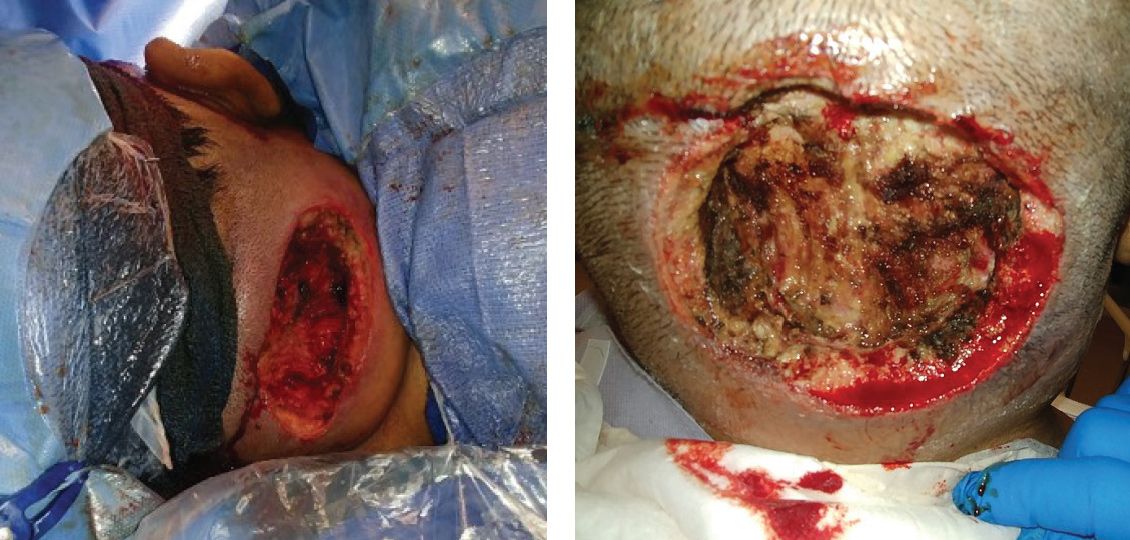 During and immediately postoperative; note exposed muscle to wound base.
---
1/25/2017 (Assessment)
White blood cell count was 10,100. Wound assessment revealed wound was shallower but lightly larger on the lateral and inferior walls. There had been no difficulty maintaining the drape seal despite deep ateral skin creases and regrowing hair. There was no maceration at dressing change. The patient was ambulatory and noted marked improvement in his ability to sleep. NPWT was reapplied at -120mmHg in continuous mode. Simultaneous Irrigation™ was discontinued due to significant improvement in the wound bed.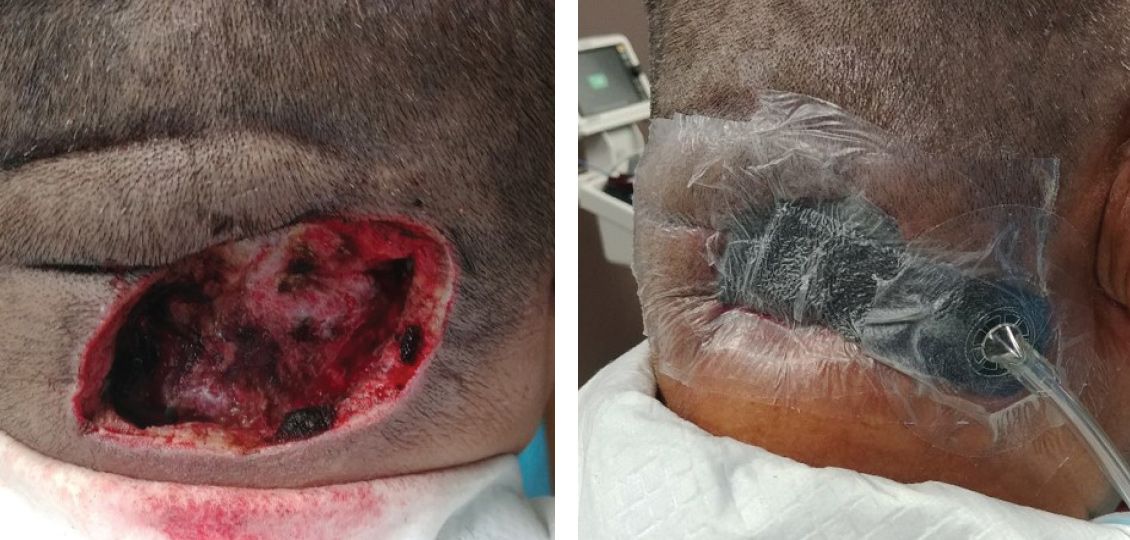 First postoperative dressing change after 72 hours of NPWT with Simultaneous Irrigation™; note the periwound skin condition.
---
1/30/2017 (Mid point)
The patient was discharged from the hospital on on the same NPWT system used in the hospital and continued follow-up in the clinic. The wound base was granular with no muscle exposed. The wound continued to show rapid improvement. NPWT was continued with the same system used in the hospital.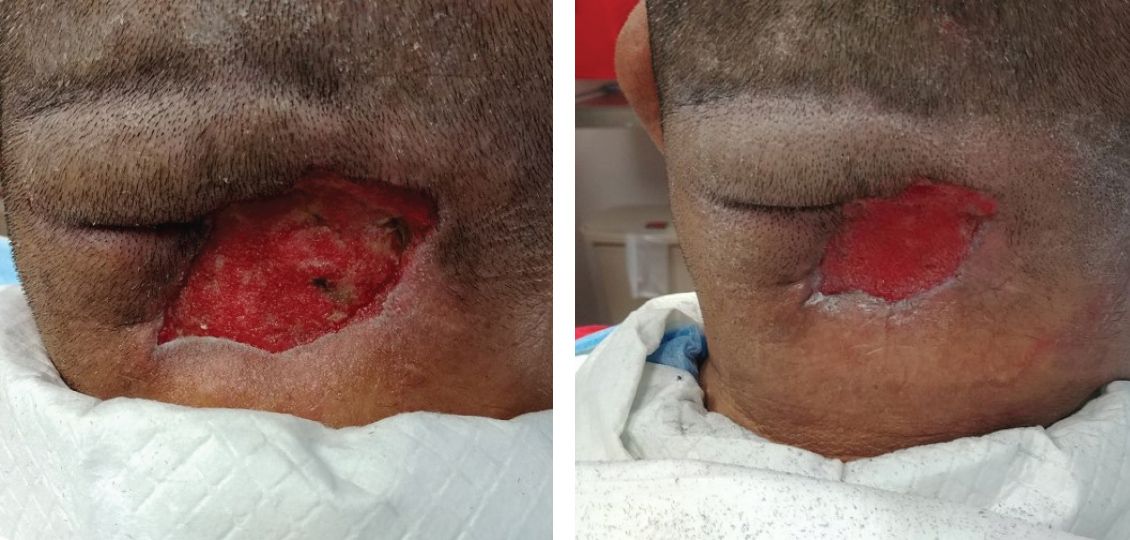 Wound continued to progress after hospital discharge.
---
3/15/2017 (End point)
The patient was well enough to return to his native country. NPWT was discontinued and the patient was instructed on application of the wound care regimen.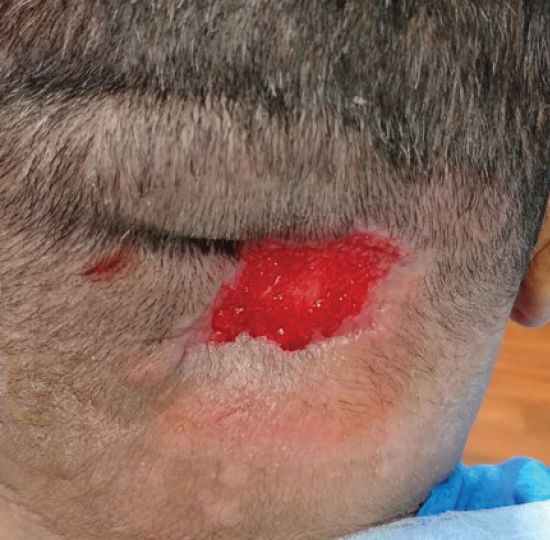 Wound at time of discharge.
---
Summary
NPWT with Simultaneous Irrigation™ Technology was an important part of this patient's treatment plan. It was observed that the wound cleansing was accelerated, setting the stage for granulation and wound contraction. The same NPWT dressing sets were used with NPWT and NPWT with Simultaneous Irrigation™. The delivery of irrigant without the cessation of NPWT enabled the dressing seal to be maintained even in deep creases. There was no maceration noted with the therapy.
Please refer to the Cardinal Health™ PRO NPWT Clinical User Manual for indications, contraindications, precautions and safety information. Always consult a physician and instructions for use prior to application. Caution: Federal law restricts this device to sale by or on the order of a physician.