Case study
Use of Cardinal Health™ NPWT on the Mercy Ships floating hospital Africa Mercy
Part of the comprehensive wound management of an extensive and infected scalp wound following a full thickness electrical burn
Case introduction
The patient had been working on the roof of a building in Madagascar when a live electrical wire came down and contacted him on the top of the head producing an extensive and full thickness burn injury. He was admitted to a local mission hospital where sharp debridement was performed to remove devitalized tissue and a tissue flap was placed to cover the exposed bone.
Subsequent to the surgery only partial viability of the graft was achieved leading to the development of an extensive area of necrotic tissue and exposed bone which subsequently became infected.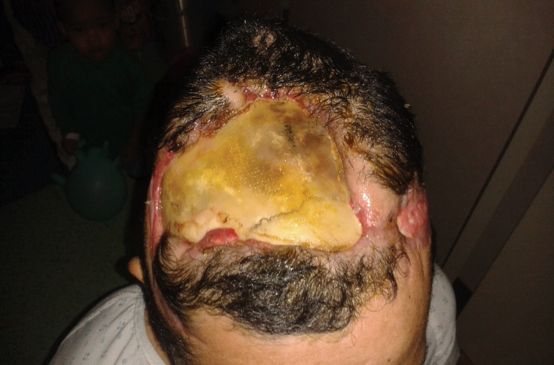 Admission with infected skin grafts
Cardinal Health™ NPWT PRO placement

Discussion
The Cardinal Health™ NPWT PRO was shown to be a valuable part of the comprehensive treatment of this burn injury. The use of a portable and easy to use device facilitated the progression of the wound to a stage that could be closed with a skin graft.
---
Methods
The patient was admitted for evaluation by a wound care nurse and physician on the Africa Mercy, the world's largest non-governmental floating hospital. He presented with extensive infected wounds on the top of his head, and he was still unable to attain full mobility post electrical injury. The patient was taken to the OR where extensive surgical debridement was performed and the Cardinal Health™ PRO (formerly Quantum®) NPWT device was placed on the large scalp defect.
---
Results
The patient remained on the Cardinal Health™ PRO NPWT device for approximately 12 weeks, when the defect had granulated to the depth needed to receive a skin graft.
The patient received a skin graft and was discharged after recovery and follow-up review.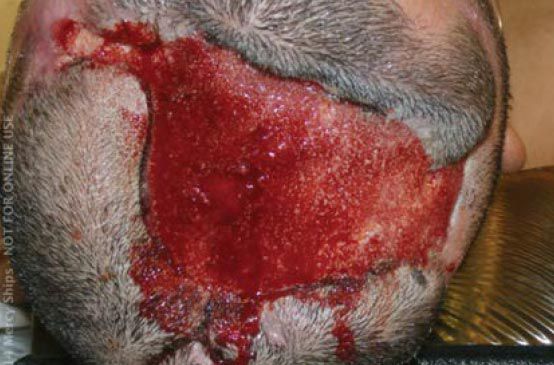 Scalp ready for graft placement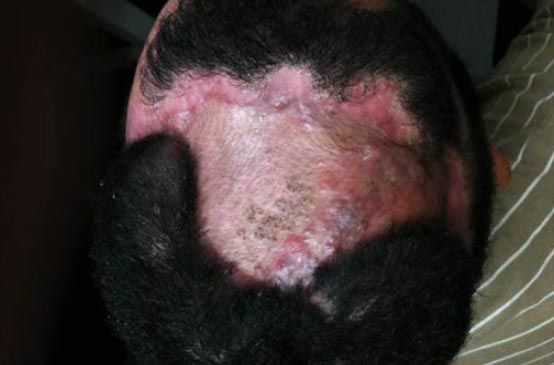 Portability, simplicity and effectiveness of therapy are vital for patients throughout the world, and especially in this case on the world's largest non-governmental floating hospital treating the world's poorest and most in need of quality care.
---
About Mercy Ships
Mercy Ships uses hospital ships to deliver free, world-class health care services, capacity building and sustainable development to those without access in the developing world. Founded in 1978 by Don and Deyon Stephens, Mercy Ships has worked in more than 70 countries providing services valued at more than $1 billion, treating more than 2.5 million direct beneficiaries. Each year Mercy Ships has more than 1,600 volunteers from more than 40 nations. Professionals including surgeons, dentists, nurses, healthcare trainers, teachers, cooks, seamen, engineers, and agriculturalists donate their time and skills to the effort. Mercy Ships seeks to transform individuals and serve nations one at a time.
For more information: website: www.mercyships.org
Want to make a difference and donate? Visit https://donate.mercyships.org/
Hi-res photos and general Mercy Ships B-Roll video footage are available upon request.