Clinical research summary
A randomized clinical study to compare negative pressure wound therapy with saline irrigation and traditional negative pressure wound therapy for complex foot infections

Objective: To compare the efficacy of different Negative Pressure Wound Therapy (NPWT) devices and NPWT with and without simultaneous irrigation in patients admitted to the hospital with moderate and severe foot infections.
Authors: Lawrence A. Lavery, DPM, MPH; Kathryn E. Davis, PhD; Javier La Fontaine, DPM, MS; David Farrar, PhD; Orhan Oz, PhD, MD; Peter A. Crisologo, DPM; Sandra Berriman, PhD
Methods
Design: Prospective, randomized non-inferiority trial.
Study population: Patients admitted with a moderate or severe foot infection that required incision and drainage, parenteral antibiotics, and NPWT was indicated.
Intervention: NPWT delivered at 125 mmHg continuous pressure. Simultaneous saline irrigation, when delivered, at 15 mL/hr.
Primary outcome: Proportion of healed wounds at 12 weeks.
Secondary outcomes: Surgical wound closure, number of surgeries, length of stay, and time to wound healing.
| Device used | Group | Therapy | # of patients |
| --- | --- | --- | --- |
| Cardinal Heath, PRO with Simultaneous Irrigation™ | NPWT-I | NPWT with Irrigation | 30 |
| Cardinal Health, PRO | NPWT-C | Traditional NPWT | 30 |
| KCI, V.A.C. Ulta | NPWT-K | Traditional NPWT | 30 |
Results
Device used
Cardinal Health™
PRO (NPWT-I)
Cardinal Health™
PRO (NPWT-C)
KCI V.A.C. Ulta
(NPWT-K)
p-value
Irrigation type
Saline
None
None
n/a
Healed wounds
63.3%
50%
43.3%
0.29
Surgical wound closure
83.3%
80%
63.3%
0.15
Length of stay (days)
16.3 ± 15.7
14.7 ± 7.4
15.3 ± 10.5
0.87
Time to wound healing (days)
46.2 ± 22.8
40.9 ± 18.8
45.5 ± 29.5
0.80
Conclusion
There were no differences in clinical outcomes or adverse events identified between patients treated within the three treatment arms using different NPWT devices, including:
Proportion of Healed Wounds
Surgical Wound Closure
Length of Stay (days)
Time to wound healing (days)
While the proportion of wounds that healed in the NPWT-I groups was higher, the difference was not statistically significant.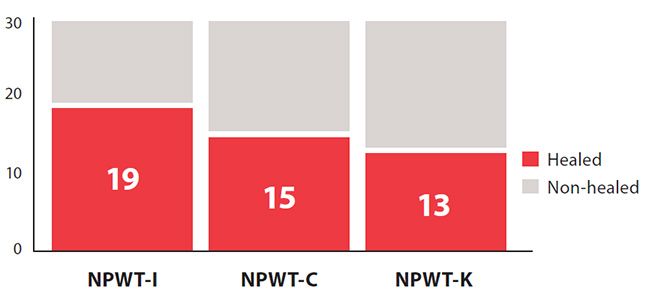 Presented at the Symposium of Advanced Wound Care May 8, 2019, San Antonio Texas.
Pending peer reviewed publication.