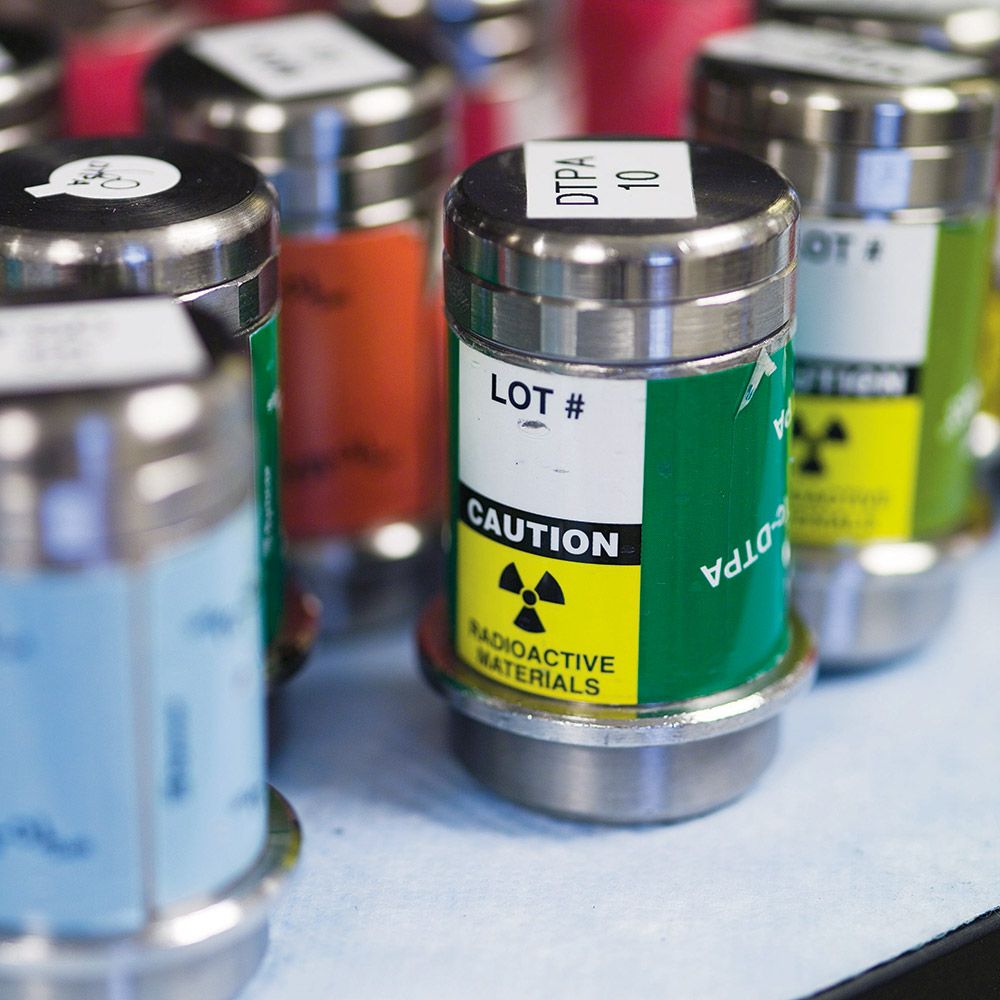 Minimize unnecessary radiation exposure
We know your responsibilities often go beyond your nuclear medicine department's walls. To help minimize radiation exposure, we offer a variety of syringe shields and an innovative delivery system for Iodine I-131 NaI.
Tungsten syringe shields for SPECT imaging
SECURE® Syringe Shield
Overlapping tungsten doors provide more optimal shielding.
Reduces the risk of radiation exposure and blood contamination
Allows uncapped used syringes to fall directly into a waste container
Easy viewing window
Lifetime™ Syringe Shield
No lead glass window to crack or fog, just solid tungsten.
Fully exposed needle hub allows you to visually check for correct venous insertion prior to injection
Permits the use of three-way stopcocks
Twist grip
Unique serial numbers can be assigned to staff members
SafeTview™ Syringe Shield
A syringe shield with a view. Window is reset into offset solid tungsten barrel to help prevent shine-through that may occur with other designs.
9mm thick glass
Twist grip
Easy viewing window
Permits the use of three-way stopcocks
Iodine 131 NaI Safety
Piglet® Delivery System and Piglet® 2 Delivery System
World's first solid tungsten delivery system for I-131 NaI thyroid doses.  Compact yet effective.
Piglet® Delivery System: Safely shields high-activity doses (up to 400mCi) yet only weighs 4.46kg
Piglet® 2 Delivery System: Safely shields doses (up to 100mCi) yet only weighs 2.75kg
Threaded lid assures safe containment of dosages
Internal activated charcoal protects you from harmful vapors
Piglet™ Popper Tool
Stainless steel remote handling tool designed to remove and replace the snap cap lid within the different delivery systems.
Piglet™ Sling and Piglet™ 2 Sling
These simple but effective slings allow you to put distance between you and the dose when carrying it to the point of patient administration.
Need documentation for traveling patients?
The Nuclear Medicine Patient Card offers your patients peace of mind after they undergo studies at your facility.
The personalized card provides the patient a proof source that they have recently undergone a nuclear medicine procedure should a stop occur at airports, highways or other locations. Contact your local Cardinal Health pharmacy or sales consultant for more information.