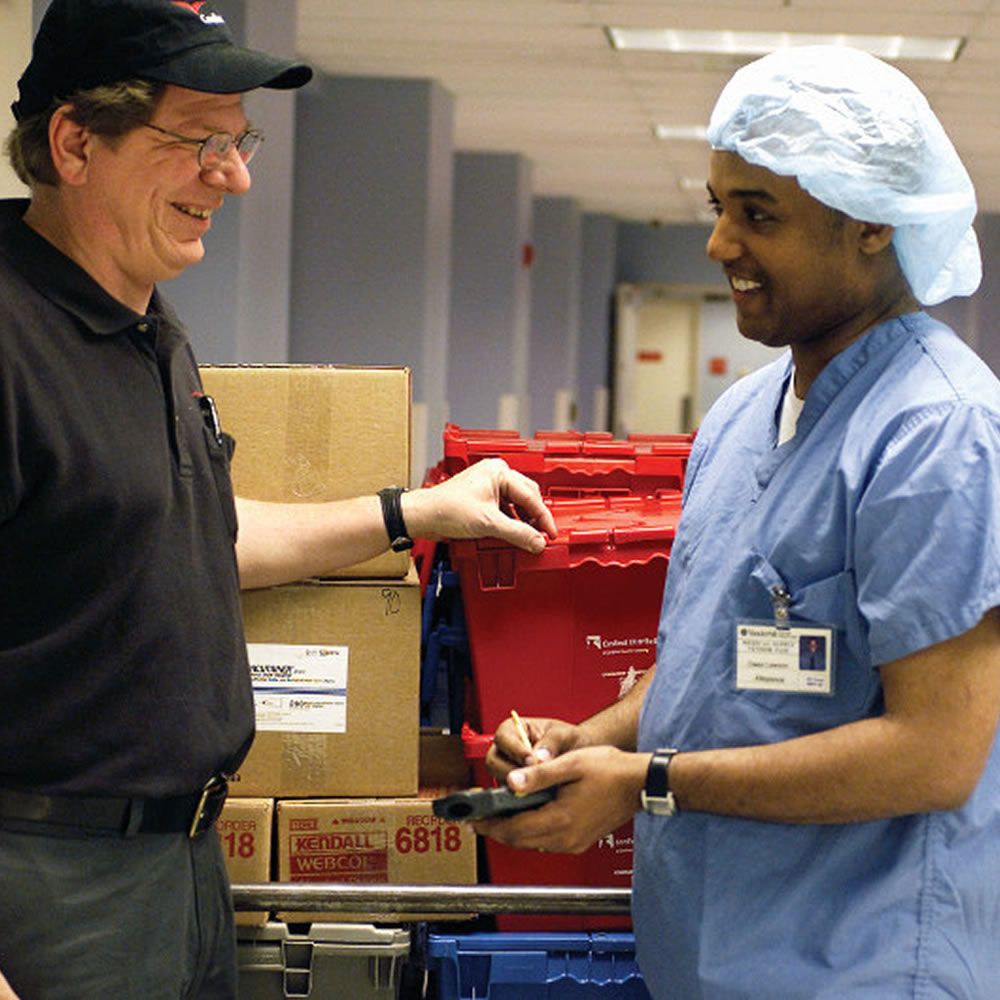 ValueLink® Supply Management Services
ValueLink® Services helps hospitals eliminate stockouts, free up storage and reduce touches throughout the supply chain.
It almost sounds too good to be true. ValueLink® Services help hospitals contain distribution costs, streamline supply processes and reduce supply inventory by distributing product in the most logical (low) unit of measure (LUM) possible — organized by point of use. It's a key component of what we call the dynamic hospital supply chain. And it can change the way you think about inventory and logistics management.
With ValueLink® Services you process, handle, store and pay for only the supplies you need, when you need them. By reducing non-value-added time and cost, ValueLink® Services customers see operating margin improvements and cost reduction in inventory spend by an average of 30 percent or more.
How ValueLink® Services works
Traditionally, supplies flow in bulk from the distributor to the hospital's central store, where they're picked and dispersed by hospital staff to the point of care.
ValueLink® Services eliminates two of those steps. Product bypasses the central store, so there's no need to stock or pick products for distribution. Instead, ValueLink® Services configures your deliveries in totes based on specific demand and delivers them organized by department or points of care. The result is fewer touch points, lower storage needs, reduced overstocks and expired products and better use of staff time.
Logical units of measure
We're changing the standard definition of low unit of measure (LUM) to logical unit of measure because it represents a more relevant way of thinking and a greater benefit for our customers. With ValueLink® Services, distribution is smarter and more responsive to immediate needs, with less waste and handling. We've improved just in time (JIT) processes as a direct response to the need to drive cost and inefficiencies out of the supply chain, while increasing service and data for better planning.  Instead of thinking in terms of the lowest unit of measure available, we think of it as the right unit of measure, based on actual usage. The result: more efficient picks and lower total line fees.
Proven success
We're focused on continuous improvement following Lean Six Sigma management practices. The result: engagement with some of the top hospitals around the United States. Cardinal Health, with its extensive network of distribution centers and delivery fleets, can provide a high level of expertise, responsive local customer service and reliability. Cardinal Health was ranked No. 1 by Gartner in supply chain excellence for four consecutive years, and ValueLink® Services is an important part of our offering.
ValueLink® Services improves upon traditional supply chain logistics.
Significantly reduce stockouts
Regularly exceed 99 percent fill rates
Eliminate extra touch points in inventory management
Reduce storage, on-hand inventory levels and related storage costs, which increases available storage and revenue-generating space
Reduce obsolete or expired product
Improve timing with efficient electronic ordering
Deliver beyond your dock directly to point of use
Rationalize and standardize products
See continuous improvement via enhanced customer service and inventory support
Monitor and respond to analytics based on your purchase trends
Spend less time managing inventory and more time caring for patients
Improve clinician job satisfaction and utilization
Reallocate labor to higher priorities
The quiet supply chain
Imagine a supply chain so efficient, it runs quietly in the background 24/7. Here's how we eliminate the noise of inefficiency and high cost.