State-of-the-art support throughout the treatment journey
Traditional patient hub services don't meet today's need for more holistic patient support and comprehensive, accessible data. Cardinal Health Sonexus™ Access and Patient Support, empowered by our ConnectSource™ patient engagement platform, delivers the clinical expertise, high-touch care, reimbursement support and financial assistance services needed to successfully support specialty patients, providers and biopharma companies across the entire treatment journey. Our state-of-the-art pharmaceutical hub services promote access to your specialty product with expert care, speed and efficiency – all while delivering deeper data insights.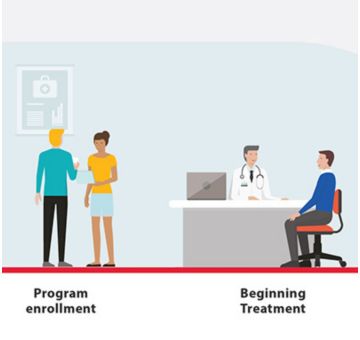 Explore
our interactive patient journey showing how Sonexus™ Access & Patient Support helps brands meet patients where they are.


View patient journey »
Patient support programs that help facilitate positive outcomes
Facilitating the best possible outcomes depends on a knowledgeable approach to supporting the patient experience. Our Chief Medical Officers and dedicated compliance professionals offer insights on patient treatment paths and help validate program strategies. Our registered nurses – with disease-specific training – help drive adherence, manage and help prevent adverse events. And each one of our patient-facing team members possesses the skills to deliver professional, compassionate service to patients at every interaction.
Deeper data insights
Our services are empowered by ConnectSource™, a cloud-based patient engagement platform built on the Salesforce Health Cloud and Deloitte Digital's Patient Connect platforms. ConnectSource™ drives deeper patient engagement and delivers easy-to-access, real-time data that provides you with valuable insights into the patient journey – so you can make more informed commercialization decisions.
Learn more about Sonexus™ Access and Patient Support solutions
Connect with our hub experts
Learn how our high-touch, experienced approach to patient support services and real-time, evidence-based insights can position your product for success.