Perspective on value-based tools in practice
Jonathan Kish, PhD, MPH
Director, HEOR Operations
Value frameworks, like healthcare in general, are very complicated, and the devil is in the details. How such frameworks assess therapies is meaningful to a broad group of stakeholders: providers, patients, payers, and pharmaceutical companies. While drug companies seek to understand and evaluate the impact of value-based care to their products and pipelines, in this article one of our senior scientists explores the ramifications to care delivery and its reimbursement.
Are We Still Talking About Value?
The cost of healthcare continues to rise, particularly for novel biologic oral oncolytic drugs, which have experienced an unprecedented rate of development in recent years. While these precision targeted therapies continue to expand the arsenal of treatment interventions available to providers, critics have described the data leading to many of their approvals as statistically significant but clinically meaningless. Imatinib remains the only precision therapeutic that has theoretically cured an advanced malignancy, and in the years since its FDA approval in May of 2001, the promise of oral biologic targeted small-molecule cancer drugs arguably has waned. Some have suggested that cancer care is at an inflection point. When therapies deliver only marginal clinical benefit, selection of the appropriate treatment for a cancer patient needs to include cost among the traditional factors of efficacy, safety, and patient preference. Overall, many agree that drug launch prices are not proportional to the health benefit they provide.1 Over the past several years frameworks have been developed by professional associations, cancer centers, and payers in the attempt to reconcile these factors in the context of value.
The value of any therapeutic intervention in its simplest sense includes the total costs associated with that intervention divided by the clinical benefit provided—a cost-to-benefit ratio in its purest form. The complication arises in taking that definition and determining what costs and what benefit should be considered in the calculation. The American Society of Clinical Oncology (ASCO), the National Comprehensive Cancer Network (NCCN), Memorial Sloan-Kettering Cancer Center (MSKCC), the Institute for Clinical and Economic Review (ICER), and others have developed frameworks or tools for calculating clinical benefit alongside cost in order to compare treatment options. A summary of these tools, the metrics they employ, and the audiences they are meant to target remains an ongoing topic of debate.2 These frameworks and tools are widely diverse in their approaches, presentation of data, and the insights that can be gleaned, and as such, there has been a renewed focus by other organizations, such as the International Society for Pharmacoeconomics and Outcomes Research (ISPOR), to generate a consistent paradigm that seeks to leverage the advantages of each model.3
Providers and Patients: A Framework for All?
Cardinal Health Specialty Solutions has been actively engaging oncology and hematology providers in order to understand how providers utilize and value these tools. In February 2016, providers attending an oncology summit hosted by Cardinal Health were queried on the following topics: 
Have you used any of the following value-based care tools (NCCN Evidence Blocks™, ASCO Value Framework, MSKCC DrugAbacus) to assist you in a treatment selection?
Have any of your patients initiated a conversation with you about any value-based care tools?
Those physicians surveyed could select the frequency of use of any or all of the tools above: the majority (58%) had used the NCCN Evidence Blocks in making a treatment decision, while only 13% and 2% respectively used the ASCO Value Framework or the MSKCC DrugAbacus. More than a third of the attendees (38%) indicated that they had not used any of these tools to assist in a treatment decision. Only thirteen percent of respondents indicated that a patient had initiated a conversation with them regarding a value-based care tool.
Utilization of Value-Based Tools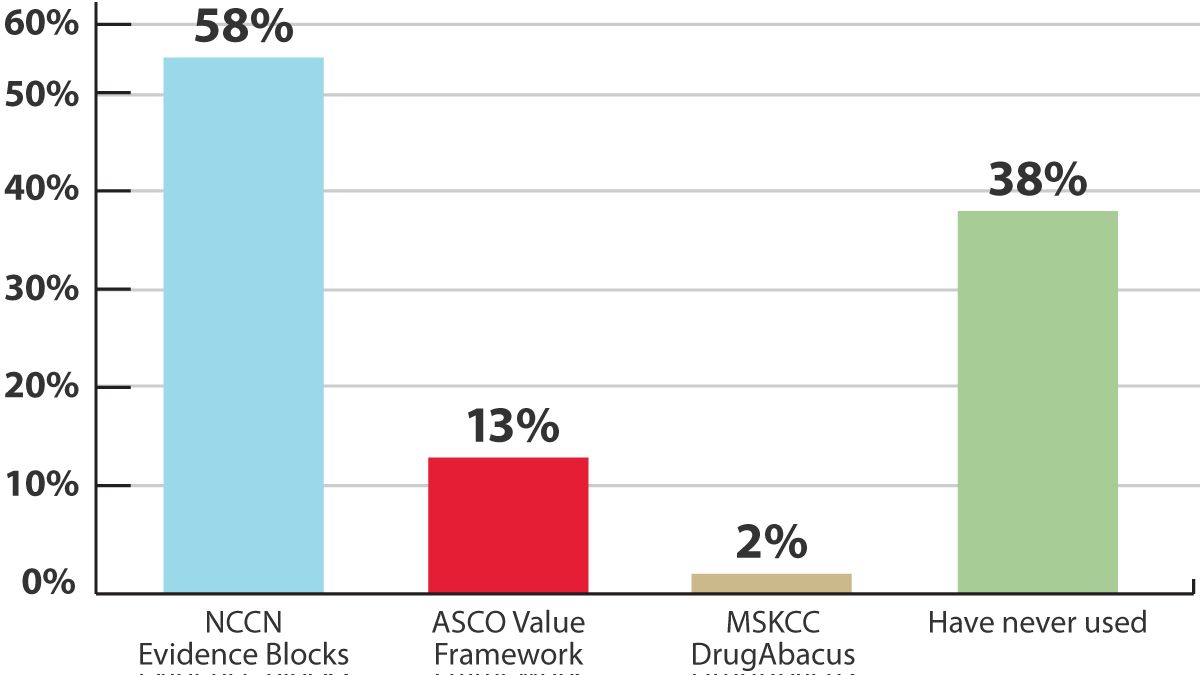 From this brief survey of approximately 60 practicing community physicians conducted a little over a year ago, it was clear that this representational group of providers were predominantly reliant on the NCCN Guidelines when considering treatment options and, as a result, have accessed and used the NCCN Evidence Blocks to a greater extent compared with other frameworks. Does this mean that all other frameworks suffer from issues of connectivity to the actual practice of medicine, or does it mean that providers make better sense of the information in the Evidence Blocks format compared with the ASCO or MSKCC frameworks? While these question cannot be definitely answered from the data available, they speak to several considerations regarding what might be important for providers when considering value.
First, the value assessment tool or resource should be paired with a component of day-to-day clinical practice. External documents that are difficult to access may pose a significant barrier to their use given all the competing demands of patient care and being part of an oncology practice. Second, the data presentation of value needs to be made more intuitive. The simple visual comparison between levels in an Evidence Block allows for efficient evaluation by the provider without significant interruption to their primary focus, which is delivering care to patients. Third, the tool needs to address patient-level concerns at a level patients can understand. A net health benefit score that incorporates complex parameters, such as progression-free survival, tumor response rates, and grades of toxicities could be a barrier to meaningful discussion with patients because of the teaching time associated with complex measures. While reconciling the needs of providers and patients may seem like a daunting task when it comes to creating metrics to showcase the complex disease effects of a treatment and evaluating cost—What patient wants to think about a quality-adjusted life-year, and is this even an appropriate discussion?—the success of these frameworks in helping providers and patients make treatment decisions will be based on the degree to which mutual understanding can be achieved with a single tool.
Payers: A Third Party With Competing Needs
Many might perceive that this discussion on value is predicated on the desire of payers to minimize costs. While this idea cannot be cast aside due to the fact that the known costs of oncology care continue to rise unsustainably, payers are also advocates for their patients in at least a contractual sense. Negotiating to lower costs of care is not a bad thing! Patients should be able to receive the care they need without becoming financially insolvent. Payers themselves have constructed various mechanisms for addressing cost through value-based care contracting, treatment pathways, and other mechanisms, like the Oncology Care Model. The thought behind all of these methods is that quality of care will improve and costs will decrease. But how do these models fit in with value assessment?
Payers possess a vantage point that allows them to see how treatment impacts total cost of care to the system as well as to the patient. From this view, it is imperative that payers continue to contribute to the cost discussion when it comes to assessing value. Simply using the wholesale acquisition cost of a drug to represent the cost of a treatment will no longer suffice. For example, in the NCCN Evidence Blocks, the affordability of a treatment is to be based on "drug cost, supportive care, infusions, toxicity monitoring, and management of toxicity." Clearly there are many other potential inputs for this calculation that should be considered. Payers should and will continue to play the leading role in identifying and calculating what components should be considered in the cost calculation of a value assessment.
A One-Size-Fits-All Approach Won't Work
Each of the three stakeholders (patients, providers, and payers) have complimentary and competing needs when it comes to value assessments. Finding the appropriate balance will be critical for developing the next iteration of these tools (ASCO is already on version 2.0 of its Value Framework). Similarly, as is widely accepted, cancer is not a single disease, and primary points of stratification might be appropriate depending on certain factors, such as histology, genomics, whether a patient has a solid or hematologic malignancy, or a combination of these. Each are very different regarding what could be considered as an input to any value determination. For instance, patients with acute myeloid leukemia who are ineligible for, or refractory to, induction chemotherapy have very few available treatment options, none of which offer a significant probability of cure. The value tools as they are currently constructed have no methods to account for how treatments in this disease area might address certain outcomes, such as the number of transfusions or overnight hospital stays, which are important endpoints to consider. A single tool will most likely not be sufficient for handling the myriad scenarios that could arise, but future initiatives will be focused on how these factors could be balanced in order to give patients and providers the information they need to make informed decisions.
Cardinal Health helps our clients understand the application of value frameworks, including which metrics may useful as endpoints in future clinical trials or in postmarketing studies. We provide workshop-based approaches that can help bring together stakeholders from across your organization to further understand the impact of value-based care. For assistance in developing strategies to navigate this complex and rapidly changing landscape, please contact John DuPont, john.dupont@cardinalhealth.com or 516.456.6127 to learn more.
---
References
1 Abboud C, et al. The price of drugs for chronic myeloid leukemia (CML) is a reflection of the unsustainable prices of cancer drugs: from the perspective of a large group of CML experts. Blood 2013; 121:4439-4442.
2 Feinberg B, Lal LS, Swint JM. Is there a mathematical resolution to the cost-versus-value debate? Am J Manag Care 2015; 21(suppl 16):SP542-SP544.
3 International Society for Pharmacoeconomics and Outcomes Research. Initiative on US Value Assessment Frameworks, 2017. Available online at: https://www.ispor.org/valueassessmentframeworks/index. Accessed April 10, 2017.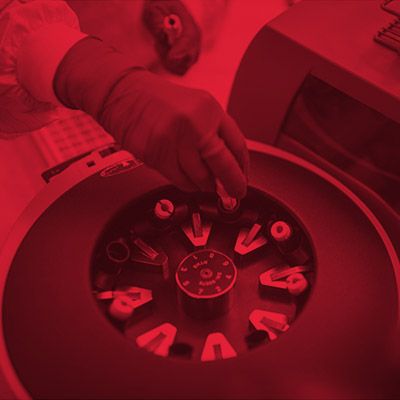 FOCUS Magazine
Explore the importance of Health Economics and Outcomes Research (HEOR) and real-world data in meeting the demands of a dynamic healthcare system.