Validity in Real-World Data – A Case Study in Chart Abstraction Research
The expanded use of electronic health records (EHRs) across all medical specialties has had a profound impact on observational research over the past decade. As the patient journey is increasingly captured digitally, the volume and diversity of available data has increased exponentially. Historically, these real-world data (RWD) were collected passively through administrative claims databases and were used to explore associations between exposures and outcomes, generating hypotheses to be tested in clinical trials. However, due to the length of time and high cost of drug approvals, various stakeholders including patients, advocacy groups, the medical device and pharmaceutical industry, and regulatory bodies, such as the U.S. Food and Drug Administration (FDA), are looking to these data to do substantially more. Namely, to test a hypothesis and make a causal inference regarding an exposure such as a treatment, and an outcome such as disease progression.
This concept, and the underpinning technology, has been used in the United States for over a decade in specific cases. In 2008 the U.S. FDA launched the Sentinel program which actively monitors FDA-regulated products via EHR, insurance claims data and registries for safety signals.1-3 This marked a significant departure from the traditional passive reporting of adverse events, which improved data accuracy and thereby reduced the length of time to conduct these investigations. In a similar fashion, under the 21st Century Cures Act, the FDA was required to establish a program to evaluate the potential use of RWE to support the approval of new indications for approved drug products as well as to support or satisfy post-approval study requirements.
Stakeholders believe that RWD can potentially support pharmaceutical product label approvals and label expansions, but its adoption is mired in methodological challenges requiring rigorous solutions. Here we discuss two fundamental challenges, data quality and internal validity, and how Cardinal Health researchers are pursuing novel strategies to improve upon methods to achieve high levels of both.
Validity Concerns of RWD
The primary concerns of using RWD in hypothesis testing are twofold: data quality and internal validity. Data quality can vary greatly depending upon the underlying dataset. For example, it has been shown that relying on metastatic diagnosis codes to infer the stage of a patient's cancer is unreliable with a sensitivity, specificity, and positive predictive value never exceeding 80% (comparing gold standard Surveillance, Epidemiology and End Results [SEER] registry data to Medicare claims data).4 Primarily these inaccuracies stem from the inaccurate coding of metastatic sites by providers, low interrater reliability in assigning those codes, and a "nonresponder" phenomenon where because these codes are not necessary for reimbursement, providers and practice administrators may simply omit them as a force of habit. In a separate study of treatment patterns of cancer patients using Medicare data as the gold standard, SEER registry data had a low sensitivity, specificity and positive predictive value when classifying a patient as having received systemic therapy.5 Here, this idea also speaks to the problems of observational research: If there is no impetus for reliable and accurate capture of the data, in this case for SEER registrars to update the treatment fields after a cancer patient has been diagnosed, the data quality suffer.
Beyond registries and administrative claims data, recently, the adoption of EHR technology has created massive databases of patients with detailed clinical characteristics and outcomes data. EMR data by themselves also bring a number of data validity concerns. A stepwise approach evaluating data identity (duplicates), completeness (degree of missingness), uniformity (same units over time), time patterns, plausibility (free or identifiable errors), event attributes, and consistency is recommended prior to the utilization of an EHR-based dataset.6 While a good EHR dataset which minimizes errors in the domains referenced, can represent a "true" record of the patient's journey, it is highly susceptible to data missingness. Since EHR data are formatted to fit into structured data elements, they can lack the necessary granularity obtained from data contained within unstructured data fields, such as clinical progress notes, pathology reports, and radiology reports. Without access to these elements the internal validity of the dataset is compromised: Did the patient actually have the laboratory assessment conducted or is that laboratory data field not linked into the dataset in a structured fashion? Particularly in the case of oncology care, the rapid expansion of testing via next generation sequencing can lead to low internal validity as these fields are not well incorporated into the structured data elements of the EHR available for researchers.
Increasing the Validity of RWD
One approach that has been used in the past to address these validity issues is to conduct a "medical chart review." Historically this was also the only way in which data could be obtained for retrospective observational studies prior to the advent of EHR systems. In this approach trained data abstractors are provided with sourced EHR data abstract elements into a study database (with or without linkage to the original database). The core value of this approach is the ability to obtain data on variables not present in structured data elements. Using researchers with clinical experience who were trained on the approach to the data abstraction also was hypothesized to increase the quality of the data by removing interrater reliability issues.
While an attractive and necessary solution at the time, this approach still suffers from several major drawbacks. First, it is time-consuming and expensive. Second, with the complexity of tests, procedures, treatments and outcomes, measured data quality may suffer when using data abstractors without deep clinical knowledge. Third, there remains a substantial risk of low internal validity to the constructed dataset because the abstractors can only infer why something occurred, be it the ordering of a test, the decision to discontinue a drug, or the cause of death. All these data must be documented in some form for an external abstractor to identify if they occurred. Increasingly, understanding why an event occurred rather than only if the event occurred is necessary when conducting research outside of the clinical trial setting.
Novel Solutions in RWD
Cardinal Health researchers have spearheaded a novel approach that leverages the idea of the medical chart review with certain operational aspects modified. In lieu of using trained chart abstractors, we rely upon the patient's treating physician, in the same way a physician completes a case report form in a clinical trial, to abstract detailed clinical and treatment-related data. This approach leverages the deep clinical experience of the provider for interpretation not only of complicated medical findings, but also to understand the "why" factor (from the clinician who is making treatment decisions for the patient). While using the patient's treating physician can increase the internal validity of the research study, it presents new challenges when considering data quality. Providers may not be able to be trained on the study or data capture tool (an electronic case report form [eCRF]). Moreover, there is a risk of data transcription error when a provider is entering any data element. To overcome these limitations, Cardinal Health researchers have instituted a robust data validation/quality control protocol. Providers are required to maintain a unique, self-created patient identifier. After completing chart data abstraction, clinical and analytics personnel from Cardinal Health review all submitted eCRFs, identifying data which are inconsistent with known clinical parameters. Analytics team members compare the distribution of variables among multiple cases submitted by the same provider and across providers, to identify outlier data. Direct follow-up is conducted with providers for specific patients to address any data inconsistencies. At the same time a minimum percentage of charts are randomly selected for validation of selected data points: Patient charts for which data cannot be validated are discarded, and providers with serial data errors have all patient charts removed from the database. Using this approach, over 1,800 unique providers have participated in medical chart review studies since 2011 and over 20,000 individual case report forms have been completed by the Cardinal Health Specialty Solutions Real-World Evidence and Insights team (Figure 1). Cardinal Health continues to improve on this process by training providers on chart data abstraction, conducting independent review of chart data alongside a physician-led chart abstraction project, and leveraging structured data elements to supplement data abstracted by the providers.
Conclusions
RWD is entering a new use case with the promulgation of the 21st Century Cures Act by the FDA. However, with this use case comes a significant responsibility to ensure that the best practices in research methodology are deployed or developed as new data form and linkages become available. Physician-led chart abstraction performed by Cardinal Health, while not a panacea, uses these best practices to continue to provide high-quality, rigorous, real-world evidence to all stakeholders in the drug development process.
Figure 1. Number of Physician Case Report Forms Completed During Cardinal Health Research Studies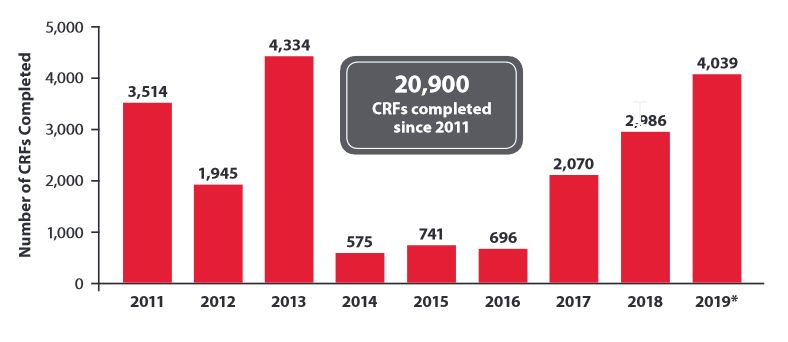 References
Forrow S, Campion DM, Herrinton LJ, et al. The organizational structure and governing principles of the Food and Drug Administration's Mini-Sentinel pilot program. Pharmacoepidemiol Drug Saf 2012;21 Suppl 1:12-7.
Platt R, Carnahan RM, Brown JS, et al. The U.S. Food and Drug Administration's Mini-Sentinel program: status and direction. Pharmacoepidemiol Drug Saf 2012;21 Suppl 1:1-8.
Platt R, Wilson M, Chan KA, et al. The new Sentinel Network--improving the evidence of medical-product safety. N Engl J Med 2009;361:645-7.
Chawla N, Yabroff KR, Mariotto A, et al. Limited validity of diagnosis codes in Medicare claims for identifying cancer metastases and inferring stage. Ann Epidemiol 2014;24:666-72, 72 e1-2.
Noone AM, Lund JL, Mariotto A, et al. Comparison of SEER Treatment Data With Medicare Claims. Med Care 2016;54:e55-64.
Hoeven LRV, Bruijne MC, Kemper PF, et al. Validation of multisource electronic health record data: an application to blood transfusion data. BMC Med Inform Decis Mak 2017;17:107.