How do community oncologists view biosimilars?
Research findings show that while oncologists are familiar with biosimilars and comfortable prescribing for both cure and disease control, concerns remain about the overall FDA approval process and the use of extrapolation.
The recent FDA approvals of several biosimilars in oncology represents an opportunity to lower the cost of cancer care. However, their adoption is contingent on prescribers' acceptance of their safety and efficacy, as well as their confidence in the approval process.
Cardinal Health Specialty Solutions surveyed more than 500 hematologists and oncologists at live events to assess their knowledge of biosimilars and perceived barriers to adoption. Specialty Solutions Chief Medical Officers Bruce Feinberg, DO, Chadi Nabhan, MD, and Amy Valley, PharmD, Director of Provider Solutions for VitalSource™ GPO, published the results of this research in Journal of Clinical Pathways.
Key Findings:
Awareness of biosimilars is quite high among oncologists, with nearly all respondents stating they were aware of the three currently approved oncologic biosimilars. More than three-fourths stated they were familiar with biosimilars overall. However, nearly the same number feel that additional educational information about biosimilars is needed.
Overall, more than two-thirds of oncologists stated they have prescribed a biosimilar at some point over the last 12 months, and the majority of oncologists feel comfortable prescribing biosimilars whether the treatment goal is cure or disease control.
The vast majority of oncologists expressed hesitancy to prescribe a biosimilar until an average sales price (ASP) is established. Once an ASP is established, more than two-thirds are comfortable prescribing.
Nearly all oncologists surveyed are confident that biosimilars are as safe and effective as their reference biologics and more than three-fourths say that the FDA approval process is sufficient for evaluating efficacy and safety. However, oncologists do have concerns about the extrapolation process used during approval. Nearly half stated they did not fully understand or endorse this concept.
Download the infographic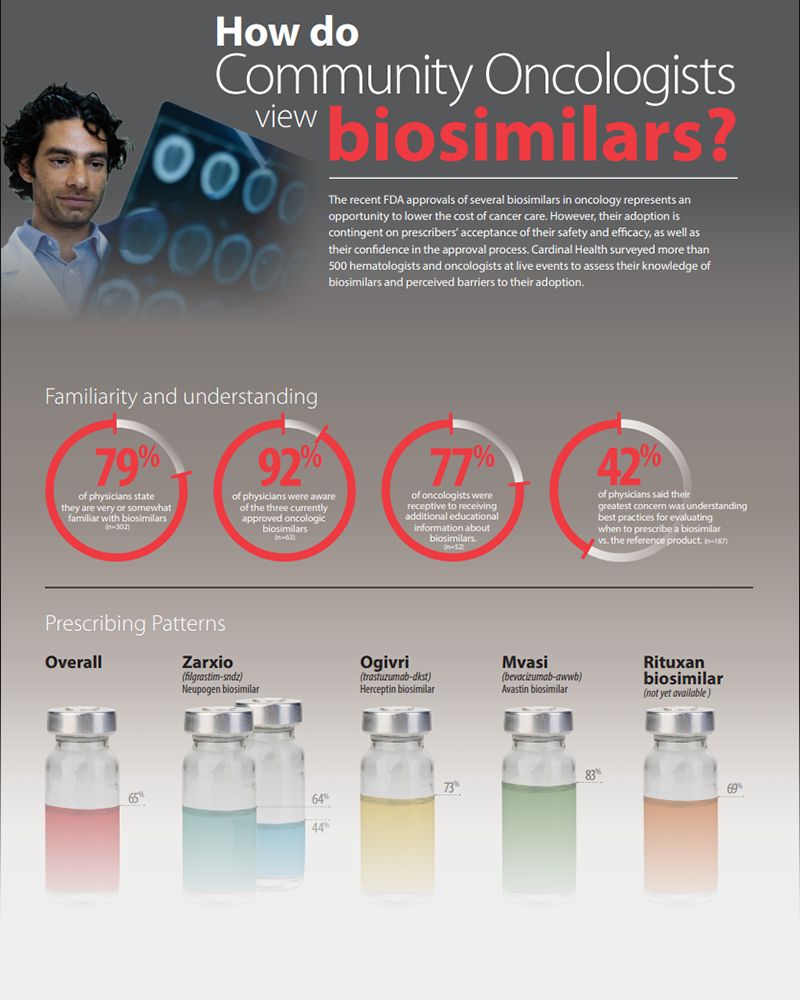 We want to hear from you!
Please take a moment to let us know what you think about this article.